Here's Who Will Likely Walk With Mariah Carey Down The AMAs Red Carpet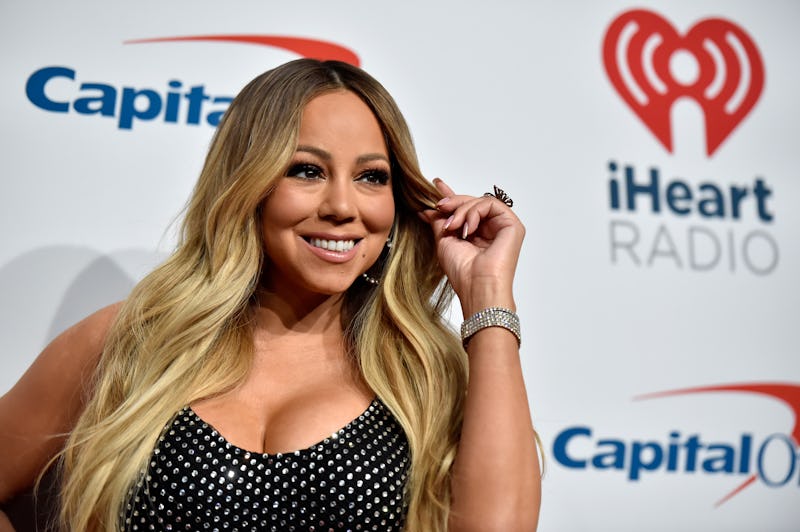 David Becker/Getty Images Entertainment/Getty Images
It's pretty much a fact that 2018 is basically just a late-1990s reboot, which means tiny sunglasses, scrunchies, and Mariah Carey are all totally back in style. The pop princess is set to release a new album this year, and will celebrate her new music by performing at the 2018 American Music Awards on Tuesday, Oct 9 at 8 p.m. ET on ABC. The diva is back and better than ever, and while she certainly doesn't need any man, fans of her music might be wondering if Mariah Carey is single at the moment. One of her latest singles is a breakup anthem — so is any of it based IRL?
Fans rooting for Carey's happiness will be glad to hear that it looks like the "Obsessed" singer has found love after her 2014 divorce from Nick Cannon. She's currently dating Bryan Tanaka, a dancer and a choreographer who has a long professional history with the pop superstar. According to People, Tanaka, who is now Carey's creative director, has been working for the singer since he was a backup dancer on her 2006 Adventures of Miami Tour.
"Something connected with us back in the day and there was just a mutual admiration. She saw something in me that I actually didn't recognize at first, from that it was over," Tanaka told E! News of their relationship. "It was set in history that we were gonna be connected some way, some how."
Since then, Tanaka has worked consistently as one of Carey's backup dancers, through her relationship with Cannon, and was the reported source of tension between Carey and her former fiancé James Packer. According to TMZ, Packer banned Tanaka from Caesar's Palace back in 2016, when he reportedly showed up injured and unable to perform. This might not have been why Packer and Carey ended things, but it could be read as a sign that Tanaka and Carey had palpable chemistry throughout their working relationship.
It's unclear exactly when Carey and Tanaka became more than just friends, but the first time they were spotted together romantically was during Thanksgiving weekend in 2016, when they were spotted in the middle of some PDA on a beach in Hawaii, as reported by People at the time. Though it seemed at first like a fairytale romance, Carey and Tanaka split in April of 2017, according to E! News.
But now the couple are back together and seemingly better than ever. Tanaka's Instagram feed is basically a promotional account for Carey's new music, and Carey has posted some adorable pics of the two traveling the globe together. It's likely that Tanaka will not only be at the AMAs to support his girlfriend's performance, but that he'll be onstage with her as she rocks her way through the world TV debut of "With You," a single from her upcoming album. After all, the couple hasn't been shy about showing PDA on stage before.
Whether Carey shows up to perform with or without her new beau, it's bound to be a good show.