These 'House Of Cards' S5 Photos Are Revealing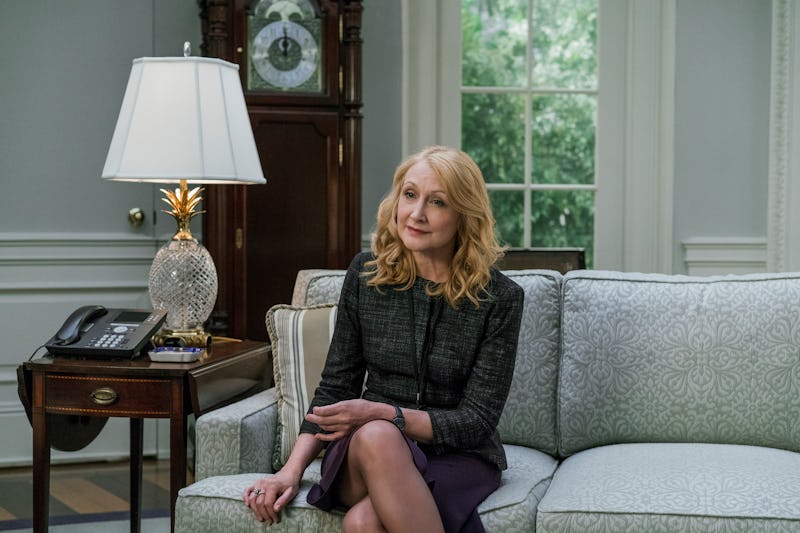 Netflix
There's no denying that Netflix's House Of Cards is all about the Underwoods. President Frank and First Lady Claire are the most compelling power-couple on TV at the moment, and most of us probably tune in each season to watch their machiavellian scheming. But the House Of Cards cast always needs supporting players for the Underwoods to manipulate and betray and defeat; over the years, that cast has included such heavyweights as Mahershala Ali, Corey Stoll, Molly Parker, Ellen Burstyn, Cicely Tyson, Neve Campbell, Joel Kinnaman, and more. Now House Of Cards Season 5 is adding Patricia Clarkson and Campbell Scott, who are sure to be major players.
Netflix is remaining tight-lipped when it comes to details about the upcoming season, which premieres on May 5, so we can only speculate in the dark as to the kinds of characters Clarkson and Scott will be playing; but sometimes that's half the fun! Clarkson has won accolades for her performances on film, television, and the stage; she earned an Oscar nomination for her role as Katie Holmes' cancer-stricken mother in the indie drama Pieces Of April, she took home two Emmys for her recurring guest role on HBO's Six Feet Under, and she was nominated for her Tony in the Broadway revival of The Elephant Man. Other movies and shows you may recognize her from include The Station Agent, Easy A, Shutter Island, The Maze Runner, Murder One, Frasier, and Parks And Recreation.
Given Clarkson's incredible pedigree, it would be great to see her play a character who can finally go toe-to-toe with the Underwoods… and maybe even win. While it's been fun watching Frank and Claire absolutely decimate every opponent who has crossed their paths over the course of the last four seasons, eventually — especially as the show approaches its endgame — someone will have to be the person who finally brings them down. Newly released photos from Season 5 reveal that Clarkson will be sharing at least some screen time with Claire. They say that a picture is worth a thousand words; but in this case, one picture is actually not very revealing, as we don't know whether Claire and Clarkson's character are old friends reuniting or new enemies facing off.
Clarkson would absolutely kill it as a ruthless politician who sees through the Underwoods and is actually capable of defeating them in the arena. Perhaps she can be a firebrand senator, or an ambitious governor. It's too bad that we won't see her as a presidential candidate, since the show has yet to wrap up the Underwood vs. Conway race — meaning we won't see another race for the presidency anytime soon barring some sort of major time jump. But there is one way she could get on the ticket: as Conway's running mate.
As for Scott, viewers will most likely recognize him from his role as German businessman Boris Kuester von Jurgens-Ratenicz on all eight seasons of USA Network's Royal Pains, or as Andrew Garfield's dead dad in the recent Amazing Spider-Man films. His credits also include the likes of The Exorcism Of Emily Rose, Damages, The Blacklist, and Sex&Drugs&Rock&Roll.
No offense to Scott, but unlike Clarkson, he doesn't exactly scream Frank Underwood's Worst Nightmare. On the contrary, his normal persona seems suited to playing the kind of advisor or journalist or businessman who might throw up a temporary roadblock in Frank and Claire's path to world domination… but will inevitably be chewed up and spat out by the couple before the season is over. But judging by the Season 5 photos, this role is something of a departure for Scott: that turtleneck just screams evil. And The Hollywood Reporter did describe both Clarkson's and Scott's roles as "major" and reported that they will be "featured heavily" in the upcoming season; so maybe Scott's character will surprise us all and turn out to be a more formidable foe than we thought.
We still have three months to go until the new episodes of House Of Cards drop on Netflix; but with these exciting new cast additions and the change in management (with senior writers Frank Pugliese and Melissa James Gibson taking over showrunning duties from creator Beau Willimon), it's clear that Season 5 is going to feature a whole new vision of Washington, D.C.