Meghan's Baby Could See The Return Of This Royal Tradition Favoured By The Queen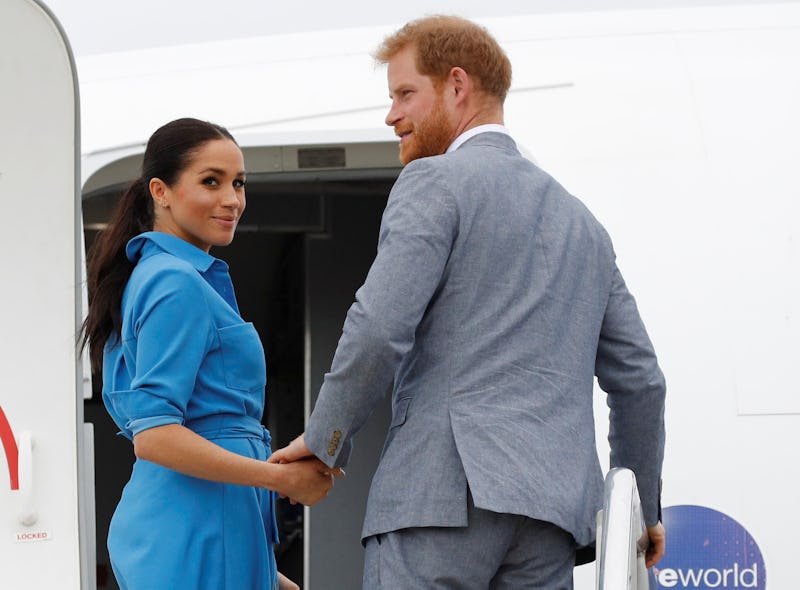 Pool/Getty Images Entertainment/Getty Images
There's a small staircase outside St Mary's Hospital in London which has been seen around the world. It's the entrance to the Lindo Wing, a maternity ward where both Princess Diana and Kate Middleton have given birth. A photo opportunity on the steps has become the royal family's way of revealing its latest addition to the world. With Meghan Markle and Prince Harry's first child due next spring, anticipation for the Duchess of Sussex to take her place on those famed steps is already building. So, is Meghan Markle giving birth at the Lindo Wing? Now that she and Prince Harry are moving out of town to Windsor, it's been speculated they may be going a different route.
A source claimed to Vanity Fair that "Meghan wants a different experience from the royal wives who have come before her" and that she and Prince Harry have been looking at "options". It's not a massive surprise, given that their new home Frogmore Cottage will be quite a distance away from St Mary's in London — a big trek to make while in labour.
The outlet also speculated she "might opt for a home birth" which might seem like a change from tradition, however there's actually a royal precedent set for it.
In fact, Princess Diana and Kate Middleton are actually the ones who broke with tradition by choosing to give birth in a hospital. Marie Claire US revealed that for "decades the royals gave birth at home", explaining that Queen Elizabeth II, Prince Charles, Prince Andrew and Prince Edward were all born at home in Buckingham Palace for example.
According to The Sun, Prince William was actually "the first heir to the throne to not be born at home". But their royal correspondent Emily Andrews believes that Meghan will follow in Kate and Princess Diana's footsteps by "having [her child] at the Lindo Wing of St Mary's hospital...under the care of Guy Thorpe-Beeston and Alan Farthing, who helped deliver Prince Louis in April."
Wherever the Duchess gives birth, her mum could well be with her every step of the way. Some outlets have speculated that Meghan Markle's mother Doria Ragland will be staying at Frogmore House with the Sussexes to lend a helping hand as they welcome their new addition.
A source told Vanity Fair, "Doria plans to be around a lot when the baby arrives, and there are plans for her to have a dedicated space at their new home. She wants to be on hand to help Meghan and Harry with the baby. Doria will be involved and if she's involved she will be encouraging Meg to go for a natural birth."
Wherever and however Meghan Markle chooses to give birth, the most important thing is that she and her baby are healthy and happy. Royal fans have to wait till next year to see how things shake out, but I have a feeling we might not be returning to the Lindo Wing this time after all.