These Are All The Royal Baby Rules Meghan & Harry Will Have To Follow Come Spring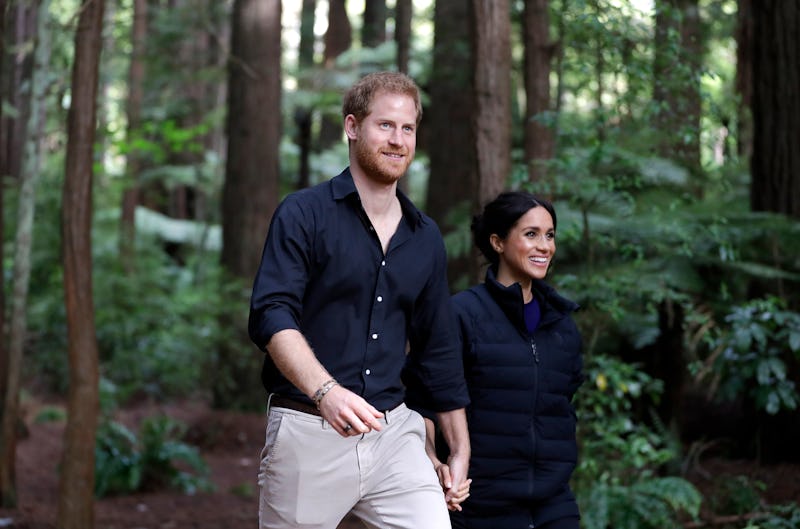 Pool/Getty Images Entertainment/Getty Images
Ever since it Meghan Markle's pregnancy was announced, the nation has been swept up in baby fever. (I'm not going to lie, I'm excited AF.) That said though, it turns out that Meghan Markle and Prince Harry are going to have to play by some pretty intense royal baby rules. With the weight of centuries of tradition behind them, they're apparently going to be expected to defer to the Queen, bust out an easel and invite a random into their birthing room though I wouldn't be surprised if they bent the rules a little — especially on that last one.
I won't go as far as to say that these rules are downright wacky, but I will say that I definitely don't envy the pair as they'll have to navigate protocol. For example, there's a few rules that kick in even before their bundle of joy is born as sadly, Meghan Markle's pals won't be able to throw her a baby shower which sucks IMO.
Royal expert Victoria Arbiter explained via Marie Claire UK that royals choose not to have baby showers as they are "very wealthy" and continued that "a lavish baby shower would be seen as highly inappropriate".
She also added, "There's nothing they can't go out and buy themselves."
Everything surrounding the birth is also way more intense TBH, making that Saturday Night Live sketch about royal protocol not entirely out of the realm of reason. One rule according to the Express is that the Queen needs to be the first to know after the birth has taken place — something that even Prince William and Kate Middleton had to abide by with their children.
Metro claimed back in 2013, that Prince William was expected to "ring the Queen on an encrypted phone with news of the birth", while their private secretary informed David Cameron, the prime minister at the time.
Following the birth, there's a few rules for how the news is announced to the public. According to the Evening Standard, tradition dictates that the news is broken via a declaration placed on an easel outside Buckingham Palace. While it was originally handwritten, it's now typed up, signed by the doctor who oversaw the birth and speedily taken across to be placed on the easel.
However, Kate Middleton and Prince WIlliam very much embraced the age of the internet and chose to blast the news on Twitter first for Princess Charlotte — before the easel had been set up.
Following that, the unofficial town crier — currently Tony Appleton according to The Mirror — then announces the news to the public. You might remember him as that guy who became a meme when Prince Louis was born and quite frankly, I'm most excited to see him make a comeback.
A royal gun salute at both the Tower of London and Hyde Park/Green Park typically takes place as well, alongside the bells being rung at Westminster Abbey.
Kate may have started a new royal tradition by posing on the Lindo Wing's steps with her bundles of joy, however a royal birth at a hospital was practically unheard of until recently. In fact, Marie Claire US revealed that both she and Princess Diana before her broke a decades old tradition as many royals were expected to give birth at home.
For example, Queen Elizabeth II was born at home in London while Charles, Andrew and Edward were born in Buckingham Palace. Princess Anne was also born at another royal residence, Clarence House. Given that home births are on the rise and Meghan's pretty new age-y, I wouldn't be surprised if she brought the tradition back.
There's been a few eyebrow-raising rules in the past, including one that dictated a witness was required to be in the birthing room to watch new heir enter the world. Queen Elizabeth actually experienced this first-hand, as the home secretary was present in the delivery room when she was born. (Side note: imagine having to invite an MP like Boris Johnson into your delivery room.)
According to Marie Claire US, the rule was set in place "to confirm a royal birth was actually happening". Thankfully, that rule hasn't come into place for a little while as it apparently ended before Prince Charles was born in 1948 so Meghan and Harry have dodged a bullet there.
And one that Harry's family has had absolutely no time for recently was the rule that fathers weren't allowed in the birthing room according to The Mirror. I honestly can't imagine Prince Harry not wanting to get involved (have you seen the man with children before?), but thankfully Princess Diana and Prince Charles nipped that one in the bud as Charles was present at Prince William's birth.
Honestly, I'm exhausted even writing about this - let alone having to live through it all and making another royal human to boot. Here's hoping Meghan Markle and Prince Harry have a team of people to help them through it, or that they start making their own traditions and scrapping the ones of old.