Meghan Markle Isn't The First American To Marry A Royal, But She Might Be The Least Dramatic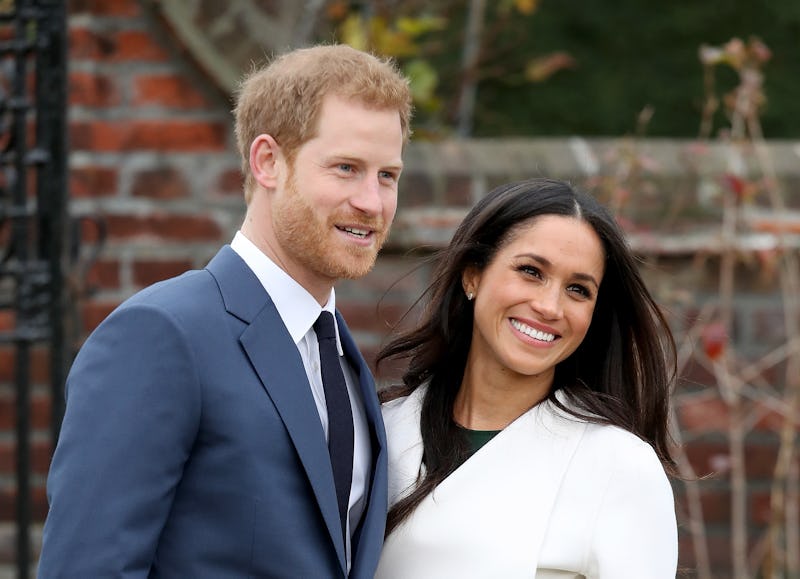 Chris Jackson/Getty Images Entertainment/Getty Images
Just in case the end of the holiday weekend has you bummed out, Monday morning brought the awesome news that Prince Harry and Meghan Markle are engaged. It's not every day that someone from the United States becomes a Windsor, but is Meghan Markle the first American to join the royal family? It might not be a very common thing, but it's not like she's breaking new ground. However, when it comes to the British royal family in particular, it has been a really long time since it's happened.
Long before Prince Harry and William were ever born, long before there was Meghan Markle, there was Wallis Simpson — and if you watched The Crown on Netflix, you probably already know all about her. According to Biography, Simpson and King Edward VII fell in love not too long after he took the throne in 1936, marrying just a year later, but their love story couldn't have been farther from a simple one.
Unfortunately, in Simpson's case, her engagement to Edward didn't get off to a happy start like Markle and Harry's did. The British government didn't approve of their union, so the only way for Simpson and Wallis to wed was for Edward to abdicate the throne, which means that his reign lasted for less than a year. Instead, he became the Duke of Windsor.
The reasons Edward's relationship didn't go over so hot with his family and the government were pretty complex. According to Daily Mail, not only was Simpson American, but she had also been divorced twice, was still married when she first started seeing Edward, and was more than 10 years older than him, which raised some eyebrows back then for sure.
"One would warm towards her but her attitude is so correct and hard," the Queen Mother wrote in a letter dating back to 1940. "The effect is of an older woman unmoved by the infatuated love of a younger man."
Ouch. Clearly, the family wasn't getting along with Simpson, so it's no surprise that Edward decided to step down so he could continue his relationship with her.
At the time, Edward said in his abdication speech:
"I have found it impossible to carry the heavy burden of responsibility and to discharge my duties as king as I would wish to do without the help and support of the woman I love. And I want you to know that the decision I have made has been mine and mine alone ... The other person most nearly concerned has tried up to the last to persuade me to take a different course. I have made this, the most serious decision of my life, only upon the single thought of what would, in the end, be best for all."
To give up the crown had to be an incredibly difficult decision, and it doesn't sound like something that Edward took lightly. There had to be a lot of love between them then, and they remained married until Edward's death in 1972.
But now, knowing that Markle has been welcomed into the royal family with open arms (made all the more obvious by the Queen saying she's "delighted" about the engagement in her official statement on the matter), it shows just how far they've come. Like Simpson, Markle is American and has been divorced before, but as far as the public knows, neither of those facts has had any bearing on whether or not she made a suitable mate for Harry.
Other than Simpson, outside of the British royal family, other Americans have joined international royal families. Most famously, Grace Kelly, who became the Princess of Monaco when she Prince Rainier III.
Maybe now that Markle is paving the way in a more modern age, we'll see even more Americans join the family in the future? There are plenty of us here in the states, dreaming of becoming a princess someday, so it wouldn't be the worst thing in the world.