Why Some People Are Actually Upset Prince Harry & Meghan Markle Are Getting Married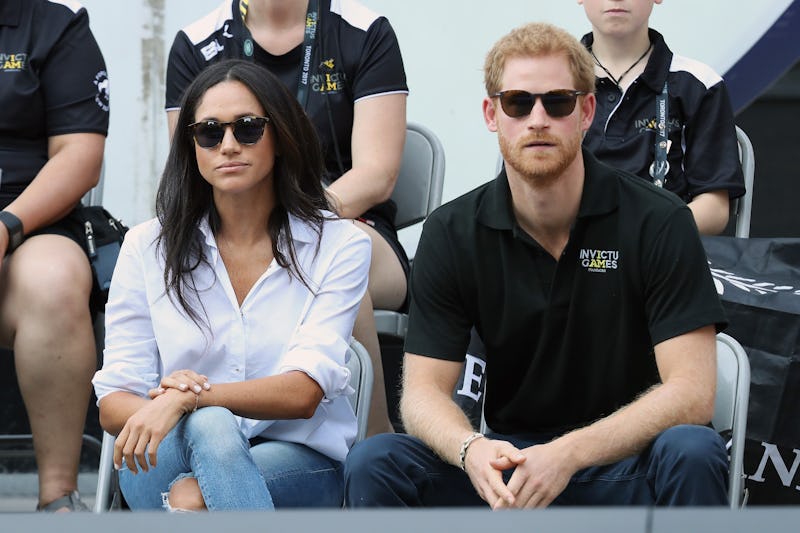 Chris Jackson/Getty Images Entertainment/Getty Images
Everybody who was hoping for a fairytale ending between Prince Harry and actress Meghan Markle was thrilled the couple's engagement was officially announced Monday morning. Some other people, however, don't approve of Prince Harry and Markle's upcoming wedding. The royal family revolves around tradition, and some people take issue with parts of Markle's identity and past.
The 36-year-old Suits actress was previously married to producer Trevor Engelson for two years, divorcing in 2013. Because Prince Harry's grandmother (Queen Elizabeth II) is supreme governor of the Church of England, those who want the royal family to abide by strict Christian values don't believe the prince of Wales should marry a divorcée.
This argument doesn't have teeth, considering other members of the family have gotten divorced — including Harry's own father, Prince Charles. Not to mention, the Church of England was formed by King Henry VIII specifically to be more receptive to annulments than the Catholic Church. The church certainly doesn't encourage divorce, and some divorcees aren't allowed to remarry in the church, but there are ways around it. For example, Prince Charles was remarried in a civil ceremony, later having his second marriage blessed by the church.
But aside from Markle's previous marriage, some people are also upset that Prince Harry is marrying an American actress. For those who want the royal family to remain dedicated to politics, not showbiz, Prince Harry's marriage to Markle signifies a shift from a serious, respectable family to one more focused on entertainment. "Some of us will simply detach our respect for the office of monarch from the person who holds it when the Queen goes," The Spectator's Melanie McDonagh wrote. The same article claimed that 70 years ago, "Meghan Markle would have been the kind of woman the Prince would have had for a mistress, not a wife."
Prince Harry is currently fifth in line for the throne, meaning he'll probably never be crowned king of England, and who he marries doesn't instantaneously alter the entire structure and purpose of the monarchy. It's also unfair to label Markle as "just a Hollywood star" considering she also does humanitarian work, serving as a global ambassador for World Vision Canada and an ambassador for the United Nations Entity for Gender Equality and the Empowerment of Women. And even if acting was her only job, the world should be past upholding strict standards of who certain people should marry in the year 2017.
This is all compounded with the fact that the prince of Wales is engaged to an American. In a Tatler article titled "Why Britain's most eligible bachelors are falling for spruce all-American charms," Sophia Money-Coutts said Prince Harry's coupling with Markle adds to a long list of rich American women who have married into British aristocracy. "It's simple, really: Your average English girl rarely brushes her hair and never cleans behind her ears, so it's no wonder that Britain's bachelors are falling for spruce all-American charms," she wrote.
Sure, Prince Harry's upcoming nuptials have dashed the dreams of British women pining after their own royal wedding, but there's no point in turning their union into a nationalist debate about women.
On top of these criticisms, there are also racist comments about not wanting Prince Harry to marry a woman of color. These remarks began months ago when the couple was only dating, and Prince Harry issued a statement asking the media to give Markle some privacy. The statement, issued by his communications secretary said, "[Harry's] girlfriend, Meghan Markle, has been subject to a wave of abuse and harassment," including "the racial undertones of comment pieces" and "the outright sexism and racism of social media trolls."
People who are uncomfortable seeing an English prince date a non-white American are obviously just as uncomfortable seeing the two marry. But, Prince Harry's willingness to call out racism directed at his fiancée shows he won't allow her to be disrespected or treated as anything less than his equal.
Regardless of the unwarranted criticism, many people in England and abroad are extremely excited for the royal wedding. Not many details are known yet, but Prince Harry and Markle will be married in Spring 2018.