Melania Is Skipping Trump's Camp David Trip & People Are Getting Concerned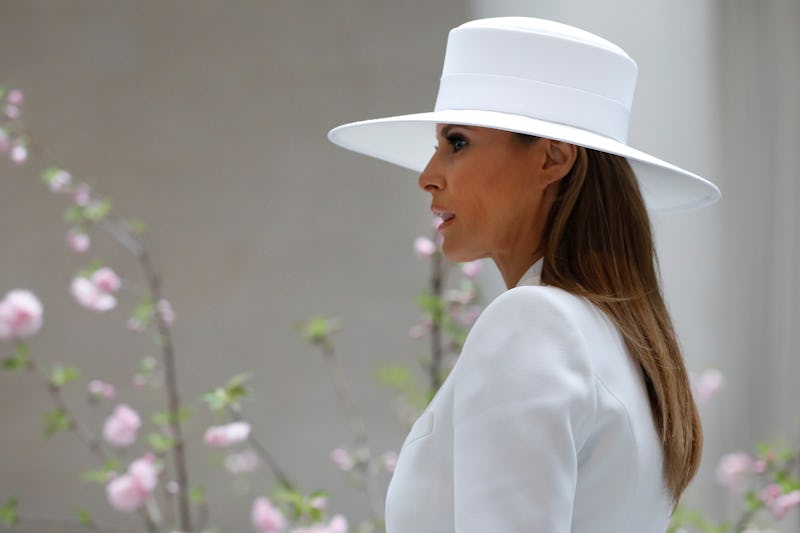 Aaron P. Bernstein/Getty Images News/Getty Images
Sure to add to the wave of conspiracy theories about Melania Trump's three-week public absence is the news that she won't accompany her husband when he goes to Camp David this weekend. Her spokeswoman wouldn't say why Melania won't join President Trump at Camp David, but insisted that she's still in good health after her recent surgery.
"She is fine, she's doing great," spokeswoman Stephanie Grisham said of Melania Trump on Friday. Bustle has reached out to the White House for comment on her absence during the president's trip.
The first lady underwent surgery for a benign kidney condition in the middle of last month. The procedure reportedly went well and left her with no complications.
Melania Trump checked into the Walter Reed National Military Medical Center for the surgery on May 14, but last appeared in public several days before that. Early in the morning of May 10, she helped Donald Trump welcome home three Americans who had been held prisoner in North Korea. It's now been 22 days since she's been seen.
Camp David is a compound of cabins and lodges in Maryland's Catoctin Mountains that presidents have used for retreats for over 50 years. The White House daily schedule notes that the president will leave for the "camp" at 3 p.m. on Friday. The date of his return is unclear, and while we don't know the full details of his agenda there, Axios reports that he and Vice President Mike Pence will be holding a national security team meeting to discuss "the South Asia strategy."
Melania Trump has accompanied her husband on at least two of his previous trips to Camp David, of which there haven't been many (he's tended to go less frequently than past presidents, preferring to retreat to Mar-a-Lago). The first lady, her son, Barron, and her parents all went with the president on his first visit there last June over Father's Day. She and Barron Trump also accompanied the president to Camp David in August, along with Ivanka Trump, Jared Kushner, and their own children. Those trips seem to have been at least partially planned to get some family time away from D.C., whereas this visit seems to be more business-focused.
Even if the trip is strictly for work purposes, Melania Trump's absence is still conspicuous in light of the fact that it's been over three weeks she was seen at all (The Washington Post reports that the date of her next public appearance is not known). Earlier this week, social media was full of conspiracy theories about her "disappearance," many of which were facetious — but now some people are getting sincerely worried.
"First Ladies don't just drop out of sight," wrote one Twitter user on Friday.
"I'm genuinely concerned about the Melania thing [and] it's really bugging me," wrote another user. "Maybe nothing is going on but it feels WEIRD, right? Where is she?"
According to Grisham, Melania Trump is hard at work these days, just not in the public eye. "She's been involved in several internal meetings with staff all last week, and that continues this week," Grisham told People magazine on Tuesday. "We've been going over initiatives and other long term planning for events such as the Congressional Picnic and 4th of July."
Melania Trump herself, via Twitter, has also entered into the discussion over her absence. "I see the media is working overtime speculating where I am [and] what I'm doing," she tweeted on Wednesday. "Rest assured, I'm here at the @WhiteHouse [with] my family, feeling great, [and] working hard on behalf of children [and] the American people!"
Many noted that the phrasing of Melania's message seemed more similar to that of her husband's tweets than her own. Its snarky tone, along with its often-used Trump phrases like "working overtime," caused some to wonder whether the president had been the one to word the post.