Melania Trump's Actual Political Views Are Harder To Figure Out Than You'd Think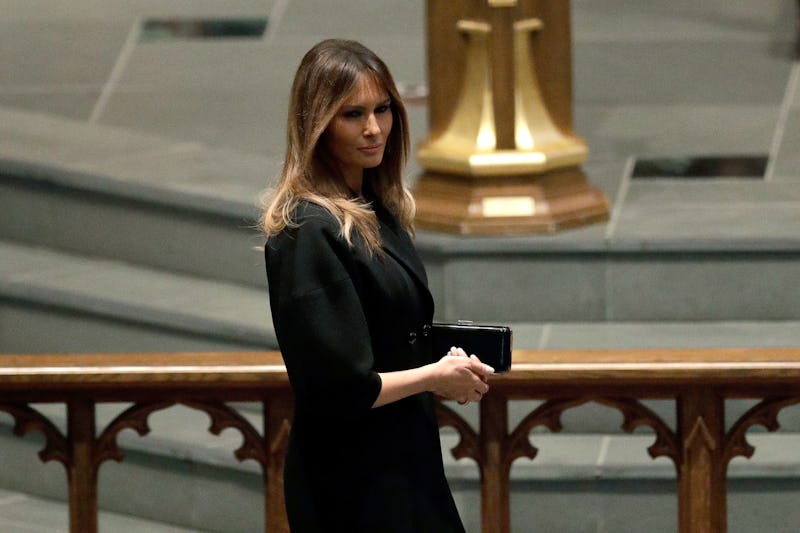 Pool/Getty Images News/Getty Images
On Monday, May 7, the first lady announced the official platform she'll work on for the remainder of her time in the East Wing. Following her "Be Best" campaign announcement, many Americans are probably curious about the first lady's politics, including whether or not Melania Trump is a Republican. As it turns out, the first lady's political party is not something she has publicly revealed.
Melania has historically been characterized as a private individual — one who does not frequently engage with the press and who does not typically discuss controversial issues in public. Indeed, some portray Melania as a foil to her much more public and vocal husband, Donald Trump.
Along these lines, Melania has not specifically indicated whether she is a Democrat or Republican. However, she did deliver a speech advocating for her husband's election at the 2016 Republican National Convention, something that could certainly imply that she is a Republican, considering her husband's status as the then Republican presidential nominee. During her speech, Melania repeatedly offered heavy praise for her husband and also suggested that he served as a better alternative to the Obama administration. As the now first lady put it:
Donald has a great and deep and unbounding determination and a never-give-up attitude. ... If you want someone to fight for you and your country, I can assure you he's the guy. ... Our country is underperforming and needs new leadership. Leadership is also what the world needs. Donald wants our country to move forward in the most positive of ways. Everyone wants change. Donald is the only one that can deliver it. We should not be satisfied with stagnation. Donald wants prosperity for all Americans. ... My husband offers a new direction, welcoming change, prosperity and greater cooperation among peoples and nations.
However, besides offering support for a Republican candidate, Melania's RNC speech did not necessarily reveal her own support (or lack thereof) for particular political platforms or policies. Instead, she spoke more broadly about supporting women's and children's initiatives as well as about the importance of helping veterans.
Moreover, Melania's expected platform as first lady does not look to be particularly political in nature, either. Trump's spokesperson, Stephanie Grisham, provided additional details to CNN regarding the campaign, saying:
As has been evidenced by the many events Mrs. Trump has participated in during her time as first lady, her focus will be the overall well-being of children. Something unique though: She has not narrowed her platform down to just one topic as has been done in the past. ... Mrs. Trump wishes to help the next generation by creating change through awareness on a variety of issues that affect children.
Melania's announcement of her formal platform seems to offer a sign that she is more fully embracing her role as first lady. After her husband was sworn into office, she received a good deal of attention for her seemingly reluctant approach to the first lady role. Initially, Melania had decided against moving into the White House, opting instead to stay in New York while her and Trump's son, Barron, finished out the school year. The first lady was also rarely seen at public appearances, especially without her husband.
However, lately Melania has increasingly held a more prominent role in the public eye. In April, she held her own event at the White House, which was designed as a listening session for middle school students to share the issues they are facing in their lives. Melania also hosted the administration's first state dinner in April, playing an enormous role in its planning. And, now, she's diving headfirst into her official issue platform.
Overall, while Melania's political party affiliation may not be known, she has made it clear that she is committed to increasingly embracing her role as first lady — and using her platform to help address issues affecting children.