Melania Trump's Siblings Are Somewhat Of A Mystery To The Public — Here's Why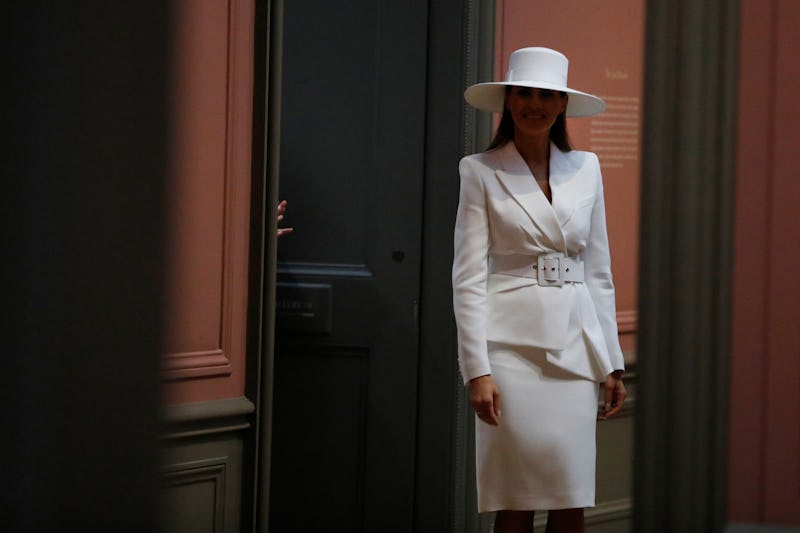 Aaron P. Bernstein/Getty Images News/Getty Images
One of the current first lady's defining characteristics seems to be her penchant for privacy, which can be a difficult thing for a first family to maintain. It's because of this, though, that few people seem to know whether Melania Trump has any siblings. According to a report from CNN, though, Melania, formerly Melania Knavs and then Melania Knauss, has one sister and one half brother.
Melania has always been close with her older sister, Ines Knauss. CNN's report said that Ines lived in New York as of 2017, only blocks away from where Melania lived with her family. Knauss was the maid of honor at her sister's wedding according to a report from People right after the event, but she's managed to maintain a very low profile, even as sister-in-law to the president of the United States. Express reported that the last public photo showing Melania and her sister was taken in 2005 at a benefit at Mar-A-Lago.
Julie Ioffe's expose on Melania and her past in GQ revealed some additional information about Knauss. For example, Ioffe noted that she would help sew the clothing designs that Melania would craft. The two of them both wanted to be designers, and they were both very quiet and introverted even as students. Difficult though it must be to reconcile this trait with having joined an extremely public family, Melania has managed to keep her family — and often herself as well — out of the spotlight.
The GQ report also revealed another side of Melania's family: her older half brother Denis Cigelnjak, with whom she shares a father but has never met in person. In her piece, Ioffe wrote that when she initially reached out to Melania about Cigelnjak, Melania denied his existence. Later, though, she clarified that she hadn't understood Ioffe's line of questioning when Ioffe provided her with Slovenian court documents proving that she did indeed have a half brother. "I've known about this for years," she told Ioffe. "My father is a private individual. Please respect his privacy."
When the piece ran, Melania publicly expressed her frustration with it and with Ioffe personally, according to a report from CBS News. She said that Ioffe had an "agenda" and that she was "looking to make a name for herself" with the article. "There are numerous inaccuracies in this article including certain statements about my family and claims on personal matters," Melania said about the article, CBS reported. "My parents are private citizens and should not be subject to Ms. Ioffe's unfair scrutiny."
Ioffe, for her part, told CBS News that she was sorry for any "discomfort for [Trump] and her family" that the article may have caused. She said that that wasn't her intention with the article, but also that "her husband is running for president — she is now a public person... the rumors have been circulating around Slovenia. If it wasn't me — somebody else would have reported it."
Melania's parents, Viktor and Amalija Knavs, have been almost as absent from the news as their older daughter — save a Washington Post report speculating about how they got their legal status in the United States. The report says that while it's still unconfirmed, it's very likely that the two of them are green card holders because of a process that President Trump calls "chain migration" — a system that he wants to end. Although Melania's sister's status is also still private, it's very possible that Melania also sponsored her immigration. If she is as close to her sister as the limited reporting suggests, then it's possible Melania has benefitted greatly from the so-called "family-based immigration" system.