Here's How Much Money Melania Trump Vs. POTUS Might Have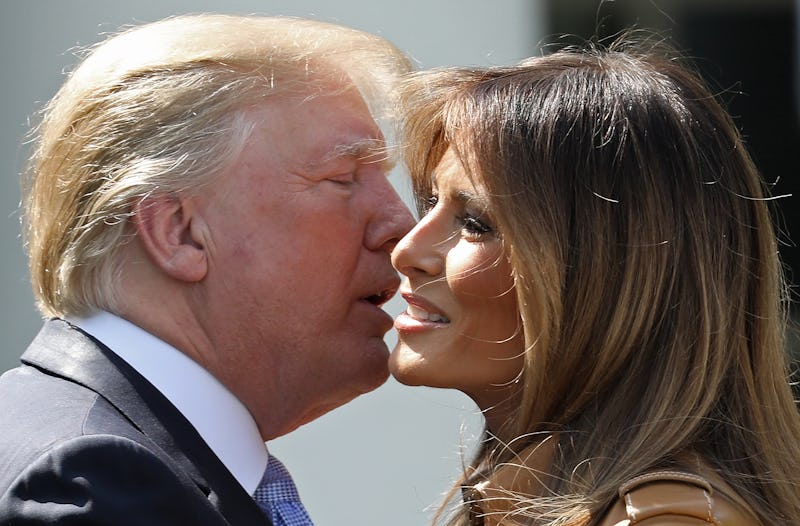 Win McNamee/Getty Images News/Getty Images
According to financial disclosure forms released by the government in May, the first lady made between $100,000 and $1,000,000 in 2017 from Getty Images by licensing photos of herself. That's a pretty enormous pay day, and it might have you wondering: Is Melania Trump richer than Donald Trump?
According to Celebrity Net Worth, the first lady is worth $50 million, while Donald is believed to be worth around $3 billion, according to Forbes. (In May, Trump's financial disclosure form included a detail about the first lady receiving somewhere between six to seven figures from Getty.) Those estimates suggest that Melania is not richer than her husband — but beyond that things gets a little bit complicated.
The first problem that immediately arises is the ambiguity around Donald's net worth. Although he's claimed to be worth various sums of money throughout his career, he's never released any documents — namely, his tax returns — that might corroborate his claims. Various people have arrived at very different estimates as to what his net worth might be, but it will be impossible to arrive at an exact number until the president releases his tax returns (and nobody is holding their breath on that one).
Likewise, Celebrity Net Worth is tight-lipped regarding its methodology; it doesn't say what sources it uses to arrive at its estimates, only that it employs a "proprietary algorithm" to do so. This makes it difficult to assess Melania's net worth with too much certainty. That said, she did have a successful career as a model prior to marrying Donald, as well as a line of jewelry that was sold on QVC, so it's possible that some of her net worth came from those ventures.
Those complications notwithstanding, even the lowest estimates of Donald's net worth make clear that he's much richer than Melania. In March, Forbes reported that the president has around $3.1 billion in liquid and illiquid assets — much less than the $10 billion he claimed to be worth in 2016, but still a hefty sum. Even if one excludes the value of his real estate holdings and businesses, and only counts his cash and personal assets, Donald still has around $290 million, according to Forbes, making him several times wealthier than his wife.
Although there's no question that the president is at least a moderately wealthy man, his net worth has plummeted since he became president. When Forbes released its most recent rankings of the world's richest people, Donald dropped more than 200 spots, with the magazine's analysts concluding that his net worth fell by roughly $400 million between March 2017 and March 2018.
Some of this was due to factors beyond the president's control. The New York City real estate market struggled that year, for instance, and Trump owns a lot of real estate in the city. That's certainly not Donald's fault.
However, Forbes attributed some of the president's losses to his presidency, and the manner in which he's conducted himself in office. During the 2017 Toronto International Film Festival, for instance, many of the attendees reportedly refused to stay at Trump International Hotel, opting instead to book different lodgings away from the epicenter of the festival. That hotel was subject to anti-Trump protests later in the year, prompting it to remove the Trump name from its branding entirely.
During the same period of time, the Trump SoHo hotel struggled to book rooms, according to the New York Times, and it too opted to scrap the Trump name from its marquees in order to distance itself from the president. In March 2018, workers at the Trump International Hotel in Panama City — previously the only Trump-branded hotel in Central America — pried Trump's name off of the property with a crowbar and hammer after winning a legal battle with the Trump Organization.
Donald's dwindling net worth notwithstanding, he still appears to have much more money than Melania — but Melania certainly isn't struggling.