Apparently, Michael Cera Is Married — And Possibly For A Very Long Time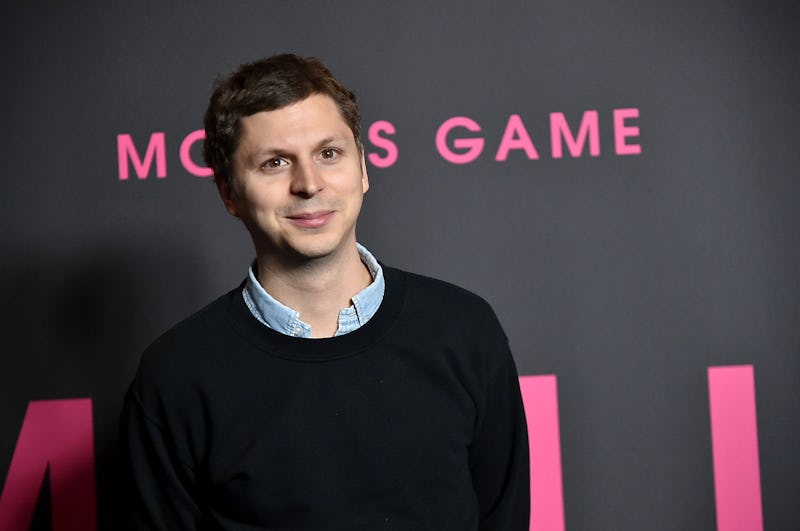 Mike Coppola/Getty Images Entertainment/Getty Images
There are reports circulating that Arrested Development star Michael Cera is married. According to Us Weekly, Cera wed his longtime girlfriend named Nadine. Cera made headlines after he was seen walking with Nadine in Brooklyn on March 11 wearing what appears to be a gold wedding band on his ring finger, and Us reports that a source confirmed they're married. (Bustle reached out to a manager and agent for Cera, but did not receive a response at the time of publication.)
Us Weekly reports it's not entirely clear when Cera and Nadine started dating, but the Scott Pilgrim vs. the World actor has apparently been wearing a ring on his left hand since January 2017. On Jan. 2 of last year, the Daily Mail shared photos of Cera and his Superbad co-star Jonah Hill taking a stroll together in Manhattan. If you look closely, you'll see a gold ring on Cera's left finger.
Not much is known about Nadine, but according to Extra, there's a chance she's been dating the comedian since 2014, which is the same year Cera released a song about someone named Nadine titled "ohNadine (you were in my dream)", as Page Six reports. If you take a look at the lyrics, it's clear how Cera feels about this particular Nadine. The short song goes as follows:
"Oh, Nadine/Woke up from a dream last night/Where all the skies were green/You were the sun/Down on the wave came your daylight/Oh, Nadine, you were the sun/Oh, Nadine/I can't help have a funny feeling you'd be good to me/You were in my dream/Oh, Nadine/You once had a lovely dream/And woke with pain of loss/You looked at the sky/Lost in the darkness 'round the moon/Oh, Nadine, I'll be there soon/Oh, Nadine, I'll be there"
As you can see below, in August 2015, Amber Tamblyn shared an Instagram of Cera, Nadine, and another friend, Megan Hardy. She captioned it: "#nofilter with @mhardy479, Nadine, and Michael Cera". Based on this photo, it's probably safe to say Cera and his possible wife have been together since at least 2015.
If Cera really did get married, it's no surprise he hasn't announced it or confirmed it in the media. The Juno star is pretty private when it comes to his personal life. It wasn't until November 2016 fans learned that not only did Cera and Aubrey Plaza once date, but that they almost got married.
As the Parks and Recreation star revealed on RuPaul's podcast with Michelle Visage, What's The Tee?, she and Cera had such a strong connection after 2010's Scott Pilgrim vs. the World that they almost got married in Las Vegas. She said they formed quite the bond during a cross-country road trip, dated around "a year and a half", and then "almost got married in Vegas" as a result.
Even though they never officially said "I do", at the time of this major reveal, Plaza said they were still close friends. "He's a very special — I mean, we love each other," she said. "We're still really good friends. He's just a weird little freak and we speak the same language. He's one of the funniest people I know."
Yeah, Cera is an expert at keeping secret who he's dating... or reportedly marrying. Seeing as he's apparently been wearing a ring for over a year, it's like this relationship has been right in front of everyone's eyes, but no one really noticed.
There's a high chance Cera won't ever confirm his romantic status. Though, if it were to happen it might take a few years and for someone else to do it for him just like Plaza revealed their relationship six years later.