Its Supernatural Southern Charm Will Make You Want To Move To 'Midnight, Texas'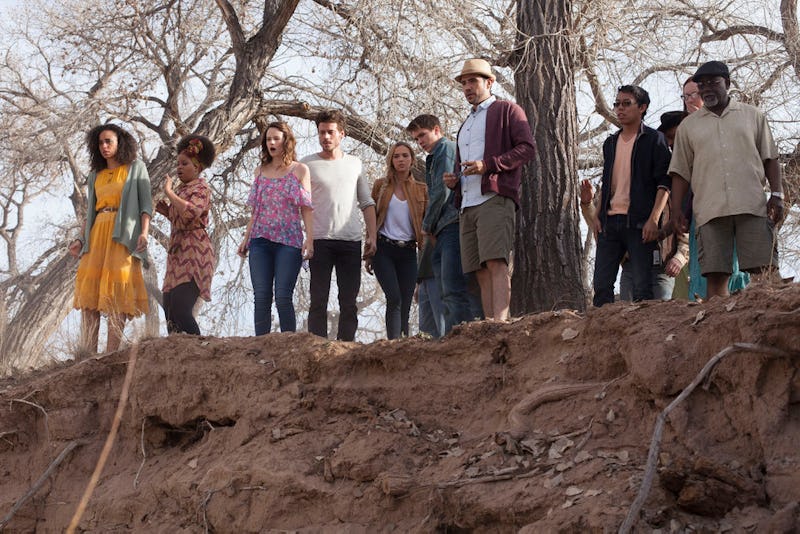 Cathy Kanavy/NBC
Moving to a small town from a more populated place can be tricky, but it's especially tricky when most of the locals are supernatural beings. But that's reality in NBC's July 24 premiere, Midnight, Texas. The fantasy series follows a psychic looking for a fresh start in a very unique place. But is Midnight, Texas based on a real town? If you were a fan of that other show inspired by Charlaine Harris's other series, True Blood, you may already know that the answer to this question isn't black and white.
While Midnight doesn't exist on the map, it is inspired by Harris's childhood experience. Growing up she spent summers in Rocksprings, Texas with her family. When it came time to create the world for her Midnight, Texas book series, she drew upon those memories. "Midnight is a lot like the little town that I knew," Harris told the Texan newspaper Star-Telegram. Naturally, Harris's version of Midnight also comes with supernatural witches, vampires, and angels. But the "little town" that apparently inspired her has some weirdness of its own.
According to the website Texas Escapes, Rocksprings is known for being a center for acquiring wool and mohair, which doesn't sound very fantastical at all. However, the natural site The Devil's Sinkhole is eight miles away. The Devil's Sinkhole is the largest single chamber cavern in Texas and is home to one to four million Mexican free-tail bats. You'll probably agree that the idea of millions of bats flying across the sky sounds like a moment you might read about in one of her stories. Whether Harris is familiar with the bats or not, she choose an interesting location for fictional town.
For the fans looking to make the move from True Blood's Bon Temps to Midnight, they may be happy to know that the population of this town is just as otherworldly. But the two towns — and two shows — are not exactly the same. For starters, the main character in Midnight, Texas is psychic Manfred Bernardo, played by François Arnaud, who decides to move to the small town and finds a very interesting, close-knit population. He meets an interesting cast of characters, who all seem to gravitate toward this town for protection from the outside world. The trailer says that in Midnight, Texas, "only outsiders fit in." This could indicate that the inhabitants will value loyalty, which was not always the case in Bon Temps.
Like Midnight, Bon Temps is a fictional town. Harris has used her upbringing on the Mississippi Delta as her inspiration for the Louisiana locale. In an interview with SF Site, Harris said that Bon Temps is, "A figment, based on lots of experience with southern small towns." That small-town influence is essential to all of Harris's stories and it seems that Midnight, Texas will follow in that tradition.
Viewers might not be able to visit Midnight in real life, but they can still enjoy the small-town feel when Midnight, Texas comes to NBC. Of course, visiting Midnight may be a safer choice than moving there.