'X-Files' Will Finally Get Another Glimpse Of Mulder & Scully's Son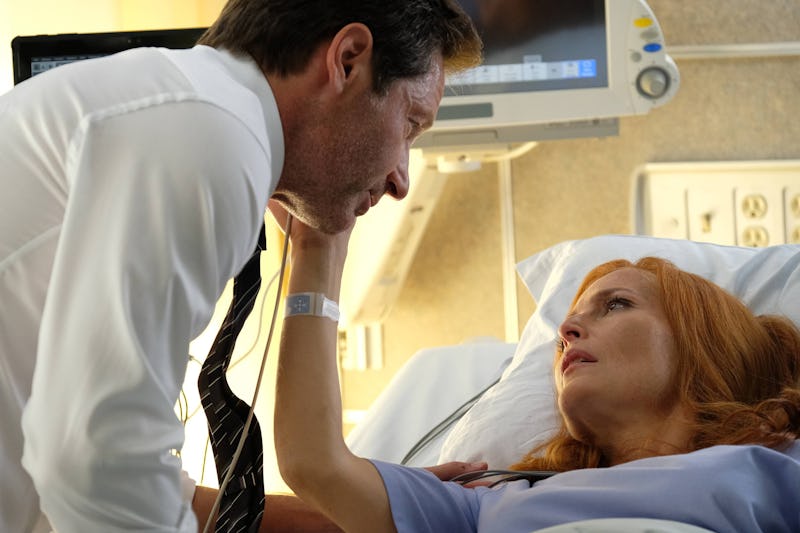 Robert Falconer/FOX
With a new season of The X-Files revival, fans can expect some new characters, including a few monsters of the week. However, when the show returns on Jan. 3, some long-lost characters are also going to be in the mix. Will Mulder and Scully's son William be in The X-Files Season 11 ? He just may be the most important figure in these new episodes.
Fans have been already speculating for months that William will resurface. He is basically the subject of The X-Files Season 11 trailer that was released at New York Comic Con. In a couple of the clips quickly shown in the trailer, William is discussed. Scully says, "I need to find our son." In a different scene, a man questions Mulder about William. Mulder responds, "My son is none of your business."
For those who don't remember, William was born under rather unusual circumstances. William was described as a miracle baby on the show, because before becoming pregnant, his mother Scully had thought herself to be infertile. Moreover, when William was born he displayed otherworldly supernatural abilities. Namely, he had the power of telekinesis, the ability to move objects with his mind. Scully put up for adoption to protect him from the forces that seemed to want his gifts and he's been separated from his parents since then.
However, it has been confirmed that William will not remain lost for the whole season. The show's creator, Chris Carter told TV Guide that William will play a "pivotal role" in this new season. Moreover, the search for their son will ultimately bring Mulder and Scully closer together.
At the series New York Comic Con panel, per TVLine, Mitch Pileggi (Skinner) also hyped William's storyline and importance to this season. "I think [the William storyline] is… brilliant. I think it's done really well, and you guys are going to be very, very happy with it," he said. Carter added, "We explore that father-son-mother relationship, and you'll see more of William than you've seen in a long time."
When panel moderator Michal Ausiello asked about what (or whom) William will look like in the new season, Gillian Anderson said that he "looks like a normal kid." David Duchovny, however, teased what could be a shocking reveal. "He resembles two people that aren't Mulder and Scully," the actor said. "And when you read this back [after watching the episodes] you'll figure this out."
William becoming a pivotal piece of this new season isn't the only change fans can expect for the new season of The X-Files. In an interview with CinemaBlend, Carter talked about how this season will differ from the last one. He said:
"I think what we did in Season 10 is going from a standing start after 13 years off the air, it was ready-set-go and we hadn't gone for over a decade. In this case we had much more of running start. With the increased number of episodes, we were much better prepared to handle that workload because there were so many variables and unknowns that we had in Season 10 that were no longer unknowns and no longer necessarily variables. So I feel that we were ready for 10 [episodes], that the mix of episodes just is the same save for the greater number of standalone or Monster of the Week episodes, as some people call them."
It's pretty much a given at this point that William will come back into his parents' life, but who will he be when he does? There is still so much unknown. IMDB hasn't listed an performer yet, nor has it been announced how many episodes he will he appear in. Does he still have his powers? And what do the shadowy forces that Mulder and Scully have been fighting against for years want with those powers? These questions and many more will undoubtedly be answered as Season 11 progresses.