This Is How To Tell If Your Period Pain Is A Sign Of Something More Serious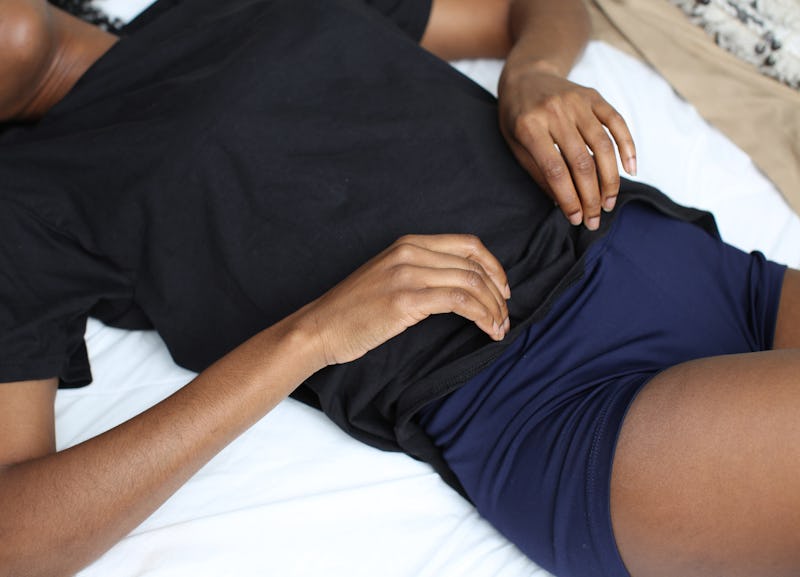 Ashley Batz / Bustle
Most people who have a uterus have been dealing with period pain since at least their early teenage years, so it's easy for some folks to write off extreme pain as part of what comes with having a period. But not all period pain is normal. Sometimes, a painful menstrual cycle can be a sign of serious health complications that shouldn't be ignored. The medical term for excessively painful menstrual cramps is dysmenorrhea, and it's most common amongst teenagers and people in their 20s. Dysmenorrhea is often a symptom of underlying issues like uterine fibroids, endometriosis, or pelvic inflammatory disease (PID), but it could be a symptom of many other issues — all of which should be taken seriously.
A lot of the time we try to just soldier through our pain, but depending on the underlying cause, it could be dangerous — not to the mention the fact that you really don't need to be in pain. Women have been socialized to just deal with pain, especially period pain, but if you think about it, that doesn't make much sense. If you had a debilitating pain in your head, wouldn't you see a doctor about it? There is some discomfort is associated with menstrual cycles, but it's time to debunk the idea that any pain (no matter how intense) is "normal."
Your body can tell you when something isn't right. You just have to make sure you're paying attention to the warning signs, and for people with periods, that time of the month can be a major indicator of your overall health. These five potential signs of abnormal period pain are only a few of many things that could be causing your period to be painful, so be sure to contact a health professional if you have concerns.