'GBBO's Nadiya Tried Going Vegan & What She Has To Say About It Makes A Lot Of Sense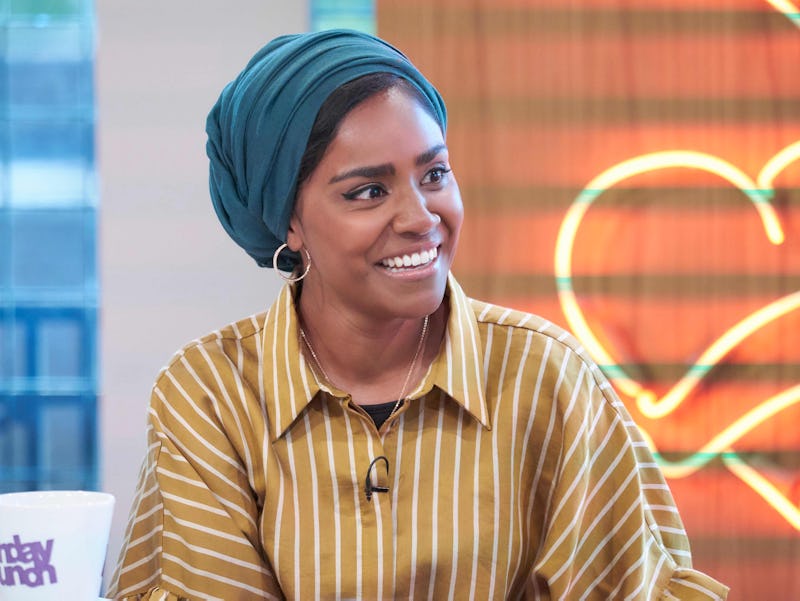 Steve Meddle/Shutterstock
If there's one thing in life that I'd love to get right, it's feeling like I'm eating a balanced, nutritious diet. As much as I hate to admit it, I know that my lack of energy and constant need to nap is totally down to what (and how) I eat. Funnily enough, celebrity baker Nadiya Hussain had this same epiphany at the beginning of the year, and decided to see if cutting out meat and dairy could change her and her family's mood — and general wellbeing — for the better. So, is Nadiya Hussain vegan, and how did she implement the change?
Written as a feature in her monthly BBC Good Food column, Hussain challenged herself and her family to go vegan for two weeks. While Hussain and her family haven't turned fully vegan, going sans-meat and dairy for two weeks has truly changed their diet for the better. It was like a detox of sorts, and one that opened their palettes to a world of delicious substitutes and ingredients that Hussain had never even heard of before.
Even though it didn't take long for her to feel restricted as to what fresh meals she could make for her family, it encouraged her to "find alternatives, such as using flaxseed instead of eggs, and coconut oil instead of butter. [They] even discovered new ingredients like tempeh, which is meat substitute made from fermented soy beans [...] Fried, it gave us the meaty texture [they] were craving."
As you might expect, suddenly taking away a major part of your diet can be a bit overwhelming. But thanks to an increasing number of the population turning vegan in the UK — around 600,000 people, according to The Vegan Society — there is an abundance of meat-free options on supermarket shelves.
"We found that we could still eat most of our favourite meals, including lentil curries with flatbreads and mushroom bhajis, and Bolognese made with soy mince," Hussain explained in her column. "The whole family was eating more vegetables and pulses, and felt full of energy."
And while Hussain and her family haven't turned fully vegan, their two weeks without meat has certainly changed their eating habits for the better. "Since our two weeks of living as a vegan family, we've cut out cow's milk completely and switched to drinking soya milk," she said.
"We still enjoy eating meat, but the experience has made me realise we eat more than we need. As a compromise, we decided to eat vegetarian meals during the week and only eat meat over the weekend. That way, we have more balanced diets."
As highlighted by 9Honey, being a part-time vegetarian (a flexitarian) is actually on the rise. Referring to research conducted by Forum for the Future and Counterpoint in 2016, "45 percent of UK women are eating less meat than they ever have, and many more are at least planning on cutting down their intake."
According to the researchers, "the trigger for people eating fewer animal products is often ethical concerns, however, for some health and fitness benefits are the primary draw.
"This movement is being driven by women and people aged 15 to 34. Given that women remain the primary grocery shoppers in the majority of households, grocery retailers and suppliers will need to respond to the growing demand for diets richer in plants and lower in animal products."
Basically, if you've been thinking about going flexitarian, vegetarian, or vegan, now is the right time to do so. I mean, I'm itching to try this out myself.