Nadiya Hussain's New Show Proves There Really Is Nothing Like A Home Cooked Meal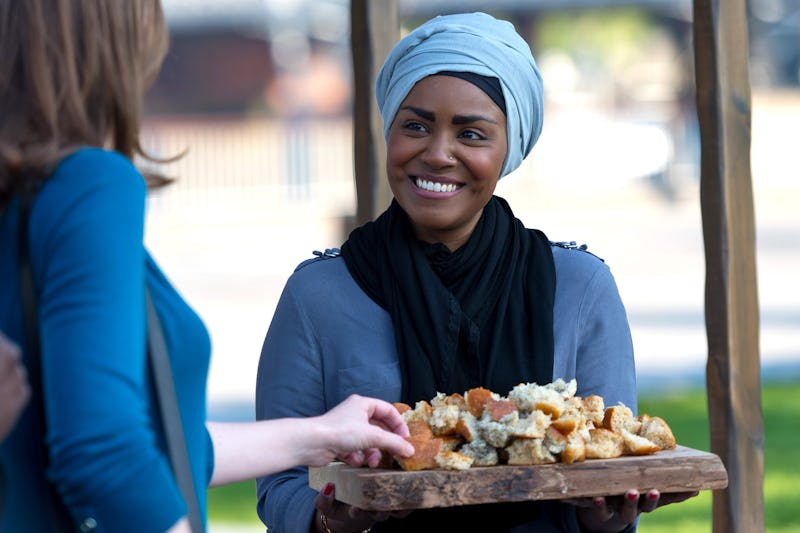 Ben A. Pruchnie/Getty Images Entertainment/Getty Images
Nadiya Hussain won the hearts of the country back in 2015, when she won The Great British Bake Off. Her incredible talent and warmth led her to become not only the nation's sweetheart, but a fantastic female role model. Since then, fans have been eagerly watching her appearances on TV, and there is no denying that she has excellent on-screen presence. So, it comes as no surprise that she's now got own brand spanking new show, Nadiya's Family Favourites. But when is Nadiya Hussain's new show on?
Well, good news, Bake Off fans. You don't have a long wait at all to catch Hussain back on your telly. Her new series starts on Monday, July 16, on BBC Two at 8 p.m. Excited? Me too. But what exactly is her new show about?
Nadiya's Family Favourites will see Luton-born Hussain travelling around the U.K., meeting different, interesting people who have traditional recipes they like to make at home. These ordinary folk, who are being hailed as "food champions", will be on the show to share their traditional recipes with Hussain. She will then get her chance to learn how the delicious recipes are made. Armed with her own tricks and cooking secrets, Mary Berry's iconic star baker will then take the recipes and incorporate her own unique twist, utilising her Bangladeshi roots for inspiration.
Having already starred in TV shows like the ingeniously named Chronicles of Nadiya, as well as Family Cooking Showdown, Hussain is certainly becoming quite the star of food television. Add to this an absolute rake of cookbooks, including Nadiya's Kitchen, as well as contributing to multiple periodicals, and the fact that she made the queen's 90th birthday cake, reports the MailOnline, Hussain really has been smashing it since winning GBBO in 2015 — the final which saw her win was watched by 15 million viewers, according to the Telegraph. Opening up about her approach to her career, Hussain told the Sun: "I'm never gonna put boundaries on myself ever again. I'm never gonna say I can't do it. I'm never gonna say 'maybe'' I'm never gonna say: 'I don't think I can.' I can and I will."
Since winning Bake Off, Hussain has admitted that her life has changed dramatically, not just with regards to her career but also her self-esteem. "I feel a lot more confident and I'm better at taking risks," she told the tabloid. Before, it was easy to be comfy with what I was doing – just being at home with the kids was risk-free. Now nothing feels risk-free, but I'm enjoying taking the plunge."
But moving back to Nadiya's Family Favourites, seriously, guys, it's time to get excited. Hussain has created a show that all the family can enjoy as she she shares recipes that vary from very simple, quick, and easy meals to more complicated dishes. It is a must see for any keen home cook that wants to gain more culinary knowledge to show off to friends and family. And then, of course, there are all those potential Instagram friendly meals. Am I right, or am I right?
In my opinion, the eight-part series is set to be an absolute smash hit because it is going to offer up recipes that are easy to incorporate into modern life, no matter how busy you are. Meals that can fit into your bonkers schedule or to be enjoyed on a long, lazy, languid day off. In her latest show, Hussain wants to teach people how to throw something together from what you have, to have the confidence to be a capable cook, for all budgets and time constraints. Because there really is nothing more important than a nice home-cooked meal.
Bring on the recipes, Hussain.