A New True Crime Doc Explores The Story Of Dee Dee & Gypsy Blanchard Once More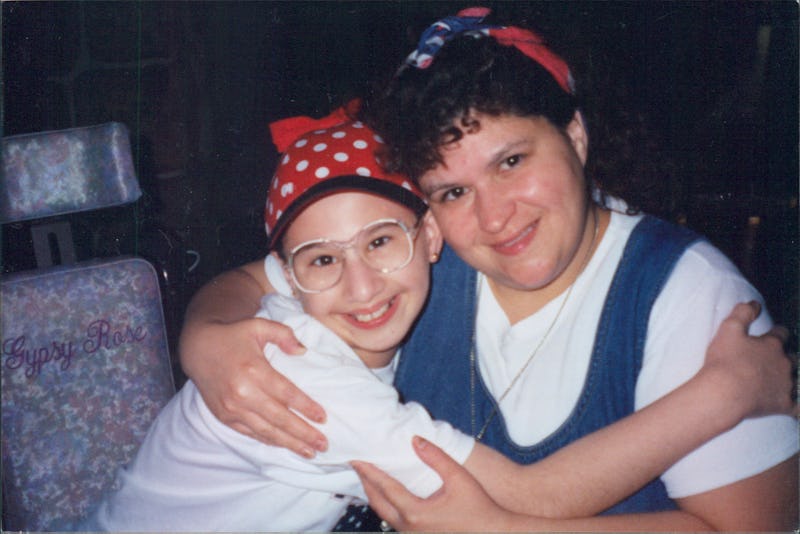 Courtesy of Investigation Discovery
Sometimes, extreme circumstances can push people to commit unimaginable crimes, and that's what allegedly happened in the case of Gypsy and Dee Dee Blanchard. According to the Springfield News-Leader, Gypsy and her boyfriend, Nicholas Godejohn, were charged with the murder of her mother, Dee Dee, back in 2015. As a new documentary, ID's Gypsy's Revenge, readies itself for a TV debut, Gypsy is still serving her time for the murder of her mother, and Nicholas Godejohn remains in jail as well.
Godejohn, as of March 2018, was still awaiting trial for Dee Dee's murder, according to another report from the News-Leader. Last December, a judge set a trial date for Nov. 13, 2018, meaning his day in court is coming up quickly following the show's debut. Jury selection is slated for Nov. 8 of this year, per the same newspaper, and the trial is expected to last about three to four days. Godejohn has pleaded not guilty to the charges.
Godejohn allegedly helped Gypsy kill her mother after she forced Gypsy to pretend she was disabled, and didn't allow her to leave home, according to Gypsy's attorney and family, in a report from People. ABC News reported that by the time Gypsy turned 8 years old, she was allegedly suffering from conditions like leukemia, muscular dystrophy, vision and hearing problems, as well as seizures. She also used a wheelchair and a feeding tube in her daily life. The same article states they were even local celebrities, with the community pitching in to help with Gypsy's conditions and gifts from Make-A-Wish Foundation rolling in.
As it turns out, Gypsy could walk perfectly fine, and never suffered from any of the conditions Dee Dee had claimed she had, as per the same ABC News report. Dee Dee was allegedly altering documents and defrauding charities with false claims, and suffered from her caregiver role to Gypsy. Despite the false nature of the conditions, though, all of the medications and surgeries were things Gypsy really endured, making her a victim of Munchausen syndrome by proxy,
Gypsy told ABC's 20/20 last winter that she knew she could walk, but wasn't allowed by her mother to do so — she always had to use the wheelchair. As for the rest of it, Gypsy assumed her mother wouldn't lie to her. "I was so young, so me looking up to her so much and just believing she knows best — I didn't question it," she said, per the same ABC News interview. "It's sad because I think about all the times that I could have been walking around like a normal person, skating, riding bikes and stuff, and I've never done any of that."
Godejohn entered the picture when he and Gypsy started dating after meeting on a Christian dating site, according to The Guardian. Gypsy and Godejohn clicked immediately, but when Dee Dee found out the two were dating, she reportedly forbid Gypsy from seeing Godejohn again, and took the role of "captor" more seriously than before, the same report continues. Gypsy claims she asked Godejohn to kill Dee Dee for her, and that she hid in the bathroom while he did it. They ran away together, but were ultimately apprehended.
Another ABC News report states that Godejohn's mother told authorities that he only functions at about a 15 or 16 year old level. Godejohn told ABC that he only went through with it "because Gypsy told him it was the only way they could be together. He said he thought he was saving her from her mother," the outlet reported her as saying. But Gypsy told the same outlet that she thinks Godejohn enjoyed controlling her, too, and turned on Dee Dee on his own.
Gypsy and Dee Dee's relationship, as well as the latter's death, has been a subject of TV fascination before — the documentary Mommy Dead And Dearest aired on HBO last year, and outlined the entire story. Now, Gypsy's Revenge on Investigation Discovery will take another look back on the case, just before Godejohn's fate is decided once and for all.