I Bleached My Hair And This Treatment Saved My Curls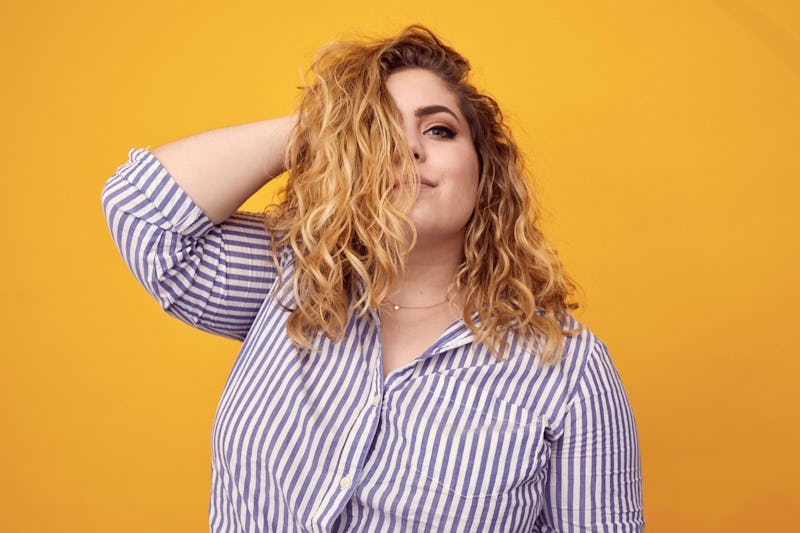 Ashley Batz/Bustle
As a card-carrying beauty junkie, I get deeply obsessed with the science behind any new technologies or formulations that hit the market. So you can only imagine my excitement when a product came onto the scene a few years ago claiming to be able to *actually* repair your hair. Enter Olaplex, a three-step treatment that re-forms the broken bonds in your hair, healing it from the inside out, primarily used when coloring hair.
If you're a fan of hair color transformations, you have have noticed that Olaplex is frequently a part of the process and a major player in how they achieve that shiny and silky "after" photo. Big league colorists like Guy Tang and Tracey Cunningham are always featuring Olaplex in their transformations and many are even ambassadors for the brand. If you've never used Olaplex in your color appointments, it might be because it's not exactly free. It can be up to $100 on top of the cost of your highlights and processing. So I decided to set out to see if Olaplex is really worth the cost.
Like so many others, I discovered the joys of coloring my hair when I was a teenager. For four years I would just grab any dark brown box dye off the shelf. Once, I accidentally dyed my hair low-key purple — that was exciting. Last summer I decided the dark brown hair era of my brand was done and wanted to make a change for the blonder. The transformation took about eight hours over the course of two appointments, but I finally got to a color I was happy with.
While my hair looked gr8 when it was styled, all of the bleach wreaked havoc on my natural hair texture. Take a peek at my natural curls before and after coloring, styled and air dried in the same way.
Clearly, my curl pattern was none too pleased with all that bleach, so I began the process of nursing it back to health. That mostly involved spending as much time as possible with deep conditioner in my hair (Ouidad Curl Immersion Triple Treat Conditioner is truly heaven sent) and laying low on the hot tools. I eventually got my healthy curls back, but when I decided to color my hair again this summer, I wanted to avoid all the heartache from the start.
Here's where Olaplex comes into my hair-story. As previously mentioned, I have long been fascinated with this alleged miracle treatment. One quick trip into #Olaplex on Instagram and I think you'll understand. So a few weeks ago I booked an appointment with Nicole Tresch at the Rita Hazan Salon in New York with the hopes of going blonde, not damaging my hair, and learning more about Olaplex. Spoiler alert: IT WAS A SUCCESS!
The Olaplex system is used in tandem with hair coloring to help repair hair during and after a damaging treatment. According to the brand's website, No. 1 is the Bond Multiplier that can be added to lightener, color, or chemical treatments to rebuild the disulfide bonds which are broken from bleaching, other chemical processes, heat styling, or general mechanical damage, and actually repair hair. Instead of mixing it into the bleach, Tresch prefers to use No. 1 as a stand-alone treatment after the she's lifted and toned the hair color to the desired shade. She tells me that Olaplex slows down the lightening process, which would mean leaving the bleach on longer to get to desired shade of blonde. Tresch actually finds she gets better results (aka healthier feeling hair) if she keeps the bleach on for a shorter amount of time and uses No. 1 after the fact.
No. 2 is the Bond Perfector, a post-coloring, in-salon treatment that goes to work on any remaining broken bonds and makes hair shiny and strong. The final step, No. 3 Hair Perfector, is a little bottle you take home with you as a weekly treatment for continued damage protection. It's important to note that this is not the same as a deep conditioner: You use it in a similar way but it's working the bonds in your hair, not the moisture levels.
So now you know a little bit of how it works but the real questions is, is Olaplex worth it? Short answer, yes. I think Tresch puts it perfectly, "It's a no brainer. To spend hundreds on your color then not add [Olaplex] to ensure it stays healthy? It doesn't make sense. Color looks its best when the hair is healthy."
Let's say it again for the people in the back: COLOR LOOKS ITS BEST ON HEALTHY HAIR! If you're spending your time and money (often a lot of both) to get your hair colored why would you not pay the extra $50-$100 to have your hair look and feel like hair instead of straw? Tresch actually told me she will sometimes refuse to color clients hair if it's too damaged and they're not willing to pay for the Olaplex. Las Vegas-based colorist Shelley Gregory tells Bustle she actually factors the cost of Olaplex into her prices. If you don't see Olaplex as an add-on at your salon, it's possible they just automatically include it in a service, so be sure to ask.
My hair was *very* straw-like after I colored it last summer. Olaplex helped me completely avoid that this time. I had two bleaching sessions, each followed by Olaplex and my hair does not feel damaged in the slightest. Olaplex allowed me to significantly lighten my hair while keeping its integrity and curly magic. So yeah, I'd say Olaplex is worth it.