Looks Like Katy Perry's At The Grammys Solo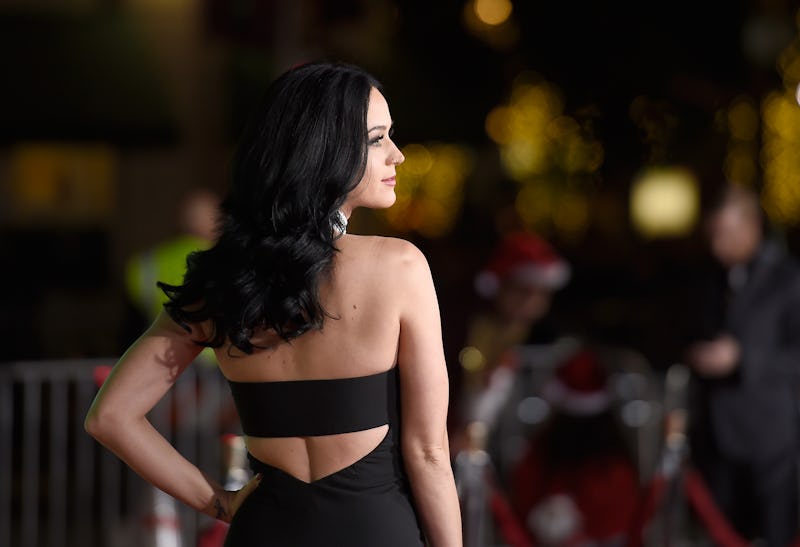 Matt Winkelmeyer/Getty Images Entertainment/Getty Images
Katy Perry walked the 2017 Grammys red carpet literally dressed in gold — but it looked like the pop star was going solo as she was interviewed by Ryan Seacrest. So, is Orlando Bloom at the 2017 Grammys to support Perry? It doesn't look like it. Perry spoke to the E! host about her upcoming Grammy performance of her new single "Chained to the Rhythm," but if you were hoping to spot her reported actor boyfriend, you were not in luck. As she continued down the red carpet to talk to Nancy O'Dell with CBS, Perry was still solo.
Perry chatted with the hosts about her upcoming album, as well as the meaning of her new song. "It's still a dance song, but all of my songs have had meanings. It's not one dimensional," Perry told O'Dell. "This song poses a question in your mind." The singer recently released the single "Chained to the Rhythm" and mentioned to the CBS red carpet hosts that a music video for the song is coming soon.
But there was no sign of Bloom on the red carpet alongside his reported girlfriend. Bloom and Perry have yet to officially confirm their romance, but they have appeared together very often since they reportedly began dating last year.
According to an Orlando Bloom fan Twitter account, Perry and Bloom were spotted together at a pre-Grammy party, so it does look like he did support his maybe-girlfriend at a more private event. But his Instagram account hasn't shown any evidence that he's currently at the Grammys with Perry.
His latest photo is one of himself and a cute dog, lounging in a chair.
And that's OK. Wherever Bloom is, he is likely to be cheering on Perry in his own way.