Otto Warmbier Is Still In North Korea Today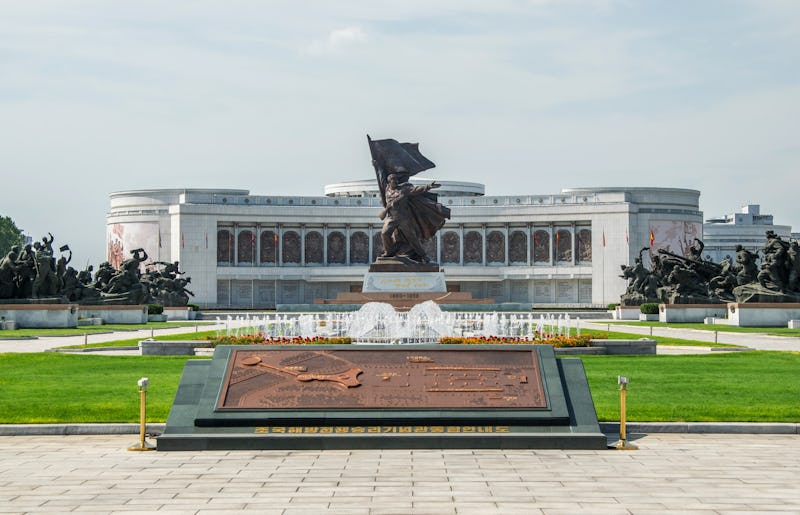 Getty Images/Getty Images News/Getty Images
On Saturday, the North Korean government reportedly detained an American citizen in the country, according to the Swedish embassy in Pyongyang and the Pyongyang University of Science and Technology's chancellor. Tony Kim was a teacher at the university, but was reportedly detained at the Sunan International Airport while trying to leave the country. It's unknown why he was allegedly detained, but it's reigniting conversation over another American named Otto Warmbier whom North Korea detained in 2016. In fact, Warmbier remains in North Korea still.
He has been imprisoned in the country since January 2016, when he was arrested for allegedly trying to steal a propaganda poster from a hotel. He had been on a guided tour of the country but, like Tony Kim, was detained at the airport while attempting to leave. The U.S. State Department has repeatedly called for him to be freed, and American diplomat Bill Richardson attempted to negotiate his release, but North Korea sentenced him to 15 years hard labor regardless, and that has not changed.
If reports of Tony Kim's detainment are correct, there are currently three Americans jailed in North Korea: Tony Kim, Warmbier, and Kim Dong-chul, a naturalized U.S. citizen born in South Korea but reportedly detained in North Korea since October 2015.
North Korea has detained a total of 14 U.S. citizens since the 1990s, including Warmbier and Kim, according to the Telegraph. The DPRK has accused them of various crimes, including espionage, entering the country illegally, or spreading religious texts. Most detainees were released in under a year, but a few weren't: Warmbier and Kim Dong-chul have both been in North Korea for over a year, while Kenneth Bae was detained there for over two years before being released.
After Warmbier's detention, he delivered a "confession" on North Korean state-run television. But at least one former prisoner of North Korea has claimed that the "confession" he read in front of TV cameras was forced, and that the words supposedly were written by the North Korean government. Though it's been suggested that Warmbier's words could have been forced, it has not been confirmed.
As for Tony Kim, not very much is known about his alleged detainment. It's unclear what he is accused of doing, whether or not he has been convicted of doing it, and whether or not he's been sentenced yet. A State Department official told the Associated Press that, while they have heard reports of Kim's detention, they can't provide further details because of privacy concerns at the moment.