'The Young Pope' Is Realistically Controversial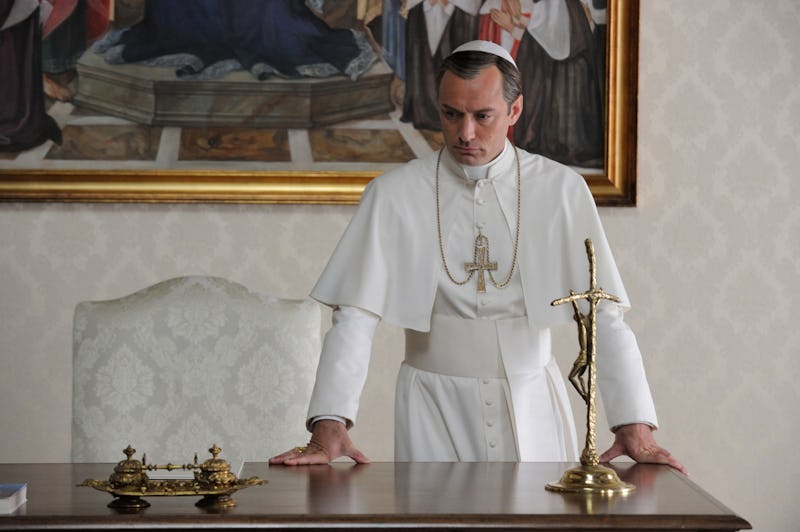 Gianni Fiorito/HBO
After making the rounds on international channels, The Young Pope finally premiered stateside on Jan. 15. The show traces the reign of Pope Pius XIII (Jude Law), a radical, authoritarian, newly elected pontiff. It offers an incisive — though exaggerated — look at the Catholic church, and its team crafted an authentic setting: it was filmed in Rome, and producers even made an exact replica of the Sistine Chapel. But fans may be wondering just how far that realism extends. Could Pope Pius be based on a real person?
The short answer is no, but that hasn't stopped viewers from drawing connections to other controversial figures. For example, The Observer mentions Theophylactus of Tusculum, a young Roman who helmed the church under the name Pope Benedict IX. The outlet explains that he had quite a wretched reputation, being kicked out of Rome twice before selling his role as pope to another man during his third term. He also led a debaucherous lifestyle and was once called a "demon from hell," according to the writings of historian Ferdinand Gregorovius.
Vulture reports that Theophylactus' rule began in 1032 during the end of an era known as the Pornocracy, and that his appointment was nepotistic. His father, Alberic III, was the lord of Rome, who supposedly bribed constituents to vote for his son. Once at his post, Theophylactus behaved so appallingly that Pope Victor III wrote that "his life as a pope was so vile, so foul, so execrable," that he "shutter[ed]" to think of it. "He was very dissolute," historian Charles Coulombe told Vulture. He also claimed about Theophylactus, "He was a rapist. He was a murderer. Even after the Pornocracy, he really set a new low."
Pope Pius is actually portrayed as quite opposite. He's rigidly conservative and often eschews the established Vatican power structure to pursue his own agenda. Some viewers have aligned this far-right persona with a more recent but similarly divisive leader: newly elected U.S. President Donald Trump. Just as Pius received an unprecedented appointment, Trump was voted into office during an unexpected upset. They also both share polarizing ideologies, tend to reject scrutiny or opposing views, and have little background in their respective offices. The Young Pope star Jude Law has even made the connection. "Pius is unpredictable and unknown in that environment, just as Trump is in the political world," he told USA Today.
Still, as Vulture notes, The Young Pope's structure is hardly identical to American government, and any similarities between the two are purely coincidental. In fact, creator Paolo Sorrentino conceived and wrote the series long before Trump rose to political prominence. It first aired on SkyTV in Italy last October, but was shot well before that. Sorrentino has also said he wanted the role of Pius to be an original interpretation. "I didn't want to do a pope who would remind you of any other pope. I wanted him to be completely original," he told Vulture in a recent interview. "In order to do a series about the Vatican, I could only do its opposite. Not the entire clergy thinks that way, but some of the Vatican analysts who I respect the most think a pope like the one I represented could very well take place after [current Pope] Francis. Not young and American — but one who represents those ideas."
So there you have it. Pope Pius may draw controversy like real figures have, but the character himself is wholly imaginary.