The Spooky Alaska Town In 'Ghost Wars' Isn't Real, But The State Is Known For The Paranormal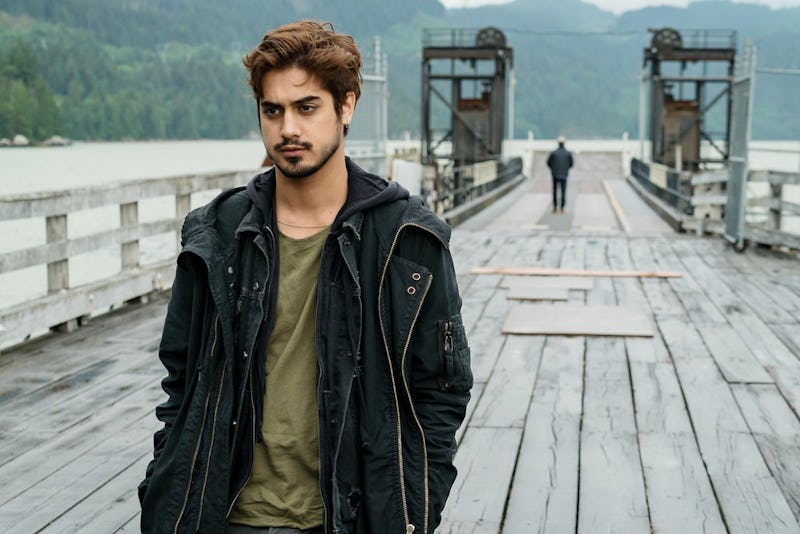 Dan Power/Nomadic Pictures Corp./Syfy
Syfy is known for its plethora of original shows and films, like its scripted horror series, Ghost Wars. The series airs its first season finale on Jan. 4 after several drama-packed episodes. Throughout its run, the show focused on a small town called Port Moore in Alaska, which has been over-taken with dangerous paranormal activity. Although the series is definitely scripted, is Port Moore, Alaska a real town?
There is a Port Moore in Alaska, but it is not actually a town. Instead, it's classified as a bay within the North Slope Borough, nearby to Nuwuk, Agsinoralak Beach, Arigilivik Beach, and Nuwuk Lake. So, while the series took its fictional setting's name from a real Alaskan location, it is not based on any real Port Moore mythology. Anyway, since it's a bay, any supposed paranormal activity that would occur there would likely only be seen by marine life (and ocean creatures are notoriously bad at reporting ghost sightings).
But, in general, per an article in Alaska Dispatch News, the state is actually pretty well-known for having a significant amount of reported paranormal activity. Alaska also has a rich mythological history. The article cites supposed Bigfoot sightings, UFO sightings, and other cryptic folklore as being a big part of the Alaskan culture. No specific town seems to be named as producing the most ghostly activity, though. However — according to TripAdvisor — Anchorage, which is Alaska's largest city, seems to contain a lot of ghost tours and reviews about haunted locations. In Ghost Wars, Port Moore is a very small town that becomes densely inhabited by paranormal beings, according to the show's website. The town's resident outcast then has to harness his own psychic powers to save his fellow townspeople from certain, ghostly doom.
Along with the town being fictional, the backdrop is actually not Alaksa either, although it certainly passes for being set there. According to The Georgia Straight, the series was filming in Vancouver and Squamish, Canada, which has a setting remarkably similar looking to what an isolated, Alaskan environment would look like. Add in some pale, undead creatures walking around and it's Port Moore (the fake Port Moore, not the bay Port Moore). But since this series is similar to 30 Days of Night, in the sense that it has a bunch of angry, supernatural beings attacking the residents of an isolated Alaskan town, it's probably for the best that it isn't a real city.
Throughout the season, viewers have likely recognized a few of the alive faces in Ghost Wars, as well. Per the cast list on the series' website, the most recognizable name is likely Vincent D'Onofrio. D'Onofrio is known for basically being in everything that was ever made, including The Magnificent Seven, The Cell, Men In Black, and Law & Order: Criminal Intent. In Ghost Wars he plays a reverend who struggles with his faith until the infiltration of ghosts brings people searching for something to believe in at his church.
Rounding out the show's cast is Kandyse McClure, who is known from her roles in Battlestar Galactica and Hemlock Grove, plays a research scientist (yay for women in STEM!) and Meat Loaf, of music legend and Rocky Horror Picture Show fame, plays "a haunted and angry man, haunted by the horrors of his past," because obviously.
This creepy paranormal series ends its debut season on Jan. 4 at 10 p.m. ET on SyFy. Tune in to see if this pack of outcasts can make it out alive, and take solace in knowing that your next trip to Alaska probably won't be quite as haunting.