I Smeared Red Wine Over My Face To See If The Skin Care Benefits Were Real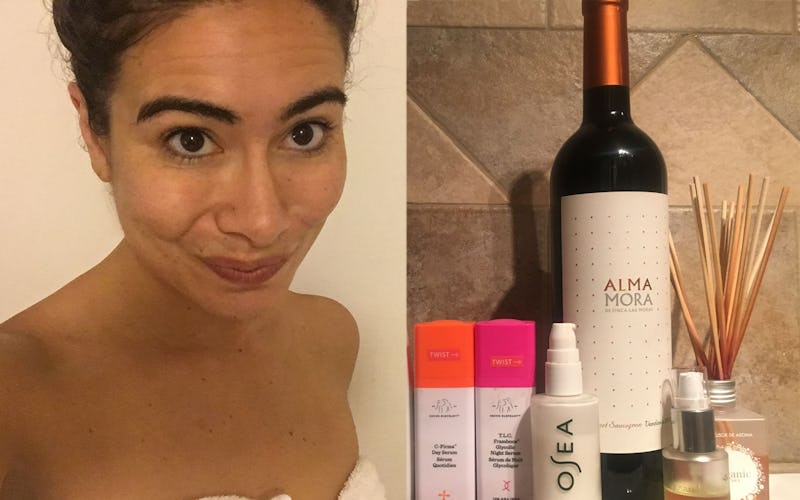 Zoe Weiner
There is no greater sentence in the English language than "red wine is good for you," mostly because it's what I tell myself when I pour a second (read: third) glass of Pinot Noir while binging on the OC. In addition to the fact that it may help you live longer, red wine is actually good for your skin, which is why I decided to give myself a full-on red wine facial to see if the claims were even greater when applied topically to my face.
Red wine has become a super-buzzy ingredient in skin care as of late because of its anti-aging and anti-inflammatory benefits. Resveratrol is a natural antioxidant that can be found in the skin of grapes, and is celebrated for its (human) skin benefits in both the short and long run. "Resveratrol is best known as an anti-inflammatory, and it can decrease skin diseases," says Dr. Lily Talakoub of McLean Dermatology, who notes the positive effects that red wine can have on skin diseases like rosacea and acne.
As anyone who's ever woken up with hangover stomach knows, red wine is also highly acidic, which can be beneficial to your skin if its applied the right way. "The acid from grapes are alpha hydroxy acids, which can cause exfoliation and get rid of dead skin cells," Dr. Talakoub tells me. In peeling these dead skin layers off, it can also decrease freckles, brown spots, and discoloration. "It's actually best for people with acne," she says, "because the resveratrol calms the acne and the acid peels back the scarring of the acne that acne can leave." Sign. Me. Up.
Dr. Talakoub notes that people with sensitive skin shouldn't be applying red wine to their faces with no abandon, and she cautioned me against doing so without some sort of a buffer (like yogurt) to balance out the acidity of the wine. Because I was looking for a full-on chemical peel with my wine mask, I decided to go for it and hope for the best. Plus, I've put some weird stuff on my face before, so figured I could handle a little bit of wine acid.
First, though, I had to make a very important decision: What the heck kind of wine was I going to use?
"Because red wine is full of antioxidants, it not only keeps you healthy but youthful, too," says food and wine blogger Carin Skowronsky of PairsWellWith. "Tannins have protective qualities that slow the aging of the skin. The higher level of tannins in a wine, the more benefits you'll see." She suggests wines like a Cabernet Sauvignon, Syrah, or Argentinian Malbec for the most bang for your buck, tannin-wise.
Dr. Talakoub notes that it's best to use a younger wine, since the yeast in something more aged might mess with my skin.
The Experiment
I armed myself with a bottle of $8 Argentine Malbec from 2016, and prayed that my roommate wouldn't walk in on me cracking open a bottle of wine alone in my bathroom at 8 a.m. on a Tuesday morning.
After cleansing my face with my usual Cetaphil Foaming Cleanser (a drugstore hero that I swear by, FYI), I started out using some folded up toilet paper to apply it, then decided it wasn't going on smoothly enough so went rogue and started splashing it on my face.
In a matter of seconds, my entire countertop, sink, and towel were stained purple, but I figured it was for a good cause.
Once I was properly coated in Malbec, I let it sit for 10 minutes while I meditated. A note, to anyone trying this at home: It is really hard to focus on "centering yourself" with the scent of red wine wafting up your nose. My face smelled like a kitchen sink the morning after a party, when everyone got so drunk they forgot to rinse out their glasses before bed.
It didn't exactly sting, but I wouldn't say it was the most comfortable mask I've ever used, either. It tingled a little bit, which I usually take to mean it's working.
The Results
When my 10 minutes were up, I wiped off what was left of my wine with my already-stained towel. Once I'd scrubbed away all the sticky-ness, I was shocked at how tight my pores felt — it was as if someone had put a vacuum on my face. If I had to guess, this was because the acid had totally dried out my skin, but it still looked (and felt) pretty freaking amazing. To combat some of the leftover dryness, I slathered on Caudalie's Vinosource Intense Moisture Rescue Cream which is made with — what else — grape extract.
So, would I recommend splashing your face with wine as a part of your regular routine? No. The doctor was right, and after the initial wow when I took off the mask, it made my skin get progressively drier throughout the day. Plus, it is way too sad to waste a bottle of perfectly good wine on your face when you could be drinking it instead.
If you do want to add red wine into your routine, try one of these actual resveretrol-infused beauty products, instead. That way, you won't have to hold back tears when you watch them flow down the sink after rinsing.
Caudalie
Resveratrol Lift Night Infusion Cream, $76, Sephora.com
A glass of red wine before bed, paired with this nightly moisturizing cream, will give you a solid night's sleep followed by a day's worth of hydrated, glowing skin.
Philosophy
Philosophy Miraculous Anti-wrinkle Miracle Worker, $60, Sephora.com
This ultra-moisture cream uses resveratrol to help promote your skin's longevity, aka it helps fight wrinkles. Cheers, to that.
Kiehl's
Kiehl's Turmeric & Cranberry Seed Energizing Radiance Mask, $39, Sephora.com
Instead of dousing your face in a Malbec mask and hoping for the best, like I did, try this mask from Kiehl's for the sake of more radiant skin. It uses resveratrol, turmeric, and cranberry extract to help fight inflammation, plus will help add a pop of color to your next Instagram #shelfie.