Rob Gronkowski & His Maybe-GF Have Been Battling Some Rumors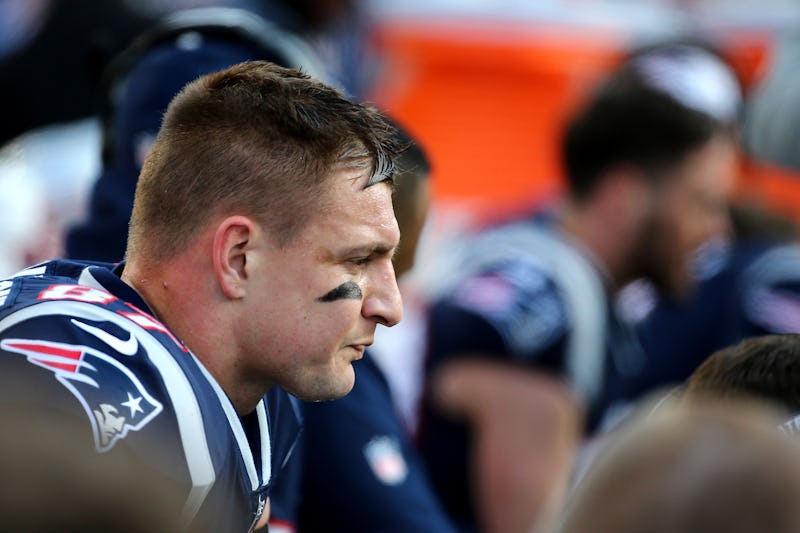 Jim Rogash/Getty Images Sport/Getty Images
Longtime New England Patriots quarterback Tom Brady tends to take center stage on the gridiron, but one of his football teammates may catch your eye during the 2018 Super Bowl on Sunday, Feb. 4. If you or anyone at your Super Bowl party want to know if Rob Gronkowski is married, the answer is no — but his relationship status might be complicated.
The 28-year-old tight end has been in a relationship with former Patriots cheerleader and Sports Illustrated swimsuit model Camille Kostek for the past few years. The 25-year-old model first publicly acknowledged a relationship with the football player in 2015, but there have been rumors and speculation whether the relationship is currently still on — or if it's been called off.
Gronkowski is a fan-favorite and has been playing with the Patriots since 2010, winning two Super Bowl rings with the team in 2015 and 2017. He was diagnosed with a concussion during the AFC Championship game, but he was cleared to play in Super Bowl LII on Feb. 1, according to ESPN. If you're not a big football fan, you might recognize him from a recent Tide PSA video about not eating Tide pods. Off the football field, speculation about his personal life tends to make headlines on TMZ and the New York Post's Page Six. Kotsek will appear in the next Sports Illustrated swimsuit issue in February 2018 after being scouted via Instagram, according to the Boston Herald.
In September 2017, Kotsek didn't want to talk about Gronkowski during an interview with the NY Post, but she did not confirm if she and her football player beau are still together. "I've learned I don't want to be quoted [about Gronk] anymore," said Kostek. "This is the year of Camille . . . It's been refreshing to have it be about me."
Gronkowski and Kotsek were notably spotted together in May 2017. According to the Daily Mail, they attended a wedding and celebrated his 28th birthday together, posting IG stories of both events to their Instagram accounts. They haven't seemed to have made any appearances on each others' social media since then. According to Kotesk's Instagram account, she's still a big Pats fan no matter the status of their relationship.
A few days after the May 2017 wedding IG stories, Kotsek talked to the NY Post about attending the wedding with Gronkowski during a Sports Illustrated open casting call:
"It was super fun and that was for one of his best friends, Orlando [Vargas]. They went to college together [at the University of Arizona], and it worked out because that was just a quick hour-and-a-half flight for me to get to Arizona. It was nice to see him, see the families, all the friends again. It was just a really fun time."
That public appearance together was a big deal at the time, because on Feb. 1, 2017, TMZ reported that Gronkowski and Kotsek had broken up. A day after the TMZ story broke, Gronkowski tweeted the following:
Addressing the breakup rumors, Kotsek said told the NY Post during the May 2017 interview:
"I've quickly learned that everyone has their own two cents, and I just kind of let that stuff roll and let the people talk. At the end of the day, the people that matter know what's the truth ... When I talked to the people that are important to me, I was like, everyone knows the real truth."
She also mentioned that Gronkwoski was "super supportive" of her potential Sports Illustrated swimsuit photoshoot, which she eventually landed last Fall.
Gronkowski and Kotsek made more appearances on each others' social media back in 2015 and 2016, with Gronk calling her his "boo."
Kotsek and Gronkowski haven't been spotted together in awhile, but perhaps she will be there to support the Patriots player during this year's Super Bowl.