The CDC Says Your Fave Salads Are Safe To Eat Again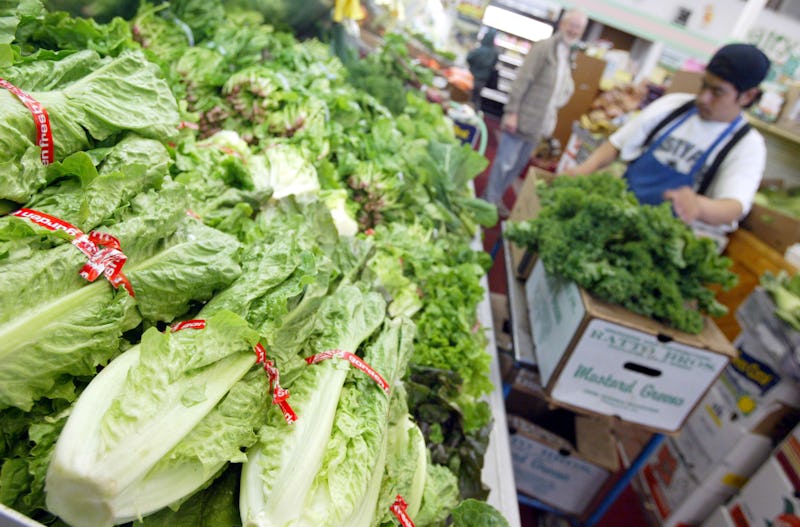 Justin Sullivan/Getty Images News/Getty Images
It's been a scary few weeks for salad lovers. In April, an E. Coli outbreak was linked to chopped romaine lettuce, and it's been connected to 75 hospitalizations and at least one death. There was never an official recall, but the Centers for Disease Control and Prevention cautioned people to avoid romaine lettuce unless they were absolutely sure it wasn't from the Yuma, Arizona farms where the outbreak originated. Now, federal officials have reported that romaine is safe to eat once again.
According to a news release from the CDC and the Food and Drug Administration, the contaminated lettuce is no longer available in stores. "The FDA has received confirmation from the Arizona Leafy Greens Marketing Agreement administered by the Arizona Department of Agriculture that romaine lettuce is no longer being produced and distributed from the Yuma growing region and that the last date of harvest was April 16, 2018," the release stated. "It is unlikely that any romaine lettuce from the Yuma growing region is still available in stores or restaurants due to its 21-day shelf life."
E. Coli infections usually start with fever and stomach pain, but the bacteria can cause kidney failure and even death — one of the patients affected by this outbreak is in a coma and on dialysis, according to The Arizona Republic. According to Healthline, most people are infected by unclean food or water, although the FDA says that no single farm was responsible for the outbreak. The agency is still investigating what caused the contamination, which affected people in 32 states. Patients range from 1 to 88 years old, according to the CDC, and 20 people have developed hemolytic uremic syndrome. The condition is one of the complications that can result from E.Coli infection, and it can cause kidney failure.
While the agencies haven't issued an official all-clear, this is definitely a reason to rejoice if you're a salad lover. FDA Commissioner Scott Gottlieb's statement about the issue is pretty reassuring. "We know romaine lettuce has not been shipped from the Yuma area since mid-April. Consumers can be confident that romaine currently available for purchase is not part of this outbreak investigation," he wrote on Twitter.
One of the benefits of this outbreak involving lettuce is that the product doesn't last very long, especially the kind used for salads. If you've ever tried to freeze lettuce, you know what I mean — it wilts when thawing. It's not a food you're likely to find at the back of your refrigerator and find appetizing —because it goes bad quickly and can't stay on store shelves for long anyway, we should all be fine. But the CDC and FDA do warn that cases related to the Yuma outbreak may still emerge, as E. coli can take a few days to incubate. From their webpage about the outbreak:
Illnesses that occurred after April 21, 2018, might not yet be reported due to the time it takes between when a person becomes ill with E. coli and when the illness is reported. This takes an average of two to three weeks.
We won't know what caused this outbreak until the government finishes its investigation, but The Washington Post notes that bagged salads are responsible for a notable share of food-borne illnesses. If you're experiencing any symptoms that could be related to E. Coli, the CDC says to visit a healthcare professional, who will examine you and then test your diarrhea for the bacteria. But if you don't have any lettuce at home and are craving some chopped romaine, the FDA is saying not to worry when you're at the grocery store.