Um, Is Ronda Rousey Actually Fighting A Shark For Shark Week?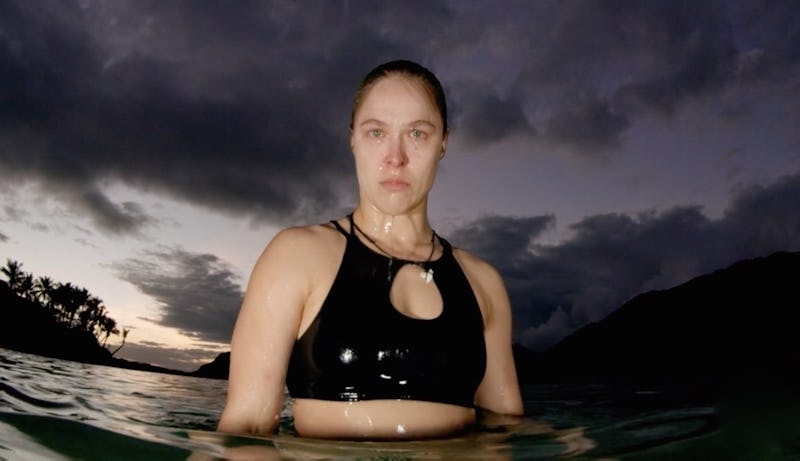 Discovery
The episode synopsis for the Ronda Rousey Shark Week special is interesting to say the least. Particularly this line: "[They're] building to a historic 'main event' where Ronda attempts to step outside the safety of any cage to face the ultimate fighter of the sea — the mako." Um, is Ronda Rousey fighting a mako shark on Shark Week? After all, she is an Olympic judo fighter, a mixed martial artist, and UFC champion. When Olympic swimmer Michael Phelps was on Shark Week... he swam. Doesn't it make sense to say that Rousey will fight?
I mean, hopefully not technically. Sharks shouldn't be punching bags and Rousey doesn't deserve any injuries if the big fish bites back. Luckily, there's actually a lot more to this TV special than the episode synopsis explains. Here's the full rundown of Ronda Rousey Uncaged, which airs July 22 at 10 p.m. ET on Discovery.
Olympian and UFC Hall of Famer Ronda Rousey sets out to test her courage and prove the fighter mentality that made her a champion will allow her to stare down any opponent — even the mako shark. Former Navy diver and shark attack survivor, Paul De Gelder, coaches rookie diver Ronda Rousey through three rounds of survival training against heavyweight opponents including deadly Bull Sharks, all building to a historic "Main Event" where Ronda attempts to step outside the safety of any cage to face the ultimate fighter of the sea — the mako.
OK, first of all, "stare down any opponent," is a pretty telling sentence. Discovery isn't out here saying Rousey is taking the mako into the ring. They're simply saying she'll be perhaps coming face to face with one. Next, the fact that "main event" is in quotation marks indicates that Discovery is using Rousey's fighter background as a framing device for the episode, but that there won't be a real main event of punching a shark. Also, the final line is, "Ronda attempts to step outside the safety of any cage to face the ultimate fighter of the sea."
And... so there you go. It's all in the synopsis. Rousey's role in the Shark Week special will be to learn how to dive so that she can eventually go cage-free in the open ocean and possibly meet a mako shark face to face. Not a battle, but still pretty adrenaline-pumping.
They may not have the reputation of great white sharks, but mako sharks are impressive in their own right. According to Discovery, they can travel at speeds of 45 to 60 mph. They're also related to great white sharks, which means you definitely don't want to get on the wrong side of those teeth. As Rousey wisely notes in a trailer for the show given to Bustle, "There isn't a single situation that I would find more dangerous or scary or intimidating."
But, she was totally up for the challenge. Her dive instructor, and shark attack survivor Paul De Gelder, told TV Insider that Rousey couldn't wait to be done with the safety training and start interacting with the sharks.
"We had to build her up over time," he said. "We had her in a full chainmail suit. She wanted to take that chainmail suit after five minutes ... She wanted to progress so quickly, we had to hold her back a little bit and just let her know, 'We know you're confident, but we really don't want you losing any limbs."
De Gelder, who is a staunch shark advocate despite his attack, is glad that Rousey also seems to have gained a real respect for the ocean out of the experience. "I've already seen her promoting conservation for sharks on her social media," he said. "She paid attention when we were all talking about conservation. She shared all that stuff. I think she is going to be a great proponent in the fight for preserving the ocean and sharks."
So, Rousey probably isn't going to actually fight a shark on Sunday, but she will keep viewers on the edge of their seat as she leaves the comfort of the cage behind and enters the mako's territory with nothing but a handful of dives as experience. And maybe we'll even learn something.