How Sabrina & Jughead's Paths Could Cross On 'Riverdale'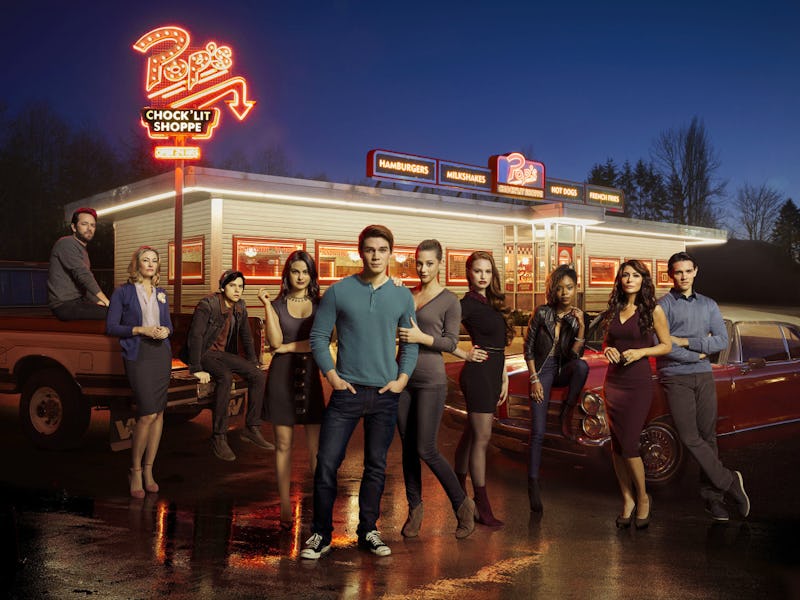 Art Streiber/The CW
Ever since fans of Archie comics learned that Josie and the Pussycats would figure prominently in Riverdale, ears perked and rumors began to run wild about another standalone character from that fictional universe — Sabrina the Teenage Witch. Will Sabrina be in Riverdale Season 2? The witch in question, who was played by Melissa Joan Hart in the '90s sitcom adaptation, lives in Greendale right across Sweetwater River. Even if she doesn't zoom through the air on a vacuum, it's highly possible that the Spellman family will appear this year.
Earlier this fall, The CW announced that they were developing The Chilling Adventures of Sabrina as a companion series to Riverdale. According to Deadline, "tonally in the vein of Rosemary's Baby and The Exorcist, this adaptation finds Sabrina wrestling to reconcile her dual nature — half-witch, half-mortal — while standing against the evil forces that threaten her, her family and the daylight world humans inhabit." The series is being developed for the 2018-2019 season.
So it's happening, y'all. Sabrina is coming back to the small screen. The series will be written and produced by Roberto Aguirre-Sacasa, who wrote both the Riverdale pilot and the comic that the series is based on, as well as the network's king of interconenctive worlds by way of the Arrow-verse, Greg Berlanti.
Will the character be introduced on Riverdale? That would be the best way to get new viewers on board and connect the worlds, for sure. At San Diego Comic-Con over the summer, before the spin-off series was announced, TVLine reported that Aguirre-Sacasa teased "we have been talking about one very prominent supernatural character that exists in the Archie universe, and that's all we can say."
In a separate interview with TVLine at SDCC, the Riverdale cast was not convinced at the time that a crossover would work. "This is a show that knows the camp it sells," said Cole Sprouse, staying true to his character Jughead's film nerd identity with that aesthetic reference. "We understand the genres we're fitting into and how to appeal to that audience. But everyone in the audience takes it super seriously — it becomes increasingly more difficult if you have, like, a cat that talks."
This is a fair point. Riverdale is melodramatic, but grounded in the real world as far as we can tell at this point. Pouring magic into the mix would be bold, even though it's what so many fans expect. "We would need so much room in our storyline to add a character that absurd," said Camilla Mendes, who plays Veronica.
However, at a New York Comic-Con panel months later and after the spin-off was announced, Archie Comics CEO and Riverdale executive producer Jon Goldwater sang a very different tune. According to Elite Daily, who attended the panel, Goldwater revealed that Sabrina casting had begun, and that there was a possibility that we would get to meet her sooner rather than later.
Still, even if Sabrina doesn't make an appearance on Riverdale Season 2, there are bound to be some hints this year about the possible expansion of the universe. Maybe, and this seems to be a pretty likely theory, Sabrina's aunts Hilda and Zelda Spellman are the foster family in Southside that Jughead was supposed to go live with at the end of Season 1. Their identity is being kept in the dark — a reveal is coming for sure.
Or, maybe Dilton Doiley will strike up a friendship with Harvey Kinkle, Sabrina's future one and only, or Polly will finally make it to that farm upstate and run into Hilda and Zelda there. The connection could be pretty small.
Aguirre-Sacasa also recently tweeted out this major hint that gives fans a taste of what the spin-off will be like.
That could be a scene from the pilot, or just an audition side made up to find the perfect Harvey and Sabrina. In it, the two lovebirds are making their way through the woods, and Sabrina reveals that she is going to be "reborn" in the woods on her sixteenth birthday during an eclipse. Sabrina also mentions Rosalind, her frenemy from the comics. This sounds like an origin story.
If Sabrina appears on Riverdale soon, she likely won't be at the height of her witchy powers. That said, now that the show is back and the Chilling Adventures confirms a new take on such a beloved character, keep your eyes peeled for clues.