This New Netflix Crime Series Could Be India's Answer To 'The Wire'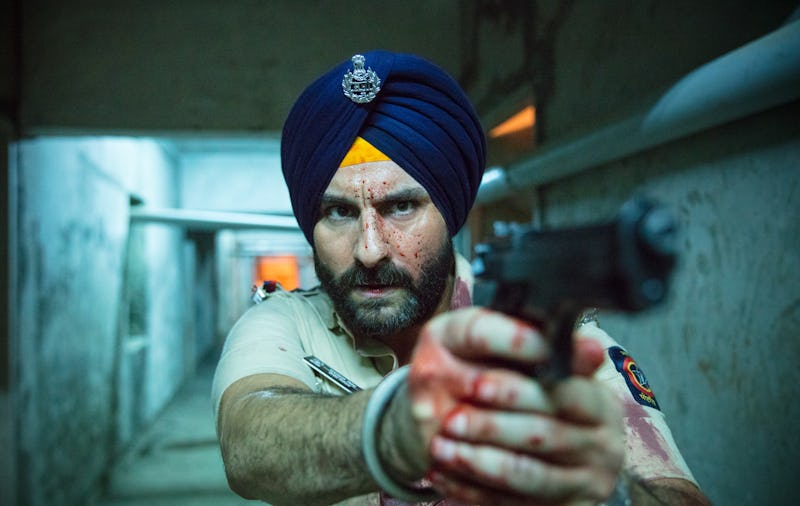 Netflix
Netflix is premiering the Indian thriller Sacred Games on July 6. The first season examines the seedy criminal underbelly of Mumbai, pitting a Dubai city cop against a local crime lord. While Netflix has gotten a lot of mileage off of stories based on actual crimes, this one seems to be entirely fictional. While Sacred Games is not a true story, that doesn't mean that the show isn't bringing a vital and real change to Netflix's increasingly international library of programming.
Netflix has revolutionized how people consume and engage with television in many ways, from offering easily accessible catalogs of shows with the click of a button to their "whole-season-at-once" release structure. However, they've also been quietly revolutionizing TV by breaking down the barriers that used to make foreign-made shows inaccessible to American audiences. If there's a language barrier, viewers often have the opportunity to choose between subtitles and dubbing to experience all the excitement and value of series not shot in their own. And of course, native speakers can easily enjoy programming that's unlikely to come to basic American cable.
On Netflix, things like "time slots" and "advertising space" don't exist, meaning that a show like Sacred Games can share space with marquee English-language titles like Stranger Things and The Crown. The plot of Sacred Games may not be dramatizing real events that have taken place in Mumbai, but it does provide a real look at what television for Indian audiences looks like to viewers outside of India.
The cops-and-robbers tale has actually been told before. The plot of the show comes from a 2006 novel, also titled Sacred Games, written by Vikram Chandra. The novel won India's prestigious Crossword Awards for English-language fiction written by an Indian citizen upon release, and was later nominated for the National Book Critics Circle Award in Fiction. While the show may seem to be telling a simple crime tale, the literary roots of the show suggest that the scope of the series will go much wider than the trailer hints.
Much like how popular American crime shows like The Wire and Breaking Bad begin as a tale of good guys vs. bad guys before unspooling and telling the stories about communities and institutions in their specific geographic locations — Baltimore, Maryland and Albuquerque, New Mexico respectively — an adaptation of Sacred Games that honors the original novel's scope could end up telling stories of characters that live in Mumbai but exist tangentially to the criminal world. The Mumbai of this series is surely heightened to better fit the themes and tone of the series, but the artistic representation of the city may prove that for all its differences, this corruption story is very similar to its counterparts based in other parts of the world.
The production of Sacred Games is Netflix's first Indian original series, joining a roster of international programming that includes the German-language series Dark, Portuguese science-fiction show 3%, and Danish post-apocalyptic drama The Rain. While Sacred Games is Netflix's first from this part of the world, it will be far from the last. The service currently has six more series from India in production. These include near-future drama Leila, horror series Ghoul, and YA series Crocodile, per the Hindustan Times.
Sacred Games isn't based in fact, but it still holds a great deal of value for international audiences who haven't had the opportunity to be immersed in Indian storytelling. And considering how critically acclaimed the Sacred Games novel is, the Sacred Games series will hopefully be a major hit to Netflix and a herald of lots of exciting new international stories to come.