Comedy Legend Julia Davis Has Got A Brand New Show And It's Going To Make You LOL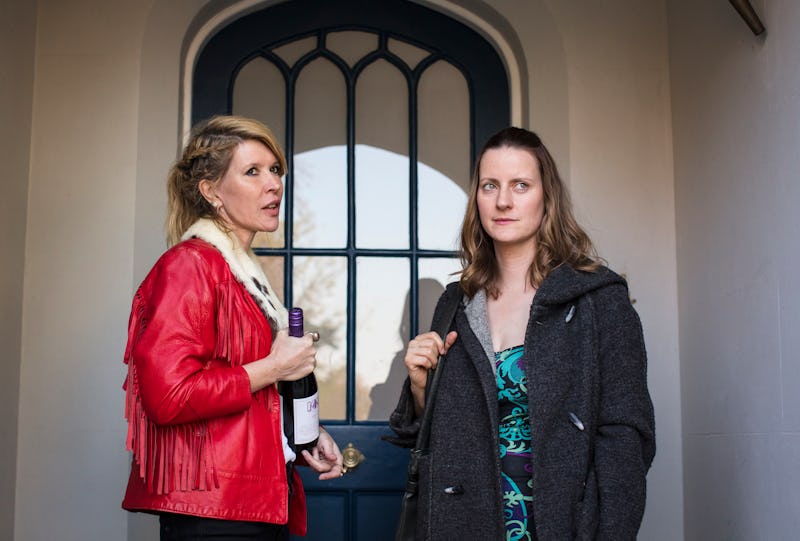 Sally4Ever / Sky Atlantic
Upcoming American-British comedy series Sally4Ever is scheduled to hit UK screens in November on Sky Atlantic and is created by the award-winning British actress and comedian, Julia Davis. The Sky original show is co-produced by HBO and tells the story of an out-of-control love affair in a gender-fluid world, but is Sally4Ever based on a true story?
Well, I've reached out to Sky for comment and I'm yet to hear back. What we do know, however, is that the Sky original series tells the story of Sally, played by Catherine Shepherd, a marketeer who is on the brink of being promoted in her job, which has supported her mundane suburban life for the past decade. But things drastically change for Sally on the night boyfriend David, played by Alex Macqueen, asks for her hand in marriage. The proposal ignites a personal crisis which sees Sally embark on a whirlwind affair with Emma, played by Davis, a seductive and charismatic bohemian actress, singer, musician, poet and author - and before Sally knows it, Emma has moved in and dramatically rearranged her life.
It sounds a little like it could be based on a true story, or at least something that could happen in real life. But I guess comedy fans will just have to wait until the series airs to find out for sure.
What the series does have is a serious amount of British comedic talent. Expect to see Felicity Montagu of Alan Partidge fame, Joanna Scanlan from No Offence, The Mighty Boosh's Julian Barratt and Sherlock's Mark Gatiss. Davis, who wrote and directed the upcoming comedy, told The Wrap, "I'm so excited to be making this project with Various Artists Ltd for Sky and HBO, and am incredibly lucky to be working with such an outstanding cast and receiving such great support and creative guidance from Sky and HBO." Vice president of HBO programming Amy Gravitt seemed similarly pleased by the prospect of the new show. She explained to Variety, "We've been in comedy awe of Julia for many, many years. We're thrilled to be a part of her latest stroke of genius, and to be working alongside Sky One, Hush Ho and Various Artists in the process."
Sally4Ever creator Davis is just as legendary on the British comedy scene as her fellow cast members. She's known for her work on shows including Camping, a six-part Sky Atlantic comedy series which first aired back in 2016. The show followed a group of old friends who set out on a camping holiday to Devon for a birthday celebration, however not every thing goes to plan as tensions in the group begin to rise. The series was well received by critics, and the success of the show has led to a US adaptation by Girls star Lena Dunham and Jenni Konner for HBO.
The American take on Camping will star David Tennant alongside actress Jennifer Garner as a series regular in the eight-part series. Which means Davis' humour isn't just a hit our side of the pond but looks set to go global. And if the comedic genius of her previous work is any indication, Sally4Ever is going to be a must-watch.