Here's Why Sandra Oh Keeps Her Personal Life Ultra Private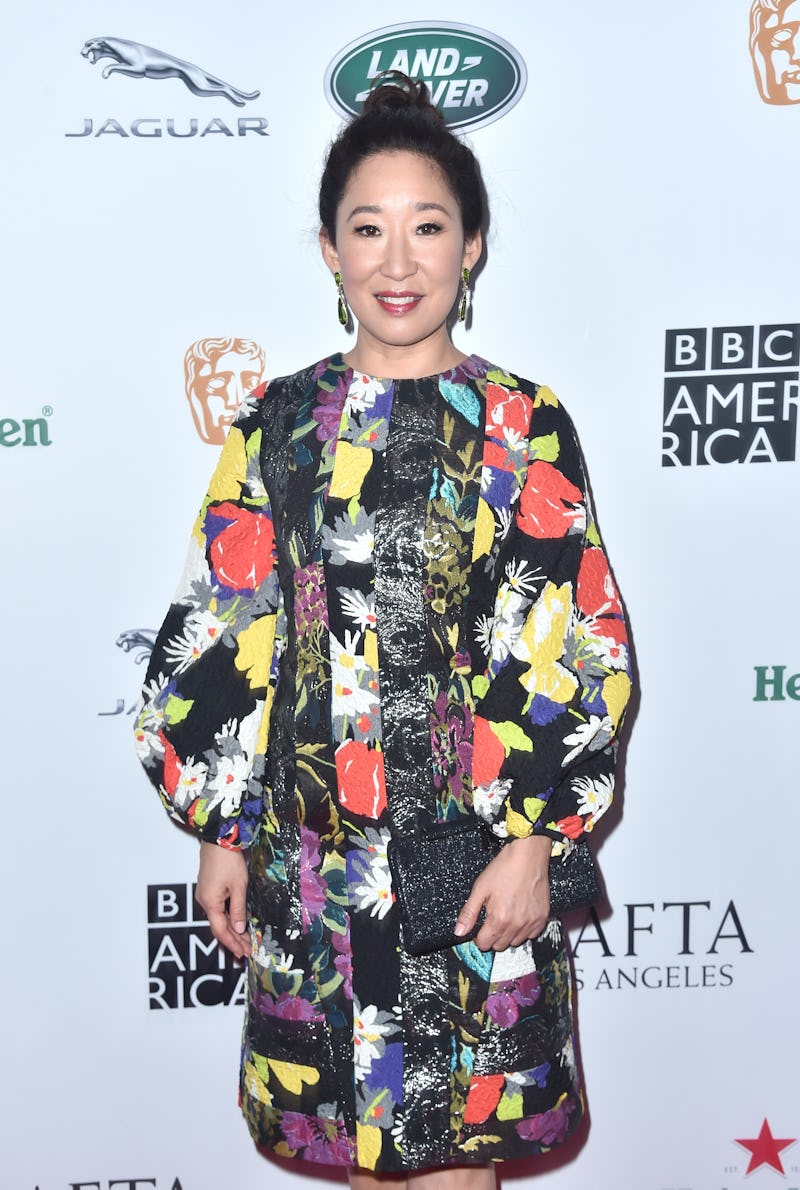 Alberto E. Rodriguez/Getty Images Entertainment/Getty Images
Nobody really deserves Sandra Oh. The Grey's Anatomy alum who's now made a home on the new BBC America thriller Killing Eve is an endlessly talented treat to watch, and anyone who's lucky enough to do so should count themselves blessed. But as the Emmys approach, fans are probably going to wonder if she'll show up with a date on her arm — so is Sandra Oh dating anyone?
There are rumors, as there always are, but Oh keeps personal details close to her chest. In 2007, People magazine reported that Oh had officially divorced filmmaker Alexander Payne, with whom she worked on the movie Sideways. And more recently, in an interview with UK outlet The Times, Oh declined to comment on her rumored relationship with musician Andrew Featherston, other than that she's "very happy."
Her Instagram feed features photos of friends, family, work and red carpets, but none of this rumoured beau. Though confirmation doesn't exist straight from the source, Featherston certainly seems to be the main focus of any relationship speculation surrounding Oh — a quick Google search for her boyfriend immediately yields his name, along with paparazzi shots of the two stepping out on the town together.
Like details on their alleged relationship, information about Featherston himself is foggy. The Times says he's a musician, but he's not easily detectable on Spotify, and doesn't yield many Google results unrelated from Oh. But if the duo is able to keep a potential relationship so closely under wraps, more power to them.
Fans of Oh's watched her fall in and out of love so many times on Grey's Anatomy that it's easy to feel like she's an old friend you want to catch up on gossip with. But she's a human being, just like you and me, who probably doesn't want her personal life broadcast to all corners of the earth, and that's OK.
Besides, she's got plenty of other stuff going on that she's more than happy to talk about, like her work on Killing Eve. Oh is nominated for best lead actress in a drama series for the show — the first Asian woman to nab the spot in that category — and that's which is way more interesting than who she's dating at the moment.
"I'm happy to get that ball rolling, because what I hope happens is that next year and the next year and the next year, we will have presence. And the presence will grow not only to Asian-Americans, you know, from yellow to brown, but to all our other sisters and brothers," Oh told the New York Times. "Our First Nations sisters and brothers. Our sisters and brothers of different sizes and different shapes. If I can be a part of that change, like [expletive] yeah, let's celebrate it."
And celebrate it, we will. Oh is in a category filled with impressive women — Orphan Black's Tatiana Maslany, The Americans' Keri Russell, The Crown's Claire Foy, The Handmaid's Tale's Elisabeth Moss, and Westworld's Evan Rachel Wood make up the rest of the ranks. There's fierce competition there, to be sure, but Oh has proven herself a force to be reckoned with time and time again.