Here's The Inspiration Behind Sandra Oh's 'Killing Eve' Character, According To The Author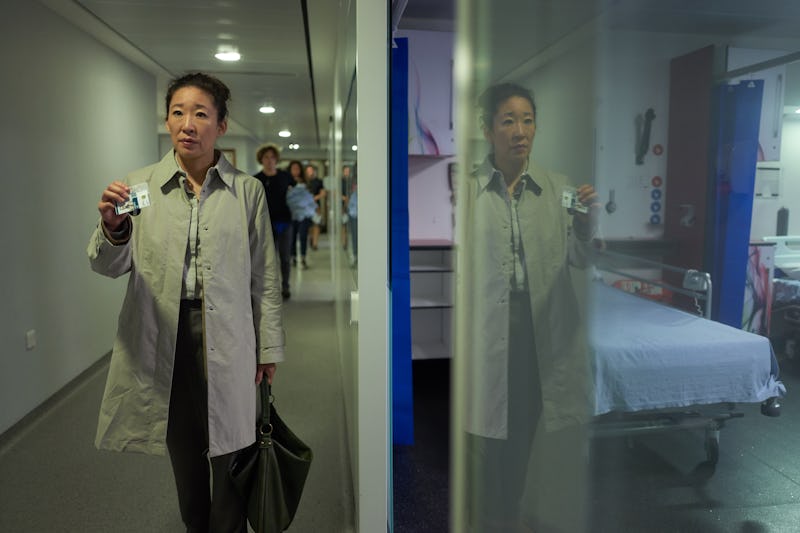 Source: BBC America
Sandra Oh has switched from saving lives as a doc on Grey's Anatomy to stalking assassins as a fledgling spy on BBC's upcoming thriller series, Killing Eve, which premieres on Sunday, April 8. Fleabag creator Phoebe Waller-Bridge adapted the show from Luke Jennings's series of novellas, Codename Villanelle, but is Sandra Oh's Killing Eve character a real person?
The short answer is no, she's not. Both Codename Villanelle and Killing Eve are works of fiction. The main characters of Eve and Villanelle aren't based on real people or other characters, but rather, they were born out of the characters that author Luke Jennings hadn't seen before. "I love reading thrillers," Jennings says to Bustle, "But I got very bored with reading these kind of very, very cardboard male characters. Very gadgety, kind of tech-centric characters. I thought it would be much more entertaining to have a novel where both the hunter and the villain were women."
In the original novellas, Villanelle is the lethal, cold assassin, and Eve Polastri is the disorganized, aspiring secret agent who's trying to catch her. In Killing Eve, Sandra Oh is Eve Polastri, the Connecticut-bred Brit who's bored with her day job at an M15 security desk and wants to live a fast-paced life investigating high-level crimes. Her wish is granted when the sociopathic Russian mercenary Villanelle (played by Jodie Comer) escapes prison and goes on a killing spree. Suddenly Eve is responsible for hunting down Villanelle and it turns out that the two might have more in common than they first suspected...
Just because Eve Polastri isn't a real person, doesn't mean she's not based on some very real aspects of just about every woman everywhere. Luke Jennings went on to explain to Bustle that, while Villanelle is the character who everyone might always want to be — with the fancy clothes and Parisian apartment — no one would ever wish to make her choices and become a hardened killer. Eve — unglamorous as she might be — is the much more realistic reflection of how people really are.
"The essence of that character [Eve] is that she's kind of always chasing herself, always rushing in late, there aren't enough hours in the day," says Jennings. "And Sandra [Oh] absolutely got that."
The juxtaposition between the two women's clothing in particular is an idea that the show's costume designer, Charlotte Lucas, has clearly run with. You can already see the exceptional visual storytelling with the gorgeous pieces Jodie Comer (Villanelle) wears in the trailer, and the rumpled look worn by Sandra Oh's Eve.
The BBC character synopsis emphasizes that when we meet her, Eve is a woman struggling with being unsatisfied in her humdrum life, which isn't nearly as exciting as she thought it would be:
"Eve always dreamed that she'd be working as a spy in a secret assassin-hunting department for MI5, but really she is just a desk jockey tasked with assigning protection to foreign people of interest during their trips to London ... Eve is slightly disappointed in her world as it is now. She's a little rough around the edges. She has a short temper and can be occasionally gross. Like the rest of us, when sh*t's not exciting, Eve just gets a bit lazy."
Sound familiar? The description goes on to say that Eve spends her days fantasizing about a more exciting life until — and here's where things really start deviate from the norm — her wish is granted when she crosses paths with the dangerous Villanelle.
In an interview with The Hollywood Reporter, Sandra Oh explains that, as practically always happens with book-to-screen adaptations, the producers did make some changes from the original character of Eve to the version depicted in the show. Oh says, "Eve is much more serious in the novella and the character was white. I am not white, I'm Asian. I'm extremely pleased that was taken into consideration in the casting and wasn't taken into consideration in the casting, if you know what I mean. That's a considerable casting choice."
According to Jennings, the choice to cast Oh was clear. He tells Bustle about watching her rehearse as Eve for the first time, and how it took away any doubts that she was meant to bring this character to life. "Well, Eve herself I didn't imagine as being an Asian character," he says. "But as soon as Sandra arrived and started rehearsing, she was just a perfect Eve. It sort of became impossible to think of her in any other way."
When writing Codename Villanelle, Jennings says that the first character to come to his mind was that of the icy femme fatale, Villanelle. Throughout the books, Eve is somewhat more in the background, a foil to the fabulous and ferocious murderess at the center of the story. Now, with Sandra Oh behind the role, everywoman Eve is finally going to get her moment in the spotlight.