Everything 'Grey's Anatomy' Fans Need To Know About Sandra Oh's New TV Show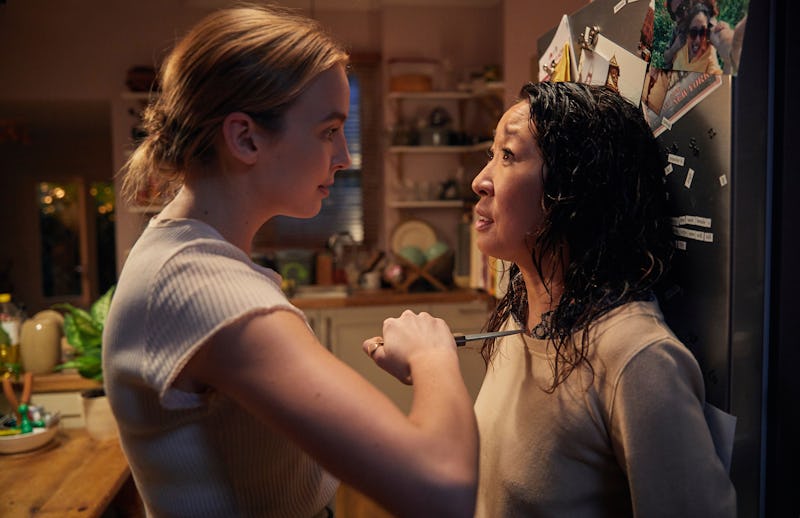 BBC America
Sandra Oh is no stranger to playing a badass warrior. She dominated the OR on Grey's Anatomy for 10 years as Cristina Yang, the no-nonsense, brilliant surgeon who didn't let anything or anyone stop her from achieving her dreams. And now Oh is taking on the spy genre with BBC America's Killing Eve, but be warned: this is not just going to be Cristina Yang with a license to kill.
Killing Eve (premieres Sunday, April 8 at 8 p.m. on BBC America) is about two formidable women embroiled in a cat-and-mouse game with real life and death stakes. Based on the novellas by Luke Jennings and written/executive produced by Fleabag's Phoebe Waller-Bridge, the thriller stars Oh as the titular Eve, a bored, whip-smart, pay-grade MI5 security officer whose desk-bound job doesn't fulfill her fantasies of being a spy, and Jodie Comer as Villanelle, a mercurial, talented killer who clings to the luxuries her violent job affords her. These two fiercely intelligent women become equally obsessed with each other until they go head-to-head in a spy thriller that avoids all the common tropes and will leave you absolutely gasping.
Oh may not start out in a very action-heavy role, but that all changes when she gets into the orbit of dangerous assassin Villanelle and quickly steps up to get the job done in hunting the psychopathic killer down. Of course, she's not some super-spy, so she's not exactly flawless at her new job of hunting Villanelle, which is a stark contrast to her decade of playing the super competent Cristina on Grey's.
"I feel very much that I'm in a completely different and separate world with Killing Eve," Oh told the room of reporters at the 2018 Winter Television Critics Association press tour. "I'm actually very happy for the departure. There are certain things [similar]: they're both determined characters. But where I feel and am so interested with Eve is her frazzled-ness and how she doesn't have things under control, that you see her, even in the first two episodes, how she's quite insecure and how she has not found her voice."
That inexperience and room for growth is what initially drew her to the project, along with the intense drama of being in a spy thriller.
"My character is intricately involved with Villanelle and whatever that might mean," Oh says. "You're constantly in this tone and style of a thriller, and that is so different that I don't necessarily have those similar character comparisons [to Cristina] at all. I'm so happy and proud to be playing Eve because it's a lot hard work and a lot of fun."
Oh was also enthused about turning the classic spy thriller tropes on their head by working with a team of all females, as Killing Eve comes from executive producers Waller-Bridge and Sally Woodward Gentle, along with an all-female cast of Oh, Comer, Fiona Shaw, and Kirby Howell-Baptiste.
"You have those typical tropes of, 'Oh the assassin and the hunter.' The thing I really love about our show is that [while] you're familiar-ish with, 'it's a dark killer, it's someone who is determined,' it's much more [than that]," Oh says. "And to be these two female characters who are really heading toward each other also surrounded by other female characters, it's just great to be in that world."
Waller-Bridge loves how "it immediately feels naughty" to have females in the lead roles of this spy thriller, when usually men are in the starring roles.
"It is really galvanizing when we're creating it. It instantly feels new, and that's a shame that it feels new but it's also been what's such a joy about making it," Waller-Bridge says. "Every time Villanelle does something so outrageous it feels glorious, even though there is violence and darkness and complicated psychology. There is still something glorious about a woman existing without fear of the consequences of her actions and a huge overblown sense of self-worth and arrogance."
Comer calls all of Villanelle's kills "clever and very artistic," and Waller-Bridge loves how liberated the character is no matter how immoral she may be.
"She's not bridled with shame in a way that so many other women are and female characters often are," Waller-Bridge says. "So to pit her up against a character like Eve is beautiful. She is an empathetic character as you see her sensitive side. She's also a badass, she's an emotional badass. We see both sides of the female psyche in a new way."
While Waller-Bridge is best known for her half-hour comedy Fleabag, Oh champions the fact that there are many females working behind-the-scenes at BBC America, and notes it's important that the showrunner was given the chance to helm a series so outside of her comfort zone. She believes this is a sign that the industry is moving in the right direction, especially in light of the #MeToo and Time's Up movements. "This is the change we're talking about," she says. "This is a little bit of the change, what this panel represents." So keep it moving ladies, because we're getting there, one project at a time.