'Six' Draws Inspiration From Real Life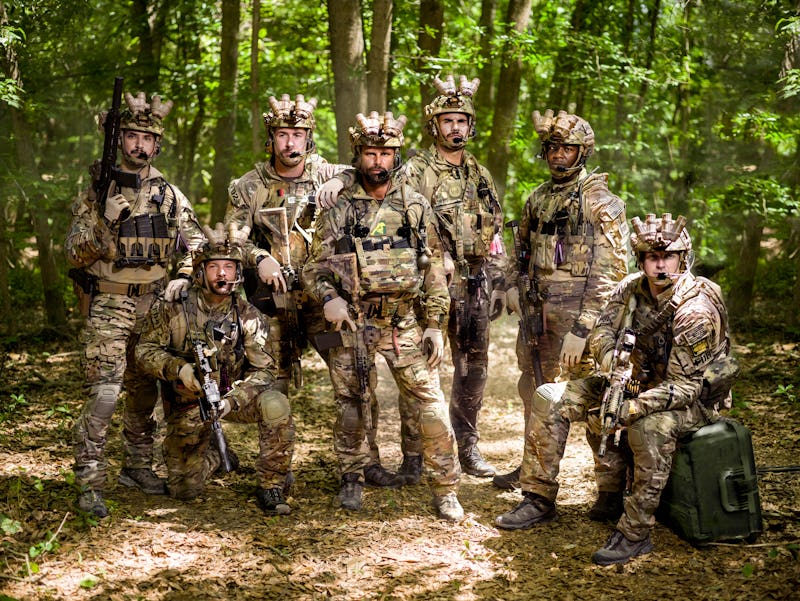 Television has an impressive history of adapting real-life military stories into beloved television shows. Shows like Band of Brothers and Generation Kill have shown that television is an great medium to show not just the horrors of war, but the individuals who get caught up in the middle. The History Channel, a network that regularly highlights the exploits of former soldiers, is the latest to throw its helmet into the real-life military series ring. The Six that the title of their latest original program refers to is the real SEAL Team Six, because Six is based on a true story.
But, the wording used to promote the show has been rather ambiguous regarding how close to reality the show is. The official History Channel page for the show states, "Inspired by real missions, [Six] authentically captures the inside world of America's elite Special Operations unit." The series revolves around a rescue mission that the fictional SEAL Team Six carries out to rescue their former leader from a group of Islamic extremists. While there's no known history of the real SEAL Team Six ever having to save their former troop leader, the real team has done their fair share of rescue missions. Here are some that may have inspired Six.
Rescue Of Jessica Buchanan & Poul Hagen Thisted
SEAL Team Six is most known for executing the mission that resulted in the death of Osama bin Laden, but their missions since have not been any easier. One of their most difficult rescue operations involved rescuing two aid workers from Somali pirates, who sought to trade their captives for a large ransom. The team infiltrated a Somali compound in the dead of night and managed to retrieve Buchanan and Thisted without any SEAL Team casualties.
Rescue Of Dr. Dilip Joseph
One of SEAL Team Six's other high-profile rescue missions was that of Dr. Dilip Joseph, an American doctor who found himself at the mercy of the Taliban during a routine trip to Afghanistan. The rescue was not clean or easy, but the team managed to retrieve Joseph and bring him home. One member, Chief Special Warfare Operator Edward Byers, received a Presidential Medal of Honor for his actions during this mission. According to USA Today, "When Byers heard the hostage identify himself, he threw himself on top of the doctor to protect him from gunfire, even as he pinned [an enemy member of the Taliban] against the wall with his hand to the enemy's throat."
Failed Rescue Of Linda Norgrove
SEAL Team Six is one of the most prestigious military groups in the world. However, in high stake situations like hostage rescue, it's still possible for things to go very, very wrong like they did when the team attempted to rescue British aid worker Linda Norgrove from enemy insurgents. According to The Guardian, the attempt ended with Norgrove's death after a SEAL member accidentally detonated a grenade nearby where she was taking cover.
The members of Seal Team Six are some of the best-trained military in the world, but they're not infallible. Six may not be telling a story pulled directly from reality, but there's no guarantee that their fictional mission will go well, especially if even the real SEAL Team Six has made mistakes. See if the fictional team portrayed in Six can pull off their most high-stakes mission yet when the miniseries premieres on History Channel on Wednesday, Jan. 18 at 10:00 p.m ET.