If You Love Classic Slasher Movies, This Netflix Original Is Right Up Your Alley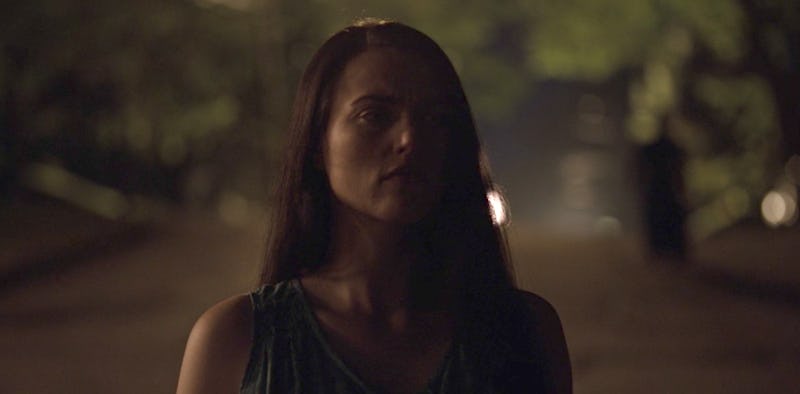 Netflix
It's the most wonderful time of the year. Autumn leaves are starting to fall, Halloween is creeping around the corner, and new horror content is here. On Oct. 17, Slash 2: Guilty Party will be debuting on Netflix. It's the second season of Chiller's first original series, Slasher, but is Slasher 2: Guilty Party a true story?
Well, there is absolutely nothing from Netflix or the creators that points to this series being based on any true events. Normally, when a series or a movie is even slightly based on a true story, that fact is widely advertised because nothing is scarier than knowing nightmarish events on screen actually happened in real life. This particular season is a second entry into Chiller's original 2016 Slasher series, which follows an anthology format, similar to American Horror Story. The newest season is following the previously aired season, which was also not advertised as being based on a true story. Originally, Slasher aired on Chiller in America and Super Channel in Canada, but Slasher 2: Guilty Party will air exclusively on Netflix.
The first season of Slasher was pretty well received by audiences and critics alike. According to the series' IMDB page, it was nominated for three Canadian Screen Awards in 2017 and Wendy Crewson snagged a win for Best Performance by an Actress in a Featured Supporting Role in a Dramatic Program or Series. As of this moment, Crewson is not listed on the series' IMDB as appearing in Season 2.
Of course, most entries into the slasher genre are required to come along with a little bit of cheesiness. It simply isn't a slasher flick or series if there isn't some level of campy goodness involved. When the original season of Slasher debuted, The Hollywood Reporter questioned whether it would have the ability to grab audiences with the murder mystery it was unraveling. Luckily, it seemed to strike a cord with a lot of horror fans and the series' Twitter is full of fans who are psyched to see that a second season is forthcoming.
As for what fans can expect from this fictional horror tale, the synopsis on Bloody Disgusting reads:
"Set in the remote Canadian winter wilderness, the story revolves around a group of former summer camp counselors who are forced to return to the isolated campground to retrieve evidence of a crime they committed in their youth. Before long the group, and the camp's latest inhabitants, members of a spiritual retreat with their own secrets to hide, find themselves targeted by someone – or something – out for horrific revenge."
This synopsis makes it sound like Slasher 2 has taken some notes from some of the most legendary horror/slasher flicks in the canon. Horror fans will surely get a Friday The 13th vibe from it, purely by way of the fact that it takes place at a summer camp, where counselors were seemingly not doing their jobs to the best of their abilities and end up paying for it in a big, murder-y way.
The synopsis also hints that the villain could be a "something" that is out for revenge, which could suggest that it is a supernatural being that returns from the grave for the summer camp shenanigans. Nightmare On Elm Street featured once-dead Freddy Krueger, who returned to take revenge on the children of the people who killed him. Could fans see a little homage to Jason and Freddy in Slasher 2? After all, they are two of the most beloved slasher villains for horror fans and are always welcome inspiration for other flicks in the genre.
Honestly, that this series isn't confined to being based on true events gives the showrunners a lot of breathing room. Without being shackled to a real life blueprint, anything is possible in Slasher 2, and everyone's worst nightmares are free to play out on screen. Tune in if you dare.