Here's Everything Leaving & Coming To Netflix In October 2017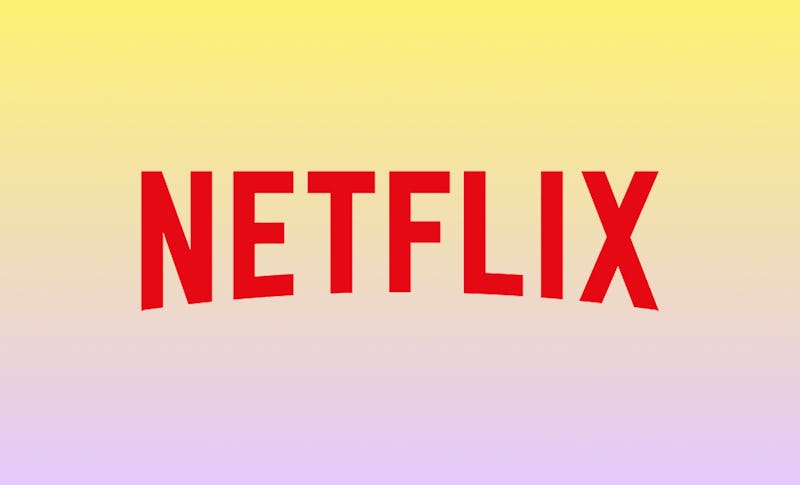 Liz Minch/Bustle, Netflix
The end of any month is difficult, especially when we find out what is leaving and coming to Netflix for October. As the colors of the leaves on the trees begin to turn and a chill enters the air, things are getting a little icier online as well. Warming, feel-good favorites like 30 Rock and Love Actually are being pulled from the streaming platform, so you're going to have to find something else to watch a few minutes of before bed every night. Maybe Season 2 of Stranger Things, which is dropping on Oct. 27, just in time for Halloween?
And for everyone who's been putting off watching Friday Night Lights even after all these years of your friends recommending it? You have until midnight on Sep. 30 to check it off your list, so you'd better hop to it. Clear eyes, full queue, can't lose.
But it isn't all bad news, of course. Netflix is also adding some enticing new titles, so dry your eyes and listen up. Big titles like Donnie Darko, I Love You, Man, and Miss Congeniality will be making its debut on the platform. So Miss Rhode Island might need to replace her perfect date of Apr. 25 with Oct. 1.
But, in any case, she's on the right track — it isn't too cold yet, so all you'll need is a light blanket while enjoying these new additions to the Netflix family. Snuggle in under it with a mug of pumpkin spice whatever, and enjoy all the harvest blessings on your favorite streaming platform.
What's Coming...
Available October 1
88 Minutes
A Cinderella Story: Once Upon A Song Before Midnight
Blood Diamond
Boogie Nights
Charlie and the Chocolate Factory
Cleverman, Season 2
Death Sentence
Don't Be a Menace to South Central While Drinking Your Juice in the Hood
Eagle vs. Shark
Eyes Wide Shut
Generation Iron 2
Ghost Patrol
I Love You, Man
Ice Guardians
Lockup: Disturbing the Peace, Collection 1
Made of Honor
Miss Congeniality
Miss Congeniality 2: Armed and Fabulous
Must Love Dogs
Never Let Me Go
No Reservations
Penelope
PJ Masks, Season 1
Set Up
The Reaping
Tokyo Idols
Tommy Boy
Vanished
Veronica
Available October 2
Mr. Dynamite: The Rise of James Brown
Sleeping with Other People
Available October 3
13 Demons
Rodney Carrington: Here Comes The Truth (Netflix Original)
Cult Of Chucky
The Survivalist
American Horror Story: Roanoke
Available October 4
Available October 5
Bonus Family (Bonusfamiljen), Season 1 (Netflix Original)
Schitt's Creek, Season 3
The Fosters, Season 5
Available October 6
ID-0, Season 1 (Netflix Original)
Skylanders Academy, Season 2 (Netflix Original)
Suburra, Season 1 (Netflix Original)
The Death and Life of Marsha P. Johnson (Netflix Original)
Word Party, Season 3 (Netflix Original)
Saw 1-7
Available October 7
Chris Brown: Welcome To My Life
Middle Man
Available October 10
Christina P: Mother Inferior (Netflix Original)
The Skyjacker's Tale
Teeth
Available October 11
Fe de etarras (Netflix Original Film)
Battle Royale
Available October 12
Battle Royale II - Requiem
Available October 13
El Especial de Alex Fernández, el Especial (Netflix Original)
Kingdom of Us (Netflix Original)
MINDHUNTER, Season 1 (Netflix Original)
Super Monsters, Season 1 (Netflix Original)
Talladega Nights: The Ballad of Ricky Bobby
The Babysitter (Netflix Original Film)
The Meyerowitz Stories (New and Selected) (Netflix Original)
Voltron: Legendary Defender, Season 4 (Netflix Original)
Cabin Fever
Available October 14
Available October 15
Belief: The Possession of Janet Moses
LEGO: City, Season 1
Money
OtherLife
She Makes Comics
West Coast Customs, Season 6
Hostel
Available October 16
Available October 17
Patton Oswalt: Annihilation (Netflix Original)
Slasher: Guilty Party (Netflix Original)
Little Monsters
Available October 18
Available October 19
Available October 20
1922 (Netflix Original Film)
Haters Back Off, Season 2 (Netflix Original)
One of Us (Netflix Original)
Smurfs: The Lost Village
The Day I Met El Chapo: The Kate del Castillo Story (Netflix Original)
Wheelman (Netflix Original Film)
Available October 23
Meet the Robinsons
While We're Young
Available October 24
Wanted, Season 1 (Netflix Original)
Wanted, Season 2 (Netflix Original)
The Mist
Jack Whitehall: At Large
Available October 25
The Hateful Eight
The Final Master
La Querida del Centauro, Season 2
Available October 26
Available October 27
Stranger Things, Season 2 (Netflix Original)
Joan Didion: The Center Will Not Hold (Netflix Original)
Available October 28
Available October 31
Zumbo's Just Desserts, Season 1 (Netflix Original)
Judah Friedlander: America Is The Greatest Country In The United States (Netflix Original)
What's Leaving...
Leaving October 1
30 Rock, Seasons 1 - 7
A Love in Times of Selfies
Across the Universe
Barton Fink
Bella
Big Daddy
Carousel
Cradle 2 the Grave
Crafting a Nation
Curious George: A Halloween Boo Fest
Daddy's Little Girls
Dark Was the Night
David Attenborough's Rise of the Animals: Triumph of the Vertebrates, Season 1
Day of the Kamikaze
Death Beach
Dowry Law
Dr. Dolittle: Tail to the Chief
Friday Night Lights, Seasons 1 - 5
Happy Feet
Heaven Knows, Mr. Allison
Hellboy
Kagemusha
Laura
Love Actually
Malcolm in the Middle, Seasons 1 - 7
Max Dugan Returns
Millennium
Million Dollar Baby
Mortal Kombat
Mr. 3000
Mulholland Dr.
My Father the Hero
My Name Is Earl, Seasons 1 - 4
One Tree Hill, Seasons 1 - 9
Patton
Picture This
Prison Break, Seasons 1 - 4
The Bernie Mac Show, Seasons 1 - 5
The Shining
The Wonder Years, Seasons 1 - 6
Titanic
Leaving October 19
The Cleveland Show, Seasons 1 - 4
Leaving October 21
Leaving October 27
Lie to Me, Seasons 2 - 3
Louie, Seasons 1 - 5
Hotel Transylvania 2
Leaving October 29
Family Guy, Seasons 9 - 14
Strap in for October, Netflix viewers. It's going to be a spooky ride.
Editor's Note: This list has been updated from the previous version to include new additions added throughout the month.