Elizabeth Olsen Gets Real About Grief & Trauma In Her New Show About A Young Widow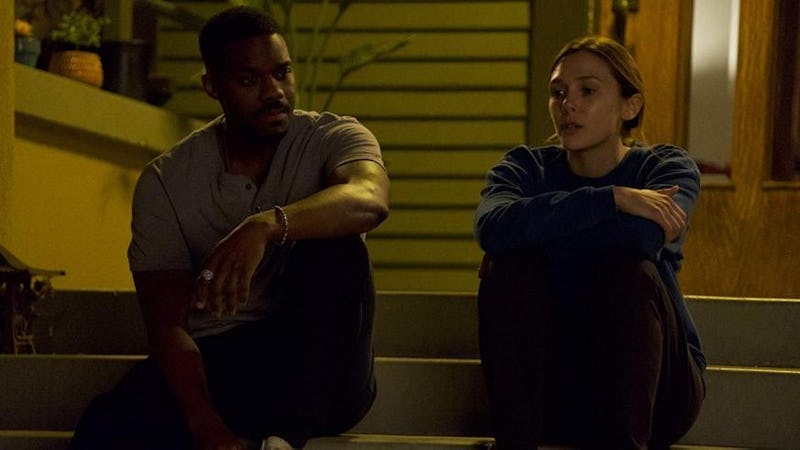 Facebook Watch
Grief is a highly personal experience, which is why every show about it approaches loss differently. Case in point? Facebook's new series Sorry For Your Loss, a ten-episode, half-hour drama starring Elizabeth Olsen as Leigh Shaw, a young widow whose husband's unexpected death sends her world into a tailspin. Is Sorry For Your Loss based on a true story? Its creator can trace the idea for the show back to one tumultuous moment in her marriage.
According to Deadline, Kit Steinkellner, the show's creator, admitted that she was inspired to make Sorry For Your Loss after a scary moment in her own marriage. "There's a flashback scene in the pilot," Steinkellner said, "in which [Olsen's] character wakes up in the middle of the night. Her husband is nowhere to be found, and she thinks the worst thing possible has happened. And that is very much based on a night in my life, a few months into my marriage."
While Steinkellner's husband turned out to be fine, she said that she couldn't move on from those feelings. "I just started thinking about who that woman was that could survive this impossible thing. And the more I start to think about her, the more I fell in love with her, and the more I started to think about the people in her life, the more I fell in love with them too," Steinkellner said. "It just sort of burnt a hole in my gut and I knew I had to write it."
And write the story Steinkellner did, with Olsen not only starring but also executive producing. In an interview with Variety, Olsen said of the show, "With [Steinkellner]'s pilot, I just found not only the character could be someone that I immediately felt connection to — it made me laugh, it made me cry — and it was at a time in my life where I was in a transition." It makes sense, because grief is nothing but a lesson in transition, and for such a real portrayal of it to be broadcast was something if not revolutionary for Olsen. "There are so many stories about love, but the stories about death all feel so sappy to me or melodramatic," Olsen told Variety, "and I just feel like this handled grief in a palatable way where it can actually be a part of a conversation and be an interesting character study of someone going through an extreme trauma for the first time."
In Sorry For Your Loss, Steinkellner's momentary panic is teaming up with Olsen's ingénue eyes and dedication to her craft to make something beautiful — a boiled-down, very real look on what it's like to lose the one thing you're supposed to be able to count on for the rest of your life. From the looks of the trailer, Sorry For Your Loss is going to be a tearjerker, but that's life. What you learn from and take from grief informs the future, and hopefully, Sorry For Your Loss will inspire others in how to deal with their own.