Lifetime's Scariest Doctor Is Back For A Third Movie To Totally Creep You Out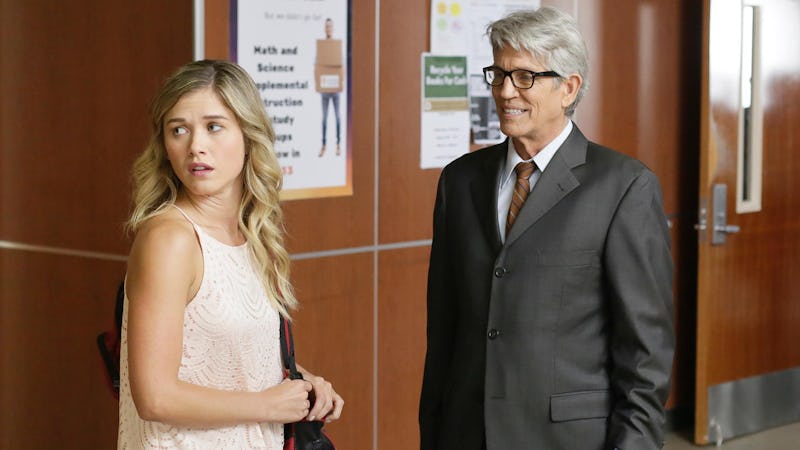 Lifetime
The third installment in the Stalked By My Doctor franchise, Stalked By My Doctor: Patient's Revenge premieres Sunday, May 10, on Lifetime. The thriller follows a creepy "silver fox" named Dr. Albert Beck (Eric Roberts), who uses his cover as a doctor to prey on young women — this time, a girl named Melissa (Anna Marie Dobbins). It's a terrifying premise, so audiences may be wondering if Lifetime's Stalked By My Doctor: Patient's Revenge is a true story.
Luckily this film is just your run-of-the-mill fictional Lifetime thriller — in the best way possible. The first two installments of this franchise, Stalked By My Doctor (2015) and Stalked By My Doctor: The Return (2016), centered around Dr. Beck as he fostered obsessions with first Sophie Green (Brianna Joy Chomer) and then Amy Watkins (Claire Blackwelder), whose mom he wooed in the second film to get close to Amy.
Per Lifetime's synopsis of Stalked By My Doctor: Patient's Revenge, in this latest film, Dr. Beck wins a court case against Sophie, who was hoping to put him behind bars for kidnapping and attempting to murder her in the first film. He then begins teaching at a medical school in Arizona, where he becomes smitten with his student, Melissa.
Enter Sophie Green, who's pissed and now dresses like a goth. "This man kidnapped me — he tried to kill me!" she yells in the Stalked By My Doctor: Patient's Revenge trailer. As the subject of the original film, Sophie has come back to put a wrench in the pervy instructor's extracurriculars. "I've got a plan that's going to get rid of him for good, and I'm following through," Sophie says in the trailer. This is more than likely the patient's revenge alluded to in the film's title.
And if the name Eric Roberts sounds familiar, that's because he's actress Emma Roberts' father as well as Julia Roberts' brother. One glance at his IMDb will reveal that the man is as hardworking as they come: Roberts has about 45 projects scheduled for 2018, including this one. Also in the film are Rico Simonini as Dean Sanchez and Deborah Zoe as Adrienne Green, Sophie's mom.
And while the premise of this film may sound absurd, it's that addictive campiness that Lifetime does best, and the movies have nothing if not a passionate fanbase. One such franchise devotee even started a Change.org petition, requesting that the Stalked By My Doctor series continue with a fourth movie, and so on. "If enough of us band together to support this petition, we could have a Stalked By My Doctor 9 by the time 2025 rolls around," the petition reads, perhaps semi-seriously. The fan even created a Twitter account for this very purpose, the bio of which reads: "I'm passionate about saving the Stalked By My Doctor franchise!" Some of the other copy on the Change.org page reads as follows:
The series of lifetime, straight to TV, movies known as Stalked By My Doctor have been critically acclaimed as some of the best movies of all time. As of right now there are only three movies in the series, and I personally see this as a problem in itself. Eric Roberts is seen as very foxy among the older generation and more of these movies could give Sir Eric the recognition that he deserves.... I believe that if Doug is given the chance, these movies could redefine the drama genre, just like the iconic Saw movies.
Indeed, Stalked By My Doctor appears to be Lifetime's version of Friday the 13th or A Nightmare on Elm Street. But whereas Dr. Beck doesn't necessarily die in these movies, he still keeps popping up when audiences least expect him, much like Jason Voorhees or Freddie Krueger. Or, as the petition notes, Jigsaw from Saw.
Fortunately, audiences won't have to wait much longer to find out whether or not Sophie Green succeeds in getting revenge before her former doctor claims another victim. And who knows — perhaps they'll even be a fourth Stalked By My Doctor to look forward to.