The 'Mrs. Maisel' & 'Dirty Dancing' Connection Goes Way Deeper Than The Catskills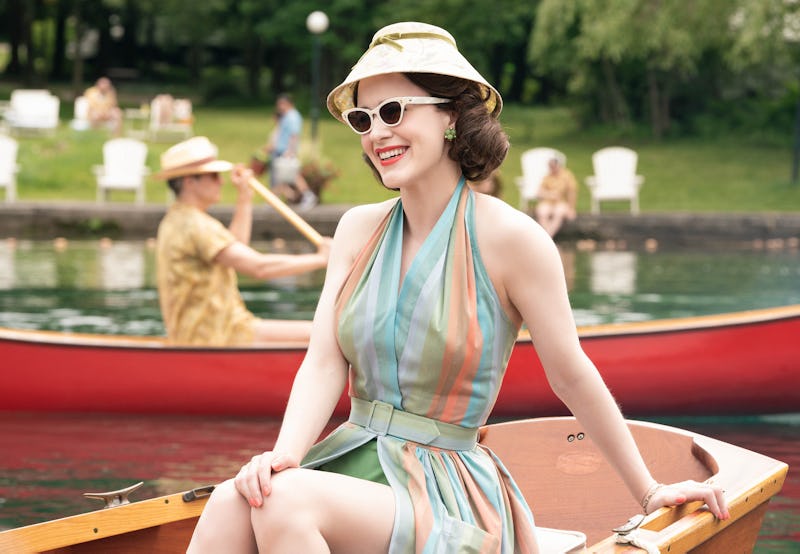 Nicole Rivelli/Amazon
As it heads to the Catskills for a good chunk of Season 2, Marvelous Mrs. Maisel seems to be channeling a certain other mid-century-set favorite. Just as Frances "Baby" Houseman did in Dirty Dancing before her, Midge and her family pack up for the summer and schlep upstate. And while Mrs. Maisel's Steiner Resort isn't a real place, being set in the Catskills isn't the only reason it will remind you of Jennifer Grey and Patrick Swayze's epic on-screen romance.
Production for the Catskills-set scenes involved heading to a real-life resort in Deposit, New York, according to star Rachel Brosnahan's comments during an appearance on The Tonight Show With Jimmy Fallon. The actor even divulged that the hotel had a previous brush with fame that they weren't about to pass up again.
"Rumor has it that years and years ago, the resort turned down Dirty Dancing [filming there]. So when we came to them, they were like 'Get on over here. Sign us up. We can't miss our shot!'" she said, laughing. "We got to shoot on the most beautiful lake. Those episodes are stunning — the costumes and set design, it's fantastic."
According to Fox affiliate WICZ, the resort Brosnahan was referring to is Scott's Oquaga Lake House. The outlet talked to the owners of the resort before filming started, and they said location scouts had been considering their space for quite some time. "They were looking for an old-style Catskill resort and we were fortunate enough to have what they were looking for," owner Patty Holdrege told WICZ.
And as for the rumor that they'd missed out on Dirty Dancing fame all those years ago? It's true. "They did come here and look at us for Dirty Dancing," Holdrege shared with WICZ. "At that time we were extremely busy and we opted that we just couldn't do it. If we had known where that was going we might actually have done something about it."
Throughout the Catskills, there are resorts filled with the same kind of swimming pools, lakes, lounges, golf, and spas depicted in Maisel, but there's actually nothing by the name of a Steiner Resort anywhere to be found. There's not even any information readily available of a hotel by that name that might have existed in the '50s, so it seems as though the Maisel crew simply chose a place that fit the aesthetic they were going for, and fictionalized the perfect New York getaway.
If you want to relive any Mrs. Maisel scenes or recreate what might have been with Dirty Dancing, check out accommodations and room rates on Scott's Oquaga Lake House's website. The views look nostalgic and peaceful, and in addition to regular rooms, there are also weekly cottage rentals and day passes to take advantage of.
Holdrege also told WICZ that the resort has been owned by her family for generations, and while they've had to scale back operations in recent years, they're hoping the exposure through Mrs. Maisel helps keep things up and running. "It's been in our family for such a long time, that I've taken on this little challenge of trying to keep it going because it's very special to me," Holdrege said, adding that the Amazon show's attention could be beneficial. "You know, [it's] actually getting the word out that we are still here."
The region was definitely a fitting choice of venue for Marvelous Mrs. Maisel. There are a ton of Catskill bed and breakfasts, inns, and resorts, and yes, one of them served as the actual inspiration for Dirty Dancing's fiery love story, though filming didn't take place there. These are places much like where Midge and her family might have actually stayed, and apparently, the area has long been the place to be.
A 2009 Travel & Leisure piece noted that the Catskills area had a history of housing "the upper crust of Victorian New York" during the summer, and that its resorts also facilitated the rise of comedians like Mel Brooks in the '50s. Though we can't be sure what happens during Midge's vacation just yet, it sounds like the perfect place for her to hone her chops.