Bannon Still Has The Same Power As He Did Before, FYI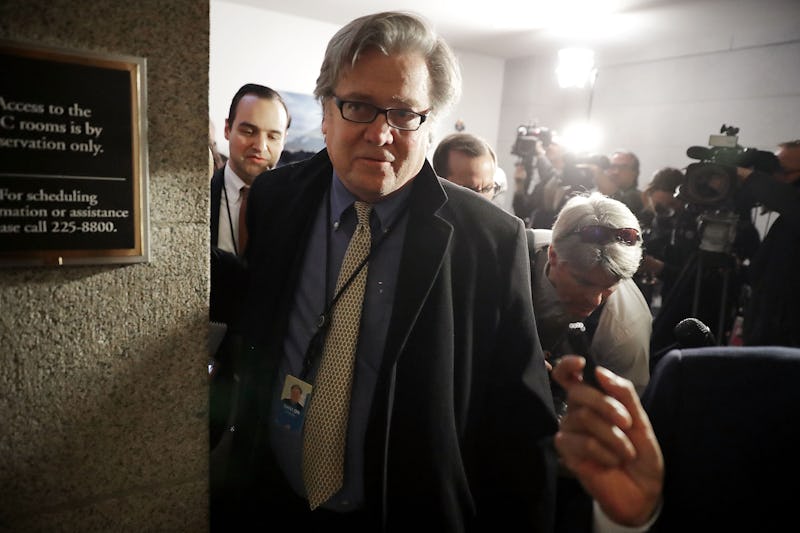 Chip Somodevilla/Getty Images News/Getty Images
The Trump White House has reportedly gone through a major upper-level change, as close Trump adviser Steve Bannon has been removed from the National Security Council. Bannon, 63, has long been one of (if not the most) controversial member of the Trump cabinet, thanks to his prior career as the CEO and guiding mind behind the far-right website Breitbart. His initial appointment to the NSC principals committee was met with extreme skepticism in both progressive and some conservative circles. So, what will Bannon's role be now, you ask?
The answer, simply put, it that he will still be the White House chief strategist, working the upper-echelons of the U.S. government, in close proximity to the president, and presumably with some degree of influence. Although Bannon was granted a spot in NSC meetings a while back, he had already been named to the chief strategist position.
And that role is still very much his ― he's just as close to the president in an official organizational sense as he was this time last week, and as he has been since he was brought onto the Trump campaign back in August of 2016. In other words, if you were one of the countless people outraged or concerned about Bannon's initial ascension to the White House, you should still feel that way, because he's every bit as involved as he was before.
In fact, that might still be true even when it comes to his ability to sit in on NSC meetings. An unnamed source "with knowledge of the move," according to CNN, claimed that Bannon will still be able to attend any NSC meetings he wants, despite being officially off of the principals committee. Whether that's true, or an attempt by an administration insider to minimize the impact of this shake-up, is unclear.
In other words, while this might be cheerful news for the Trump administration's political opponents, and specifically for an anti-Bannonites, it's unclear whether this change will meaningfully constrict Bannon's power, influence, or access within the White House.
As it stands now, however, he's officially losing his NSC member title, a move that could signal increased influence on the part of the administration's more typical, establishment figures, like Trump's national security adviser, Lt. Gen. H.R. McMaster. It's also been reported that former Texas governor and current energy secretary Rick Perry has been added to the principals committee, getting a new official national security role at the same time that Bannon has been removed.