Fans Think Stormi Might Not Be Kylie Jenner's Baby's Actual Name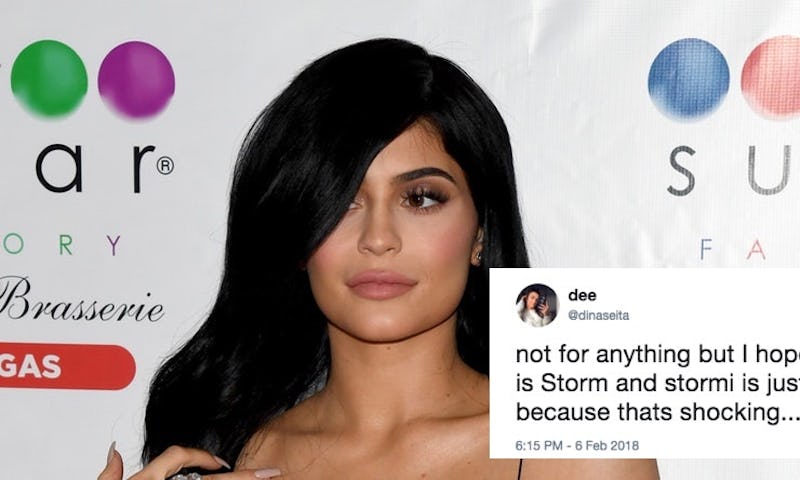 Ethan Miller/Getty Images Entertainment/Getty Images; dinaseita/Twitter
On Sunday, Kylie Jenner finally blew the lid off those long-circulated pregnancy rumors with an Instagram post that nearly broke the internet. Just two days later, the reality star took to Instagram once again with a sweet photo of her newborn daughter, captioned "stormi," which has fans wondering if Stormi is a nickname for Kylie Jenner's new baby. No official word yet as to whether this particular theory holds any weight, but that certainly hasn't put a damper on the frenzied bout of guesswork. After almost six months of unanswered questions, it seems safe to say that Kylie fans are well-practiced at the art of wily speculation.
Even in the aftermath of the social media mogul's explosive pregnancy announcement (which she unveiled, via two back-to-back Instagram posts, this past Sunday, Feb. 4), enthusiastic Kylie fans had a lot of questions. Because, while the new mom did reveal quite a bit about her formerly concealed, nine-month journey with a 11-minute tribute video, Kylie's pregnancy announcement was missing several details about her tiny bundle of joy — perhaps, most importantly, her daughter's name.
But, if her follow-up post Tuesday afternoon, Feb. 6, is any indication, Kylie might have just gifted fans with a little clue about the baby's moniker. After taking a some 48-hour step back from social media (child's play for the internet mogul, who'd been mostly absent from her various social platforms during her pregnancy) following her highly anticipated baby announcement, Kylie returned with a truly heartrending photo: a close-up shot of her daughter's tiny hand, wrapped around Kylie's perfectly manicured finger. The photo's caption simply reads, "stormi," followed by a baby angel emoji. (The likes of which honestly bear striking resemblance to Kylie's own celestial-looking infant.)
And, as is customary when it comes to any and all Kardashian-related baby news, Kylie's Instagram post promptly catalyzed a furious wave of theorizing from fans who thought "Stormi" might be the baby's name. Speculation is already running rampant on Twitter, where some fans have suggested that perhaps "Stormi" isn't the child's actual name, but rather, a sort of cutesy nickname for the newborn.
A few tweets were tinged with sarcasm, while others were a bit more serious. But many echoed the "nickname" theory, suggesting instead that the baby's name could simply be "Storm."
It's possible those fans might actually be on to something, considering the Kardashian-Jenner clan's rich history of tacking an "i" onto the end of their pint-sized loved ones' names. The 20-year-old Life of Kylie star has done it herself — most notably, in reference to her beloved greyhound, Norman, who Kylie has been known to call "Normi." It's possible the youngest Jenner might also be taking a note from big sis Kim, who — as KUWTK fans already know — pretty much exclusively addresses her 4-year-old daughter, North, as "Northie." And, as one Twitter user pointed out, when it comes to creative baby names dreamt up by the Kardashian-Jenner family, "Stormi" certainly fits the bill.
This latest bout of baby name speculation comes on the heels of an initial round of guesswork, which surfaced Monday, Feb. 5 (the day after Kylie's pregnancy announcement went viral). Picking up on what some believed to be hidden "clues" about the baby's name scattered throughout her pregnancy tribute video, hawk-eyed Kylie fans were almost convinced the star had named her daughter "Butterfly." But, in lieu of any official confirmation, Tuesday's post was all Kylie enthusiasts needed to drop the "Butterfly" theory and promptly move on to "Storm." (Or, alternatively, "Stormi.")
So, while Kylie hasn't exactly confirmed her newborn daughter's name, there's definitely a pool of maybe-evidence that suggests "Storm" (in any one of its iterations; additional "i" or otherwise) might at least be a solid contender.