Science Says Stress Could Have A MUCH Bigger Impact On Your Sex Life Than You Think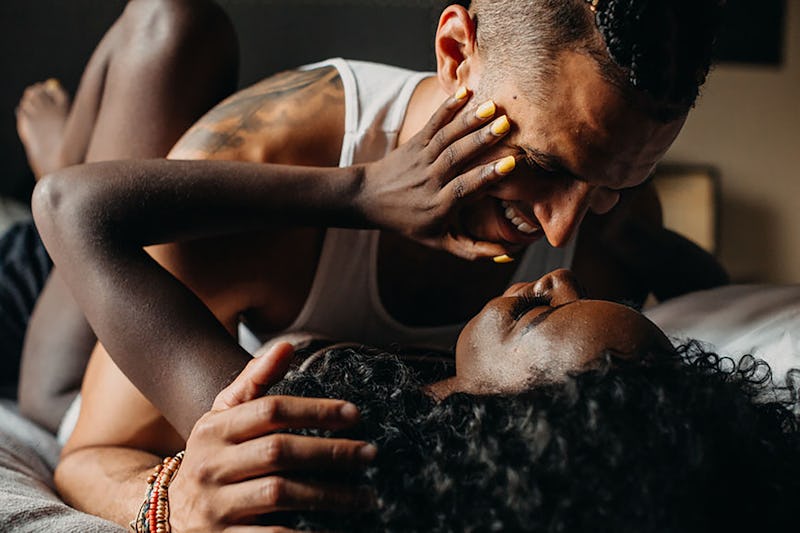 Leah Flores/ Stocksy
There are a number of things that can affect your mood when it comes to getting intimate with someone. Even if you manage to leave work on time, sometimes it's just impossible ignore your emails and properly switch off. Or maybe it's the distraction of social media, family, or your social life that leaves you feeling too flat out to think about sex. BBC 5 Live recently conducted a study looking at the attitudes of sex and relationships and the results were pretty shocking. Nearly half of the survey's respondents (45 percent) said that stress has a negative impact on their sex lives.
The online study conducted by BBC 5 Live surveyed 2,066 adults about sex and relationships. Questions ranged from what they classed as cheating, whether they were confident in their own sexual performance, and whether they were satisfied over all with their sex lives. The survey found that the main factor taking a negative toll on respondents' sex lives was stress. A massive 45 percent of those questioned said their sex lives were affected by it. However, experts have suggested that it's perhaps not that surprising that sex is the last thing on our minds when we are stressed out.
Writing in The Guardian, Dr Cath Mercer from University College London said, "people are worried about their jobs, worried about money. They are not in the mood for sex. We also think modern technologies are behind the trend, too. People have tablets and smartphones and they are taking them into the bedroom, using Twitter and Facebook, answering emails."
And he's not the only one who thinks so, research also suggests that feeling more relaxed (aka less stressed) can lead to better sex. A study by Lori A. Brotto found a link between meditation experience and better sexual performance. The study looked at the sex lives of 451 women, comparing those who meditated and those who did not. Brotto told PsyPost, "mood was found to be a significant predictor of both improved sexual function and sexual desire in women who meditate meaning that it seemed that improvements in mood associated with meditation may contribute to the women's better sexual functioning." So, this would suggest that the more relaxed and calm we are the better our sex lives are.
However, stress wasn't the only thing participants in the BBC 5 Live studied cited as having a negative impact on their sex lives. Another 32 percent said physical health was a factor, 26 percent pointed to mental health issues, and having kids negatively impacted 20 percent of respondent's sex lives. Despite all of these potential problems, and encouraging 50 percent of men and 53 percent of women surveyed said they were satisfied with their sex lives overall.
Sex and desire are super complicated things and it can sometimes be difficult to see how other areas of our lives are affecting our sex lives. This study has definitely made me think about putting down my emails and Instagram to switch off.