This New HBO Show Takes A Fascinating Look At The Drama Of A Wealthy Family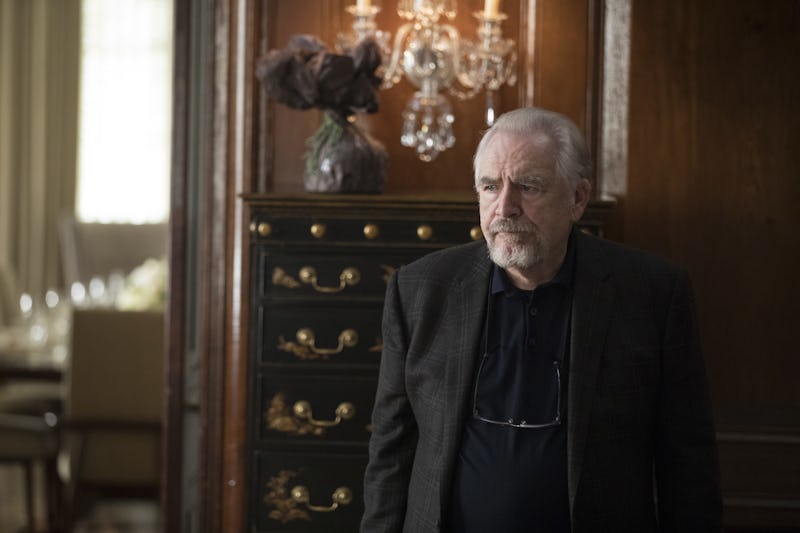 Craig Blankenhorn/HBO
In recent years, HBO has taken viewers inside vampire dens, dragon pits, and robot parks. Now get ready to venture into the deadliest arena yet… the boardroom. Is HBO's Succession based on a true story? After all, the channel's new series about the head of a family-controlled media conglomerate and his brood of squabbling offspring feels much more realistic than a lot of HBO's offerings. But that doesn't mean viewers should necessarily assume the Roys, the family at the center of the drama, have a direct real-world corollary.
While Succession is produced by Will Ferrell and Adam McKay (the Oscar-winning filmmaker of The Big Short, who also directed the pilot), the real brain behind the operation is creator Jesse Armstrong. Armstrong was nominated for an Oscar alongside future Veep creator Armando Iannucci for their British political parody In The Loop back in 2009, and perhaps his most notorious work since then is a script titled Murdoch, which landed on 2010's Black List, a survey of the best unproduced screenplays written each year. According to Forbes, which got its hand on a copy of the buzzed-about script, Murdoch was "an intimate family drama about one of Hollywood's most powerful men."
While the basic premise of Succession may sound familiar, Armstrong said he's moved beyond the Murdochs for this show. "This is a fictional family," Armstrong put it bluntly at his show's panel during the Television Critics Association press tour this January, as reported by Variety. "There's loads of succession stories to draw on. We wanted to draw on all the good, rich stories there are about succession and about media and high politics."
"What excited me about Jesse's script is that it wasn't about one family," McKay said during the panel. "It's more about the question of what happens when this kind of power is handed down through bloodlines, how does that affect the world around it? How does that affect the family members?" McKay claimed they wanted to set their series apart from other shows that tend to glamorize the lifestyles of the rich and famous, like Dynasty or, well, Lifestyles Of The Rich And Famous. "I think to some degree you can't ignore the reality of where we're at. Income inequality is at historic high. We're seeing this unparalleled oligarchical planet that we're living in."
Some viewers might also pick up on some parallels to a famous fictional family drama. One can't really think of tales of children bickering of their father's estate without thinking of perhaps the most classic example: King Lear. In fact, Succession star Brian Cox famously played the tragic Shakespearean figure at London's National Theatre back in 1990, in a production that also starred Ian McKellen. At the HBO show's premiere in May, Cox admitted that he drew on the familiar role for guidance. "What I was influenced by in the screenplay was King Lear," the star said, according to Variety. "There's a very classical element of dysfunctional royals. It's gone on through history."
That being said, the story of Succession is "a premise for now," insisted Cox, "about the entitled rich and what they are doing. It's a satire and a morality tale about people who are highly dysfunctional, and about how entitlement removes people from a sense of reality." Surely there's no real-world precedent for that.