If You're Missing 'Narcos,' This New Netflix Series Is For You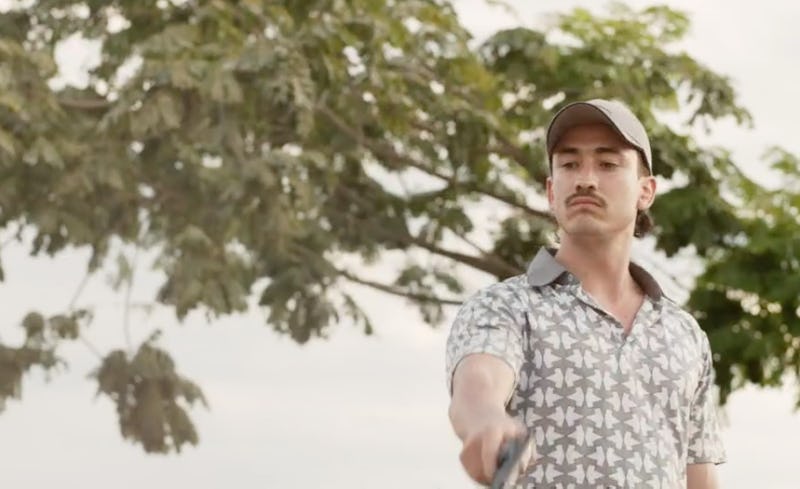 Caracol International
The story of Pablo Escobar, the Colombian drug lord who ran millions of dollars' worth of cocaine from South American to the United States, has been told on Netflix's Narcos over the past three years. But another series from the streaming service is taking a very different look at the same era, depicting the country after Escobar's death through the eyes of a man who claims to be his deadliest contracted killer. Surviving Escobar is based on a true story — or at least someone's version of one.
The series is a drama, however, not a documentary. Surviving Escobar is based on the memoirs of John Jairo Velásquez, also known as "Popeye." In 2015, Velásquez released a book, Surviving Pablo Escobar: Popeye the Hitman 23 Years and 3 Months In Prison about his experiences. According to Velásquez, he'd reached "the end of a crazy and tumultuous career in organized crime" when he "was about to turn his life around, inspired by the love of a woman." He writes that he was inspired to surrender himself to the authorities in order to protect his girlfriend, Ángela Morales, from the Pepes, a rival gang that was determined to stop Escobar's Mendellín cartel. According to The New York Times, Velásquez served over 20 years for planning a hit on a Colombian presidential candidate. He got out of prison on parole in 2014.
The book is written in the third person, as though about someone else, and that may have helped Velásquez document his experiences a little more objectively. His introduction to the book states, "The Medellín cartel's crimes weigh as heavily on my shoulders today as they did yesterday." Velásquez also has a YouTube channel where he also reflects on his past and his crimes, called "Remorseful Popeye."
Velásquez's accounts are personal, subjective, and possibly not accurate, but he has been sharing his story since being released from prison in 2016. There isn't much incentive to admit to killing over 300 people in The Mirror, but these are Velásquez's allegations about the time he spent working with and for Escobar.
According to The Miami Herald, some in Colombia refuse to support Surviving Escobar, true story or not, because of the pain Velásquez caused during his tenure as an assassin. "Do you prefer a Popeye who is living off his story, working from 6 a.m. to midnight?" Velásquez responded to those opinions. "Or do you want a Popeye with a gun, trafficking cocaine, kidnapping the rich, setting off car bombs and fighting the police?"
Of course, there's plenty of room between those two extremes, but he claims most traditional employment is closed to him after his criminal past. Velásquez seems to believe that by sharing his experiences, he can help demystify the concept of working with Escobar. However, his book repeatedly lionizes the kingpin, calling Escobar "the man who inspired to much respect and admiration."
"Everyone is left with the impression of how powerful and rich he was, of all the women that he had. These shows distort people's recollections," Colombian Gonzalo Rojas told The Miami Herald in the same piece. So though Surviving Escobar is loosely based on the memories of someone who was embedded with the actual operation, its portrayal of Escobar may not sit right with potential audiences who would rather not seem him immortalized further.
Surviving Escobar may be based on a true story, but it can never encompass the full truth — and with Velásquez's confessional writing style and attempt at earning atonement, it will be difficult for the show to capture anything beyond "Popeye's" specific experiences.