You'll Probably See Taylor Swift At The Grammys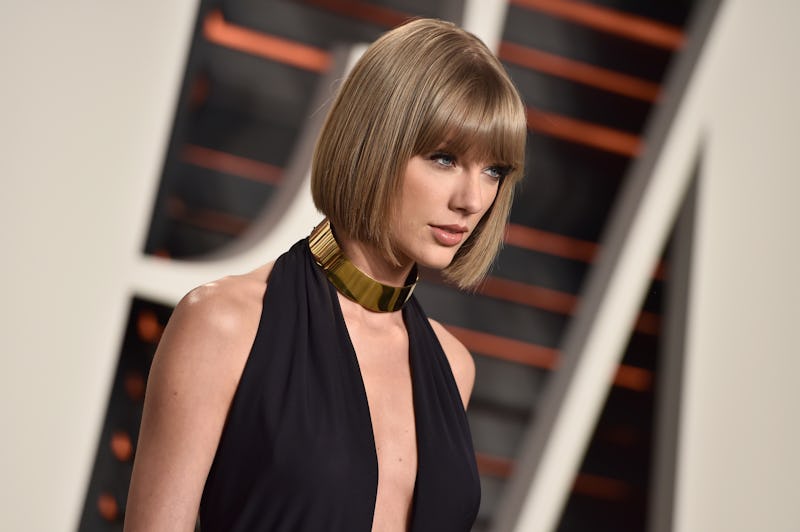 Pascal Le Segretain/Getty Images Entertainment/Getty Images
If you treat yourself to watching an award ceremony or two on the regular, you'll know part of the fun is keeping your eyes peeled for your favorite celebrities. So, trust me, I'm not judging if you're wondering if Taylor Swift will be at the Grammys. I mean, she's a reliably interesting figure to watch. She's been presenting at ceremonies for years and receiving at award ceremonies for years, so she's really damn good at it. So really damn good at it, in fact, that the Grammys even based an ad campaign for this year's ceremony on her 2016 Grammy acceptance speech, which stressed the importance of self-belief for women.
There has been speculation in the media, however, that this video was the award ceremony's subtle way of throwing shade at Kanye West (who is reportedly skipping the ceremony in protest for Frank Ocean's Blonde album not receiving any nominations this year), since some interpreted Swift's acceptance speech as a response to West's claim about Swift in his song "Famous" ("I made that b*tch famous"). Still, whatever the reason you think the ceremony chose to reference Swift's speech for, I'd argue this alone would be a good reason for Swift to come. It's the Grammys saying, hey, Ms. Swift, we think you're pretty special. ‌
The singer hasn't given us any hints on her social media that she's considering attending the Grammys. But given that she has a new track to promote, her Fifty Shades Darker soundtrack collaboration with Zayn Malik "I Don't Wanna Live Forever," it would make a lot of sense from a business perspective for her to appear at one of the most high profile entertainment events of the year.
Besides which, Swift's friend Gigi Hadid told ET after walking in the Tommy Hilfiger fashion show that the singer was back making music:
She's obviously such a great friend, and you know she is starting to go back to work in the studio again, and really made time to be here for me, and I am so grateful for that.
So this implies new music is on the way — possibly even a new Swift album. If this was the case, after a while out of the limelight, it would make even more sense from a business perspective for her to be at the Grammys.
But, ultimately, do people just go to things for business reasons? Sure, Swift is a canny businesswoman. But ultimately, she's a real person like you or I, and I feel like real human beings mainly make a decision to go somewhere because they enjoyed the vibe last time round. Swift accepted three awards at the 2016 Grammys; she presented an award at the 2015 Grammys; she was there at the 2014 Grammys; she won one award and performed at the 2013 Grammys; she collected two awards at the 2012 Grammys. The last time she skipped the Grammys was 2011, you guys.
In short, while there's no firm evidence that Swift will be in attendance, I think the above speaks for itself. She really, really likes hanging out at the Grammys. And I'd be very surprised indeed if this year of all years was when Swift decided not to make a cameo.