Is Taylor Swift's New Song Really That Bad?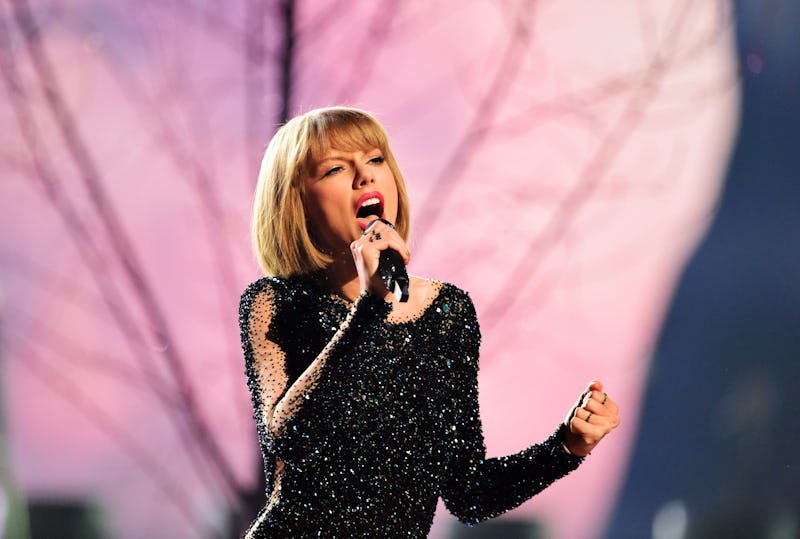 ROBYN BECK/AFP/Getty Images
When Taylor Swift deleted all of her social media posts last week, the world braced for an album announcement. And when she returned with a cryptic video of a snake slithering, the nature of her new music became clear: This would be an attempt to reclaim her reputation, which is, unsurprisingly, the title of her forthcoming release. The first single from Reputation, "Look What You Made Me Do", dropped on Thursday night, and many listeners and critics aren't impressed. Is Taylor Swift's new song really that bad, or is everyone hung up on the context of the album? On this track, the star is attempting to shed her old persona and create a new one, and it's possible her effort to rebrand her image might be eclipsing the actual content of the song.
It's been a controversial couple of years for Taylor Swift. In 2015, she sparked a Twitter feud with Nicki Minaj, and though the two made up on the VMA stage, it wasn't her only public disagreement. When Kanye West released his single "Famous" in 2016, their previous drama stemming from the 2009 VMAs was reignited over their disagreement over the lyrics and led to Kim Kardashian's Snapchat video receipt and Swift's infamous "excluded from this narrative" comment. Then, this year, Katy Perry's feud with Swift was brought back into the spotlight, including Perry's comments on the situation and her song "Swish Swish." All of these events contributed to Swift's distrustful reputation and her being called a snake, a label she attempts to own with this single.
However, outside of the context of the singer's public controversies, there are a few reasons that fans might not be receiving the song well. It's definitely a divergence from the tone and style of her previous music. Even the more antagonistic tracks on 1989, like "Bad Blood", were danceable, traditional pop tracks. On "Look What You Made Me Do", Swift is trying new structures, and one of the most striking parts of this song is how little singing she actually does — a large portion of the track is spoken. It's an interesting choice, and while she deserves credit for trying a new approach, it seems that fans aren't loving it.
This type of experimentation is common in pop this year. There are some stylistic elements of this track that felt reminiscent of what Lorde did on her most recent album, Melodrama. Spoken passages and odd bridges that subvert pop norms were key on that release, but on songs like "The Louvre", Lorde committed to being eccentric. Swift's song still attempts to be radio ready, and therefore lands somewhere in between traditional and experimental, so it doesn't quite appeal to a popular or a critical audience.
"She claims to have gotten harder, but only comes off as brittle; she says that defeat made her smarter, but sounds if she's endlessly smarting," Frank Guan wrote in his brutal review for Vulture. "It's impossible for anyone but her most die-hard fans (which are, to be fair, legion) to think that the song represents Taylor in a position of strength." In Maura Johnston's review for The Guardian, she seems equally miffed by the shift toward a darker brand. "The pop star's return is full of visceral disses, but it's not clear whether she's playing a role or being herself," Johnston writes.
When it comes to the lyrics, Swift faces the same creative dilemma. From a lyrical standpoint, this track almost feels too timid. The single is meant to be a furious comeback, but it almost isn't vicious enough. While lines like "I don't trust nobody and nobody trusts me/I'll be the actress starring in your bad dreams" are quintessential Swift, in this song they feel a bit on the nose. The kicker of the song is a simple spoken, "I'm sorry but the old Taylor Swift can't come to the phone right now. Why? Oh, 'cause she's dead." The rest of the track isn't quite bold enough to make the sentiment believable, and after two difficult years in the public eye, some people aren't buying that this bad girl persona is anything new.
Audiences are largely unconvinced by Swift's new persona; some feel that she's been this way all along and therefore a transformation into this this person isn't possible, but other's are simply finding her attempt at rebellion half-hearted. These feelings are dictating the reaction to the song. It's not uncommon for female stars to own their mistakes in this fashion and embrace their newfound reputation with a well-curated rebellious phase. Stars like Christina Aguilera and Miley Cyrus have cycled through similar, and equally controversial, progressions in their careers. That seems to be Swift's approach to this album, but something about this track, with it's flat spoken passages and too-tame lyrics, lacks conviction. Is this song, and the deletion of all her social media, enough to convince the world that the old Taylor Swift is dead? So far, not many seem sold, but perhaps the rest of the album will be more persuasive.