The Coen Brothers' New Movie Is Actually 6 Separate Stories — Here's Where They Came From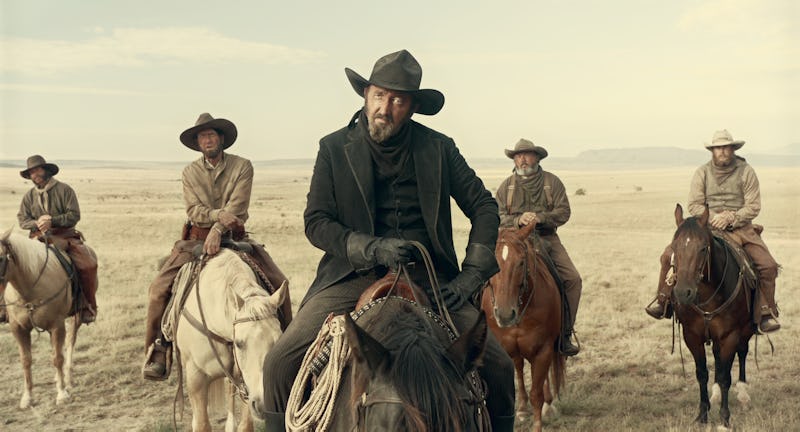 Netflix
In the Coen brothers' latest film, The Ballad of Buster Scruggs, the actual ballad of Buster Scruggs is only one-sixth of the experience. The movie is an anthology with six different stories, all about the wild west, and between each story the pages of a storybook are shown flipping on to the next tale. This makes it seem that there might be some sort of source material outside of the Coen brothers' minds that the film is based on. After all, there are a lot of stories about the American west out there.
In this case, though — and as is clearer with some of the more outlandish sections of the movie — the stories primarily come from Joel and Ethan Coen themselves, with a couple of them being more directly inspired by existing work.
According to CBS News, the Coens explained during a press conference in October that they wrote the stories about 25 years ago. "They were put in a drawer, because they were short movies, and what were we going to do with them?" Joel said. "We probably didn't expect to make them until maybe eight or 10 years ago, when we started thinking, 'Well, maybe we can do these.'"
While the stories vary from one about a singer/sharpshooter to one about the Oregon Trail, they all involve death in some way, whether it's someone being killed (which happens often) or a dead person being transported on a covered wagon. The stories also all contain classic aspects of the old west — standoffs, outlaws, gold digging — and some are more directly based on actual existing stories than others. The segment called "The Gal Who Got Rattled" shares a title, a character name, and some of the plot with a story by Stewart Edward White. As pointed out by CBS, the one called "All Gold Canyon" is based on a story by Jack London.
Buster Scruggs premiered at the Venice Film Festival in August, and at the time Joel explained (via Variety), "Even though they were completely different in mood and subject matter and sort of even generically within the sort of loose idea of Westerns, they were all kind of vaguely about the same thing and [we thought] it would be interesting to put them all together. Nobody's doing that kind of thing anymore, anthology movies, and we thought it would be kind of fun to bring it back."
Originally, it was thought that the stories would end up being the Coens' first TV project. The Hollywood Reporter in January 2017 reported that Annapurna Television would be producing the anthology. Annapurna said in a statement that they would be going with "an innovative television and theatrical integrated approach."
Buster Scruggs then got picked up by Netflix and it became clear that the stories would be stitched together as one piece. According to CBS, Joel explained at the press conference of the "TV project" talk, "That's an artifact of just what a strange animal it is. They didn't know, none of us really knew what to call it, or how to classify it."
Now, what became an anthology movie a quarter of a century after the stories were produced is hitting both theaters and Netflix. The Ballad of Buster Scruggs will get a limited theatrical release on November 9 and debut on Netflix November 16.