The Band From 'One More Time' Has Real Talent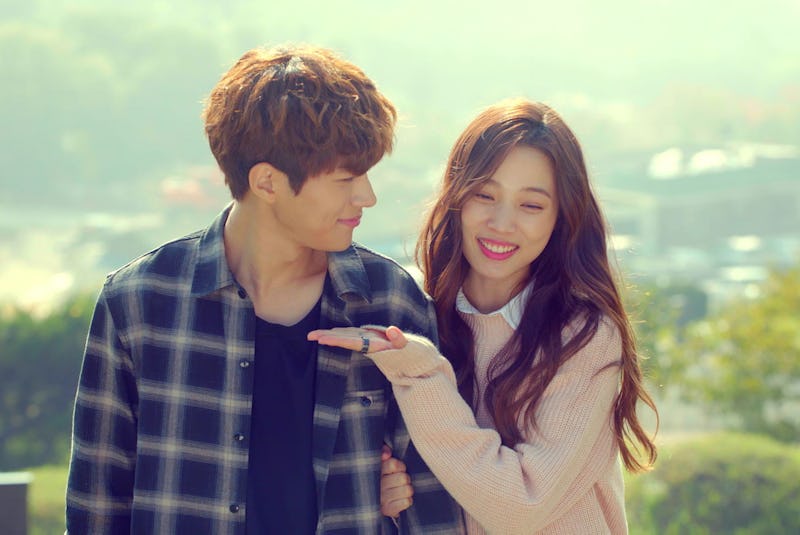 Netflix
Time travel is all the rage on TV these days. You've got DC's Legends of Tomorrow over on The CW, Timeless on NBC, and BBC America's Doctor Who is a perennial favorite. Why, just this past week, Time After Time and Making History premiered on ABC and FOX, respectively. And we'll be able to add one more series to this ever-growing list on March 10 when One More Time premieres on Netflix. However, this show has one big musical twist to set itself apart from all of those other time travel offerings on TV, so much so that you'll be wondering if the band from One More Time is real.
But first, a little background on this new series. One More Time is a South Korean fantasy drama that follows Yoo Tak (Myung-soo Kim, better known as L), the young singer of an indie band, as he relives the same day — Oct. 4, to be exact — over and over and over again. That should immediately give you some Groundhog Day vibes.
It turns out that there are benefits to this phenomenon, such as learning how to beat your opponent in a game of cards and winning loads of cash as a result. But then there's also the not-so-great consequence of having to save your girlfriend (So-hee Yoon) "from an unlucky fate," as the description of the series reads. So, you know, there's pros and cons to this time travel thing.
Though it doesn't look like the band at the center of One More Time, which is also referred to as The Day After We Broke Up and I Want to Protect You ~One More Time~, the actor behind the main protagonist has made a name for himself in the music biz. L is a famous South Korean singer and actor. The soon-to-be-25-year-old first burst onto the scene as a member of the K-pop boy band Infinite and its subgroup, Infinite F. After several quiet months for Infinite, the group is reportedly making a comeback this May, according to Soompi.
One More Time won't be L's first gig using his acting and singing talents at the same time. If you're looking for another Korean musical drama — and more L — after streaming One More Time, you might want to check out Shut Up Flower Boy Band, a TV series that chronicles the misadventures of another underground rock band of high school boys as they try to leave their mark on the music industry while also surviving an elite high school.
Even the actress who plays Yoo Tak's girlfriend in One More Time, Yoon, has some real-life musical connections. Though she has mostly starred in Korean romances and comedies in the past, Yoon has appeared in a music video for the boy band EXO, which was pretty much like a mini-movie in and of itself.
"One more time" seems to be a favorite phrase for music-related projects, which is kind of unsurprising, considering the fact that things like playing a song on repeat and encores have become essential parts of the music experience. So don't get the new Netflix series confused with a short-lived Canadian music series, a Swedish pop group, or even a certain Britney Spears hit with a similar-sounding title.
But I think my favorite band related to the words "One More Time" is the one featured in Daft Punk's music video for their song of the same name. Whenever I think about One More Time the TV series, this tune immediately pops into my head and won't leave, anyway. Those blue dudes sure do know how to get everybody on their feet!
Hopefully, One More Time serves up some songs that are just as unforgettable.