The Creator Of C4's 'The Bisexual' Drew From Real Life In Such An Interesting Way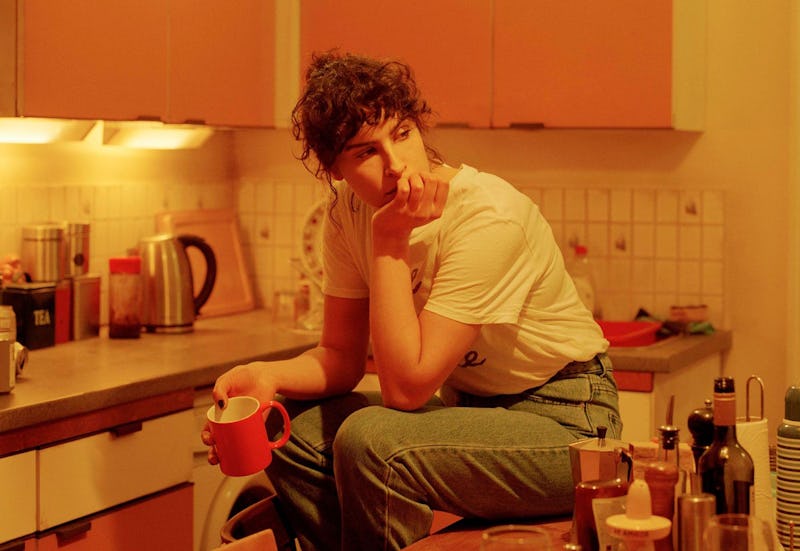 Channel 4
The Bisexual is Desiree Akhavan's newest comedy-drama which is determined to change everything you ever thought you knew about bisexuality. Centred around a woman named Leila, who has identified for most of her life as a lesbian, the story follows her journey after she splits from her long-term partner (and literal business partner) Sadie, and decides to explore her attraction to both men and women. It all sounds really interesting and it's a show that seems to be asking all the right questions, however, is The Bisexual based on a true story? Well, there's elements of truth to it, but the story itself isn't inspired by a particular experience.
The show's creator Akhavan identifies as bisexual IRL, however, Leila's story isn't her own. She explained: "It's not autobiographical in its plot. I've never identified as a lesbian and came out as bisexual from the start." That said, some of the people (especially Leila's straight housemate Gabe) are inspired by friends and family she and her co-writer Cecilia Frugiuele know in real life.
Akhavan explained: "The characters in [The Bisexual] are inspired by the people Cecilia and I know and love, so it comes from a very personal place. It's a look at London and particularly Hackney as we know it."
Akhavan went deeper into her personal inspiration and during an interview with the Independent, the outlet reported that Gabe was "based, in part, on her brother." She told the paper: "Sometimes [my brother is] really touched by things, and other times he can be so dense and obtuse.
"He frustrates me a lot. But Gabe is trying, and so is my brother. My brother who annoys me so much, and says the most offensive things. But his heart is in the right place and he always means well."
Her own experience of bisexuality and particularly society's view of it also fed into the creation of the six-part series. The programme's official synopsis describes it as an "unapologetic take on the last taboo — bisexuality."
In an interview with the Evening Standard, Akhavan didn't hold back when she opened up about some of the issues she's faced as a bisexual. She said: "[Bisexuality] is so taboo that I feel uncomfortable saying it. The root of all of this, the reason I wanted to write all this, is because I hated calling myself that."
Akhavan continued: "I think people think, 'Why would you not choose?' And I think it's hard for people to relate to, being equally attracted to men and women."
Although there's been an incredible rise in representation for the gay, lesbian, and trans communities with projects like Transparent, God's Own Country, and Blue Is the Warmest Colour becoming fast favourites, Akhavan's upcoming Channel 4 series is probably the only show I can name off the top of my head that deals specifically with bisexuality. And TBH it's about time. Here's hoping the show kickstarts a spree of new projects just like it, aimed at raising visibility and breaking down stigma for the bi community.
I've reached out to her agent to see if any other aspects of the show are specifically linked to Akhavan's own experience, but haven't heard back yet. I'll let you know if any more trivia comes my way.
The Bisexual airs on Wednesdays on Channel 4 at 10 p.m.