If You're Planning To Watch Jenna Coleman's 'The Cry', Get Your Tissues Ready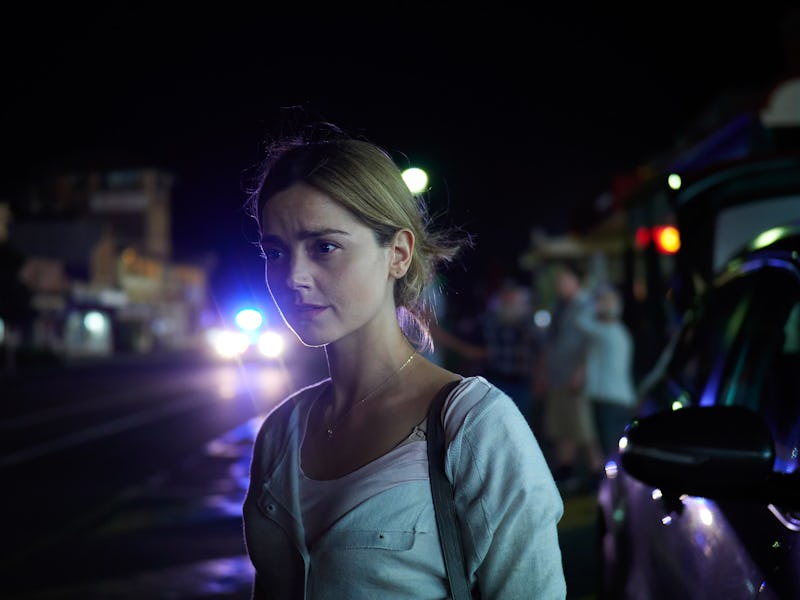 BBC
Brand new BBC drama The Cry is set to takeover the BodyGuard's Sunday night slot and will tell the adapted story of the acclaimed Helen FitzGerald novel of the same name. The tear-jerking four-part series, which stars Victoria's Jenna Coleman, centres around a kidnapping on a remote Australian roadside. But, is The Cry based on a true story?
The upcoming show will closely follow FitzGerald's novel, which was originally released back in 2013. According to Reading Matters Blog, the novel was inspired by real events. It states: "The plot borrows heavily from all manner of missing children cases — Azaria Chamberlain immediately springs to mind, as does Madeleine McCann — particularly in the ensuing media coverage." However, it does not seem as though this book is based on any one particular case. Nonetheless, I reached out to the BBC for comment and am currently awaiting a response. As soon as they get back to me, you will be the first to know.
In FitzGerald's book, a couple rent a car after a long-haul flight with their restless baby son. After leaving the car unattended whilst visiting a shop in a quiet Australian town, they return and discover to their horror that the child is missing. An international police investigation then follows suit and ends up going viral on social media.
One review of The Cry novel by the Independent gives some insight into what viewers can expect from the new drama: "Time and time again, just when you think circumstances can't get any worse, they do — much worse. Alistair's cold and calculated response to the trauma is at odds with Joanna's descent into hell and madness, a descent the reader is powerless to escape in her company."
The upcoming drama, which is scheduled to air on Sunday Sept. 30 on BBC One, will see Coleman star as lead character Joanna and return to the BBC for the first time since starring in Doctor Who. The brand new series will also star Ewen Leslie as Joanna's husband Alistair, as well as Markella Kavenagh and Asher Keddie, who play Alistair's daughter and ex-wife, respectively.
When discussing her lead role in an interview with the Guardian, Coleman discussed her concerns that she had been miscast in the drama. She said: "I spent a good first chunk of it just thinking they'd completely miscast – and why on earth me? I'm not a mother.
"I really kind of hit myself over the head with it. I felt there was obviously something I wouldn't be able to capture. It was something so, well, primal that I haven't literally experienced. And I've really struggled with that."
The BBC recently unveiled a brand new teaser of The Cry which seems to suggest a complexity to Coleman's character, by referring to her "two faces". In the clip, main character Joanna says: "Of all the things that could happen to a person, there's few things that could be worse. Can you think of any? There are none.
"And the whole world, they want to look at someone who that has happened to. Everyone just wants to look at you. Everyone wants to judge you, stare at you. Look for clues, so maybe it won't happen to them."
Back in July, the first glimpse of The Cry was seen in the BBC's 2018 autumn drama trailer. The teaser trailer also included first looks at the upcoming series of Luther, Doctor Who, and of course the now hugely popular Bodyguard, which drew in a massive 11 million viewers for it's epic final episode, according to the Hollywood Reporter. And with a Bodyguard-shaped void in my Sunday night TV line up, it looks like The Cry will make for the perfect replacement.
The Cry premieres on BBC One on Sunday at 9 p.m.