I Tried Dyson's New $500 Hair Tool That Curls Your Hair With Air & It Was Magical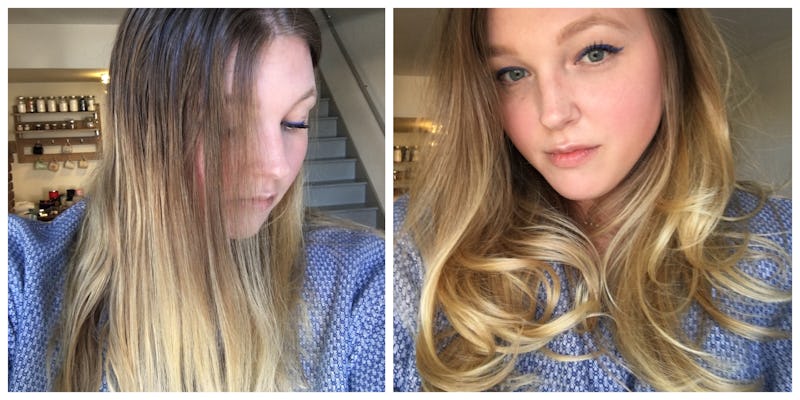 Courtesy Olivia Muenter
Over the course of the past few years, my hair routine has gotten more and more low maintenance. In college, I started blow drying and curling my hair daily, in addition to using products. Eventually, I reduced the frequency and only did this two or three times a week. Soon after, I was only blow drying. Soon after that, I ditched the tools almost entirely and started only air-drying my hair. I still owned a blow dryer and curling iron, but they rarely made it into my daily ritual. I was busy, and the less heat I used on my hair, the better it felt.
If I did take the time to use a blowdryer, though, it was my trusty Dyson Supersonic, which managed to dry my whole head of hair in less than 10 minutes — a true feat, considering most blow dryers take double or triple that in my experience. So when I saw that Dyson was coming out with a curling iron that curls hair with air, rather than only heat, I figured I would try it out. The Supersonic was such an innovative and exciting tool, so I knew that a Dyson-made curling iron would be just as interesting. As someone who rarely curls her own hair, though, I expected to try out the tool and then pass it along to someone else. But as soon as I used it, I knew I had to keep it. After using it on damp hair for only 10 minutes, my hair was completely dry — and with volume, body, and waves. It was magical.
The Dyson Airwrap works by using a motor that was specifically designed to utilize something called the Coanda effect, which occurs when a high-speed jet of air flows across a surface. As a press release about the Airwrap explains, the differences in pressure cause the airflow to then attach itself to the surface. This means that by using air flow and differences in pressure, the Airwrap causes your hair to wrap itself around the barrel of the tool.
In other words, the Airwrap uses a combination of air control and minimal heat (like a blow dryer) rather than just extreme heat like traditional curling irons. In addition to two attachments for curling hair (depending on what type of waves you want), the Airwrap can also work with a dryer, soft smoothing brush, firm smoothing brush, or round brush attachments. The smoothing brushes are great for styling and smoothing curly hair, while the round brush essentially combines a blow dryer and round brush in one. The dryer attachment is perfect for rough drying your hair to get it to damp before using the other attachments.
I started by using the 1.6-inch Airwrap barrel, as the curling iron seemed to be what most people were interested in when it came to the tool. I allowed my hair to air dry for an hour or so while I did my makeup, picked out an outfit, and did some other things around the house.
Hair Before
I divided my damp hair into three sections, starting with the bottom-third of my hair that is closest to my neck. I took two-inch sections, held them straight out, brought the Airwrap close to the end of the section of hair, and simply let it do its thing. The hair gradually sticks to the barrel, forming a secure, but gentle spiral around the tool. When the hair is completely around the barrel, you can simply move Airwrap closer to your head — no twisting, rotating, or holding the hair in place required.
The tool does get a little warm (like a blowdryer gets warm, though, not like a traditional curling iron gets warm), but it's easy to hold and even easier to use, and takes only a few minutes to get used to. The YouTube video below from Quynh Pham will give you a pretty good idea of the process.
From watching it, you may think that having your hair "sucked" onto the barrel is scary, but it's important to know that it's not being sucked into the tool at all. Your hair isn't going in anything (or being twisted mechanically), it's just sitting on top of a surface. It's easy to take your hair off of the tool if need be, and to touch both your hair and the barrel itself without getting burned.
I also really liked how it was super easy to re-do a section of hair without it ruining or damaging the hair. There's nothing worse than using a curling iron and having to re-do a piece of hair only for it to become dry and tangled due to the excess heat.
Hair After
It only took about 10 to 15 minutes total for me to curl my whole head of hair. I imagine that after some practice, this process could be even quicker. I was kind of winging it more or less since it was my first time using the tool, but I was still so happy with the results. My hair felt healthy, bouncy, and had more body than it would with a typical curling iron.
As someone with super fine hair, it is difficult for my hair to hold a curl without serious product, and there's no difference with the Airwrap. After about four hours, my hair gradually fell. However, when my waves did fall out, my hair looked more like it does the days after a blowout than after it's been curled. It lost a bit of its volume, but the ends remained bouncy and wavy instead of stick straight. Plus, my hair actually felt good the next day — smooth and bouncy, rather than crunchy and dry.
Final Verdict
The biggest thing to know about the Airwrap though, aside from how exactly to use it, is its price. Starting at $499, this tool is a serious investment. However, it also comes with a pre-styling dryer and three other tools (or, if you pay $550, all six tools). In any case, this is a big chunk of change. But when you consider that you may pay close to $300 for a blow dryer, curling iron, and other similar styling tools altogether, that price seems to make a little more sense.
As someone who has little time or patience for styling her own hair, I actually am looking forward to using the Airwrap again – and trying out the other attachments. While dropping $500 on a hair tool is a little unsettling, I think this purchase is worth it if you do your hair every single day or find yourself spending a ton of money on multiple styling tools and salon blowouts, or replacing your tools every year.